Americans don't need to eat more, just with more people
---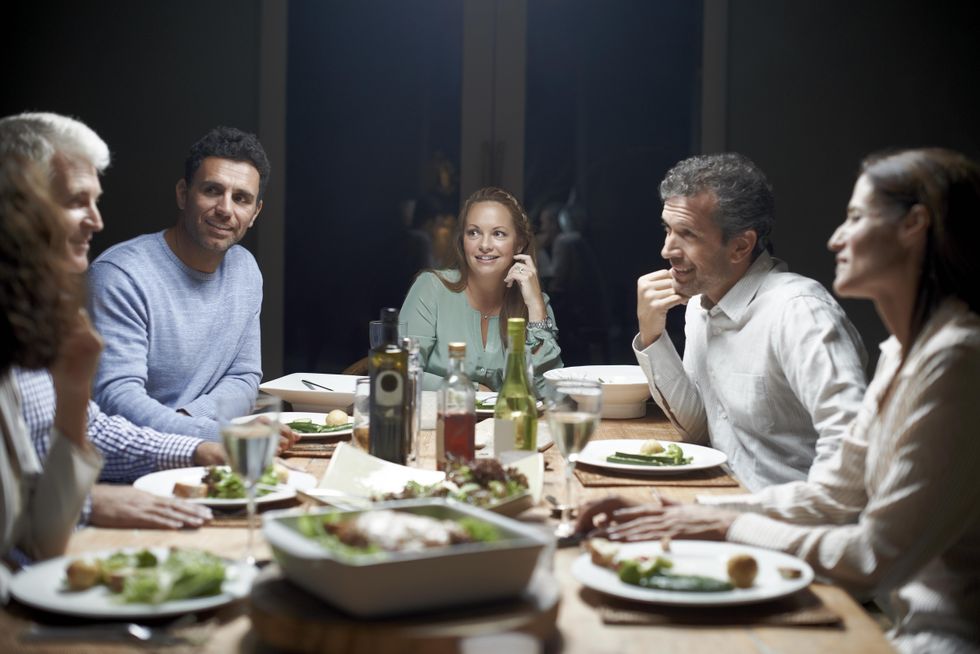 Portra Images/Getty Images
Meals are more than just sustenance. They are an opportunity to bond, to build community. They are business networking and family reunions. And they are an opportunity to learn about people who have different experiences and different beliefs.

But that last one doesn't happen very often. In fact, Americans seem to be actively sticking to what's familiar when it's time to chow down.
New polling by Ipsos and Axios found that Americans are unlikely to have a meal with someone with a different set of political beliefs:
71 percent of Democrats said they have had a meal with a Democrat in the past six months, but only 41 percent have shared a table with a Republican.
And 72 percent of Republicans have had a meal with a fellow member of the GOP in the past six months but only 43 percent have dined with a Democrat.
And neither party is particularly positive about the future, with 61 percent of Democrats saying they are not confident Americans can work out their differences over the next five years; 71 percent of Republicans said the same. (Independents matched Democrats' negativity).
Each week, the Voting Rights Lab recaps the biggest state-level legislative activity affecting elections. The latest report focus on three states:
Rhode Island lawmakers sent the governor a bill establishing no-excuse mail voting.
Bills to restrict drop boxes, step up purges of the voter rolls and ban emergency vote centers failed to become law in Arizona.
Maryland Gov. Larry Hogan vetoed a bill that would have established a process by which voters can fix, or cure, ballots with errors.
The Fulcrum often reports on polls and other indications that Americans are becoming increasingly polarized. But author Tony Woodlief disagrees. "In reality, most people fall somewhere in the middle, or else have a complex blend of views from both sides of the aisle."
Woodlief, who was a guest on the "Let's Find Common Ground" podcast has a new book, "I, Citizen," in which he uses polling data, political history and on-the-ground reporting to make the case that party activists and partisans are attempting to undermine the freedom of Americans to govern themselves.
Also in the news
New York on brink of major voting rights act (The Hill)
Voting Rights Groups Refuse to Get Comfortable After Georgia's Record Primary Turnout (Ebony)
Republican plans to use political operatives as poll workers alarm voting rights activists (PBS NewsHour)
What steps do election officials take to prevent fraud? (PolitiFact)
Upcoming events
Join, Design & Build the Empathy Movement - Center for Building a Culture of Empathy - June 4
Business and Politics: Public Statements from Business - Crossing Party Lines - June 5

Strengthening Communities: Equipping the Next Generation of Leaders - Good Institute - June 7