Breaking down your voter registration options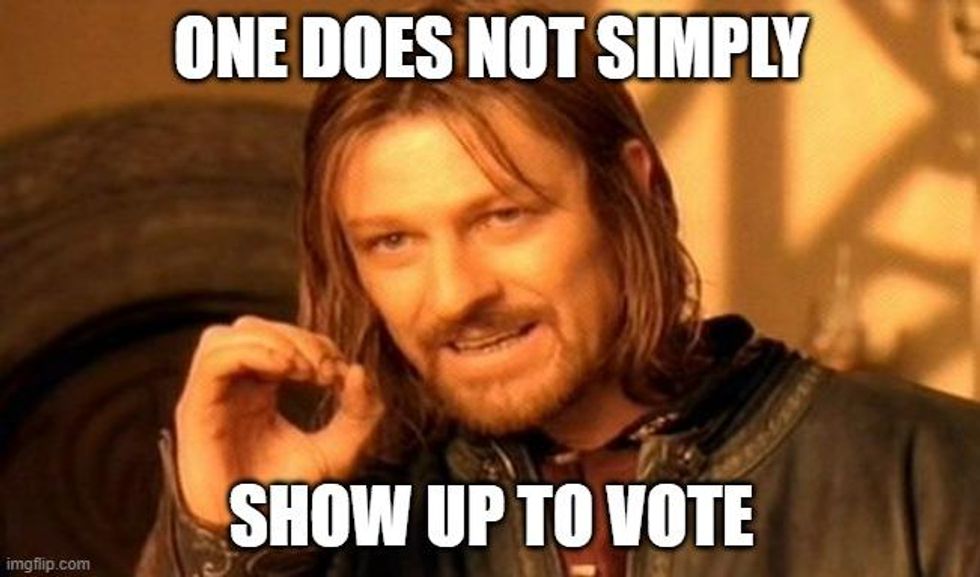 The actual act of voting is pretty simple. But you should never just show up at your local polling place and fill out a ballot. There are a number of steps you should take on the way there. Today, we're going to cover the first step: registering to vote (or confirming your registration status.)
Like with all election laws, each state determines its own procedures for voter registration. Every state but North Dakota requires people to register in order to be eligible to vote. And most states offer multiple ways to register: in person, online or by mail. And a number of states even allow people to register on Election Day and then immediately cast a ballot.
But if you live in a state that does not offer same-day registration, then you need to make sure you complete the process by your state's deadline. And again, every state is different so it's not like we can just say "Oct. 15 is the deadline to register to vote in the United States."
However, our own Kristin Shiuey has put together a handy map showing the options and deadlines for every state.
If you live in Arkansas, Maine, Mississippi, Montana, New Hampshire, Oklahoma, South Dakota, Texas and Wyoming pay particular attention to the deadlines because there is no option to register online. That means you'll need to make a plan to do it in person or make sure you make the mailing deadlines.
The latest Supreme Court term kicked off Monday, and the justices will rule on two cases that could have far-reaching implications for core pieces of U.S. democracy: representation and elections.
First up is a case out of Alabama in which state lawmakers are challenging a piece of the Voting Rights Act. The new congressional map creates one district (out of seven) that is likely to elect a Black person to Congress – even though Black people make up more than a quarter of the state's population.
Opponents of the map say it is an illegal racial gerrymander and the Supreme Court allowed the map to stand while it considers the case. The justices heard arguments Tuesday.
Later this term, the court will take up a North Carolina case in which the Legislature argues that it alone has authority over how the state manages elections – and that the court is not empowered to serve as a check on such laws.
The lawmakers' argument is based on a fringe conservative idea known as the "independent state legislature theory."
Sabato's Crystal Ball has been tracking how 2022 is different from previous midterm elections, in which the party that holds the White House is often punished. The 2022 midterms feature both an unpopular president and indications that Joe Biden's party won't be strongly punished. In this episode of "Politics is Everything," Kyle Kondik, managing editor of the Crystal Ball, discusses how echoes of the 1978 and 1982 midterm elections may be reverberating in 2022.
Also in the news
Conservative justices seem poised to uphold Alabama's redistricting plan in Voting Rights Act challenge (SCOTUSblog)
A majority of GOP nominees — 299 in all — deny the 2020 election results (The Washington Post)
New Jersey lawmakers want a state Voting Rights Act (New Jersey Monitor)
Advocates challenge Tenn. policy on restoring voting rights (WZTV)
Upcoming events
How's Biden Doing? What about the GOP? - USC Center for the Political Future - Oct. 6
Research-Based Strategies for Fostering Constructive Dialogue - AASCU - Oct. 6
One Step Closer: A Discussion On How Institutions Are Improving Our Democracy - Convergence Center for Policy Resolution - Oct. 6
Hate Speech: How Does It Affect Us? - Crossing Party Lines - Oct. 6
Youth-Led Participatory Budgeting Conference - Participatory Budgeting Project - Oct. 8
Being Red in a Blue Environment - Braver Angels - Oct. 8
Biden's Student Loan Forgiveness Plan: Is It Fair? - Crossing Party Lines - Oct. 9