Can Republicans break up Democratic control in two vote-by-mail states?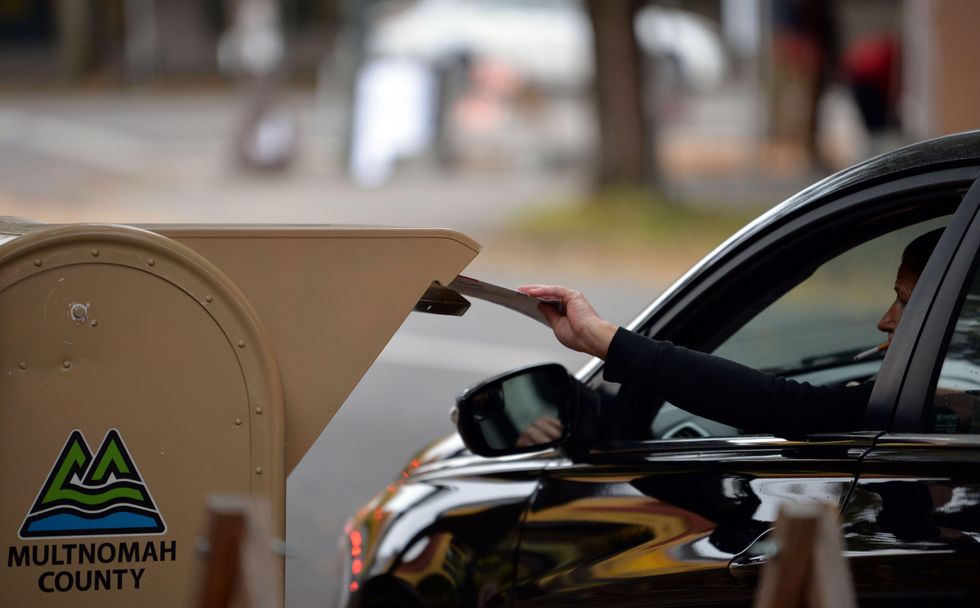 The Fulcrum's Reya Kumar filed the second part of her series looking at states where legislative control is up for grabs. This week, she examines the likelihood of Republicans breaking up Democrats' unified control of Nevada and Oregon.

Based on a review of data from Cnalysis and Sabato's Crystal Ball, the odds remain in Democrats' favor, but if things break right and a red wave extends into these states, Republicans could steal at least one chamber – and, in a best-case scenario for the GOP, maybe even secure a trifecta of their own in Nevada.

So, what would be the result of Republicans winning at least split control?
Well, there could be a shift in voting rights legislation. Both states, which conduct their elections by mail, have made expanding ballot access a regular practice in recent years. But if Republicans take at least one chamber, they would be able to block further legislation if not start reversing some of the recent changes.
And following the recent Supreme Court ruling that reversed Roe v. Wade, abortion rights and and other social issues could be impacted by state-level legislation.
Additional reading: Part 1: Alaska, Connecticut and New Hampshire
On Wednesday, a bipartisan group of senators offered a bill to update the Electoral Count Act, the 19th century legislation at the heart of Donald Trump's attempt to hold onto the presidency in January 2021.
Until the 2020 election, implementation had been purely ceremonial and never contentious. But some of Trump's advisors pushed for his vice president, Mike Pence, to refuse to certify the correct slate of electors so Trump could remain in power.
Now to prevent future shenanigans, the Senate will consider a bill that makes clear the veep's cannot change the results, among other provisions.
In advance of the bill's introduction, The Fulcrum looked at what's in the bill.
Jake Grumbach, an assistant professor of political science at the University of Washington and author of the recently published book "Laboratories Against Democracy," joined the Democracy Works podcast to discuss the (d)evolution of democracy at the state level.
States have long been referred to as the laboratories of democracy because they would test out political innovations long before such ideas rose to national prominence. But now, Grumbach argues, national groups are using state governmental authority to suppress the vote, gerrymander districts and erode the very foundations of democracy itself.
Former Ambassador Norm Eisen and a pair of former federal prosecutors, Neal Sonnett and Dennis Aftergut, were inspired by Congress' ability to send President Biden the first gun control bill in a generation – even if mass shootings are likely to continue.
But it was a breakthrough nonetheless, one created by Americans committed to making a better country, along with bipartisan elected officials pushed into adopting the first gun safety bill in 30 years. Few believed it could occur.
The trio identified four key lessons that could help Congress achieve further legislative breakthroughs despite the partisan gridlock that seems to prevent the legislative branch from doing much of anything these days:
Commitment and persistence matter.
Organizing counts.
Democracy remains alive.
Bipartisanship is possible.
Also in the news
The election denial movement is now going door to door (NPR)
Jan. 6 hearing to focus on Trump's frantic 187 minutes (The Hill)
GOP support for same-sex marriage bill reflects a shift among Republican voters (NBC News)
New and familiar threats loom over midterms, election officials tell Congress (Statescoop)
Upcoming events
How to Organize a State House Lobby Day - Civic Genius - July 21
The U.S. Economy - Network for Responsible Public Policy - July 21
National Debate: Guns - Braver Angels - July 21
What does a fair election look like? - Citizen Assembly - July 24
Affirmative Action: Why Is It So Polarizing? - Crossing Party Lines - July 24