---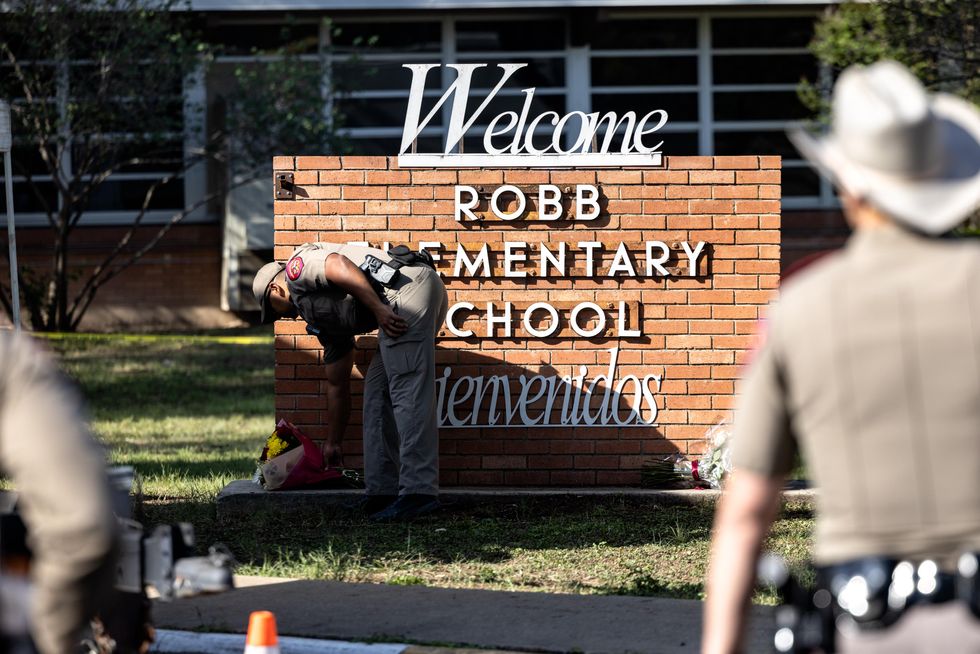 Jordan Vonderhaar/Getty Images
In the past 36 hours, after 19 people were killed in a Texas elementary school, we have seen social media flooded with messages like, "Thoughts and prayers? No, policy and change."

The Fulcrum team is never going to suggest prayer isn't valuable or that we shouldn't be thinking of others. But we live in a democracy and when an overwhelming majority of Americans demand lawmakers make a change and enact new policies, we believe the government should respond. Unfortunately, that is not likely to happen. Again.
Last year, the House passed a hugely popular bill that would require background checks for all gun transactions. Even three-quarters of Republican registered voters told pollsters they support such a policy, and a handful of GOP lawmakers voted for it. (That's enough to call something "bipartisan" these days.)
But the Senate never took action, with Democratic leaders knowing they could never make it past a GOP filibuster. So that bill, and another to close the "Charleston loophole," have languished. Now, Majority Leader Chuck Schumer wants the Senate to vote – but not until Democrats try to work out a deal with Republicans. Although he acknowledged, "I know this is a slim prospect, very slim, all too slim — we've been burned so many times before — but this is so important."
This isn't a "Republicans are bad, Democrats are good" complaint. The filibuster has been used by both parties to stymie the will of the majority. The fact is, the Senate is dysfunctional and the filibuster has become a tool to intensify polarization, which is at the heart of the problem.
Two years ago, Mark Zuckerberg and Priscilla Chan donated nearly half a billion dollars to a pair of nonprofits, which distributed the money to states to support election administration. The money was desperately needed to cover the costs necessitated by a pandemic-era election.
Since then, many states controlled by Republican legislatures have outlawed such money, arguing it could interfere with the integrity of our elections. But with a lack of regular funding from the federal government, those states may be hard pressed to pay for election workers, equipment and safety supplies, among other costs.
See which states have banned private funding.
Additional reading:
This may shock you, but … governments aren't perfect. Politicians sometimes engage in corruption, keep secrets or engage in scandals. So by all means, maintain some healthy skepticism, says Scott Radnitz, an associate professor of Russian and Eurasian Studies at the University of Washington and a guest on the "Democracy Paradox" podcast.
The danger comes when that skepticism becomes distrust and gets directed toward innocent people.
Paige Chan, a research associate at RepresentWomen, pored over the campaign finance data from New York's 2021 mayoral and city council elections. And she found that in a system that levels the playing field, candidates (particularly women) do not need to raise as much money to be competitive.
The combination of public financing and ranked-choice voting led to historic results in the Big Apple.
To achieve gender balance in our lifetimes, it's clear that we need a twin-track approach that gives women the individual support they need while also breaking down the systemic barriers for women to run and win. New York offers an excellent example of structural reform's power to achieve gender balance without having to wait another 400 years.
Also in the news
Texas Must Defend Voting Restrictions in Federal Government Suit (Bloomberg Law)
Ohio Supreme Court again invalidates redistricting map, won't hold redistricting commission in contempt (Cleveland.com)
Few hiccups reported in Georgia's first big election since 2021 overhaul (Georgia Public Broadcasting)
Implementation of ranked-choice voting in Nevada would cost more than $3 million (Nevada Independent)
Upcoming events
On the Road - Everyday Democracy - May 26
National Strategy Call: Protect our Free and Secure Elections - RepresentUs - May 26
Join, Design & Build the Empathy Movement - Center for Building a Culture of Empathy - May 28
Film Discussion: "Dialogue Lab: America" - Braver Angels - May 31