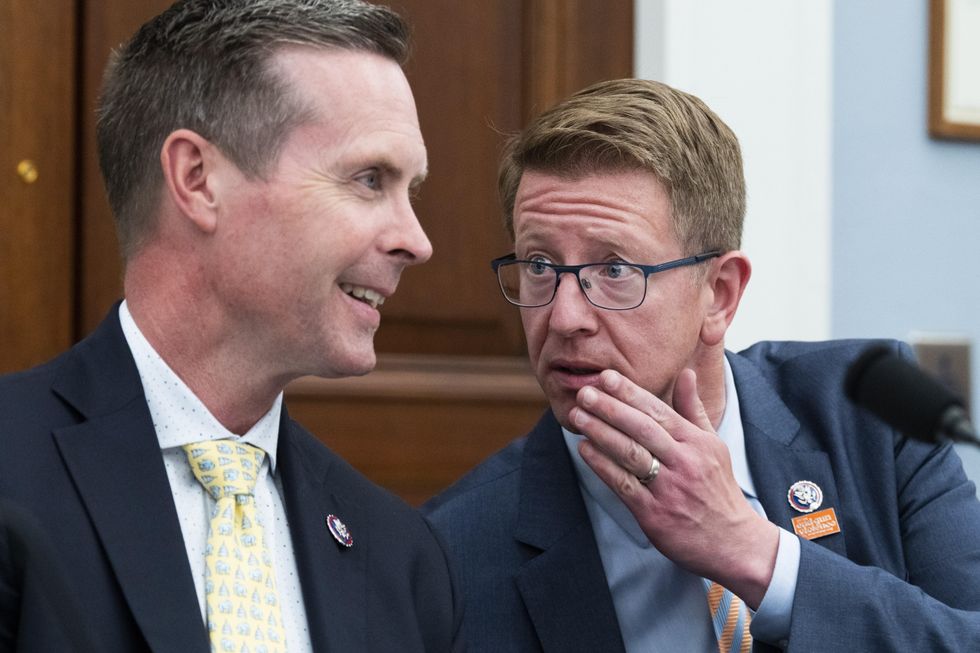 The Select Committee on the Modernization of Congress, which has spent the past three and a half years developing 171 recommendations for upping congressional efficiency, reducing partisanship, improving staff and lawmaker resources, and enhancing constituent services, has just a few months left to complete its work.

On Tuesday, the Modernization Committee (as it's better known), introduced a resolution that would formalize 32 of its bipartisan recommendations for Congress. Two years ago, Congress adopted a resolution cementing 28 of its initial proposals.
Among the recommendations:
Establishing space for bipartisan gatherings of House members in the Capitol.
Scheduling a bipartisan retreat for lawmakers and their spouses at the start of each two-year congressional session.
Providing training, during orientation for new lawmakers, to facilitate policy debates and understanding opposing points of view.
Developing plans for ensuring continuity of operations in the event of an emergency.
Making permanent a current, temporary task force that is developing strategies for advancing the House workforce, including mentorship and training programs, tools for evaluating compensation, and improving fellowship and internship opportunities.
Improving access for disabled people in congressional buildings.
"This resolution is a step toward implementing changes that will ensure the House can more effectively serve the American people," said Rep. Rodney Davis, a Republican.
But the committee isn't done yet. In addition to advocating for approval of their latest resolution, panel members will hold another hearing later this month and plan to follow it up with one final set of recommendations.
Your take: Increasing voter turnout
In the last midterm election, only 61 percent of eligible voters were registered; less than half cast ballots. And yet, according to Census Bureau data, 2018 had the highest midterm turnout in 30 years . Let that sink in.
So we wanted to ask for your take on voting – not just for yourself, but we encourage and support all eligible voters to register, prepare, and then do the deed itself.
More specifically, we are asking for your quick take on two related questions:
What will you personally do to help people register, prepare and vote?
How could we change our systems for future elections to make it easier to register, prepare and vote?
Send your responses to The Fulcrum's Debilyn Molineaux by noon ET to be included in our Friday article.
And if you are not registered to vote, please consider this your nudge to do so! Learn how through the Citizen Connect Election Guide . You can also use that guide to learn how to help others vote (it can be part of your answer!).
The recent controversy about the seizure of classified government documents at Mar-a-Lago is only the latest example of outrage over former President Donald Trump's behavior, and the responses to it. But the forces shaking American democracy didn't begin with Trump's arrival on the political scene.
On the latest episode of "How Do We Fix It?" the hosts learn why populism, polarization and other threats to public institutions will likely last for the foreseeable future. The lesson is delivered by Darrell West, vice president of Governance Studies at the Brookings Institution and author of "Power Politics: Trump and the Assault on American Democracy."
On this episode of "Democracy Works", Michael Berkman, Chris Beem, Candis Watts Smith and Jenna Spinelle discuss whether the Jan. 6 hearings lived up to the hype as "democracy's summer blockbusters." Did they change public opinion — and does that matter?
The group also reviews the FBI search of Mar-a-Lago in the context of democratic pedagogy, or behavior that helps us learn what it means to be good democratic citizens. Finally, they cover some of the summer's primary elections and what to expect in the general election this fall.
Also in the news
In Voter Fraud, Penalties Often Depend on Who's Voting (The New York Times)
A timeline of Donald Trump's election denial claims, which Republican politicians increasingly embrace
Federal court rules that Arkansas law imposing limits on voter assistance violates Voting Rights Act (Ballotpedia News)
South Dakota Settles With Tribes to Ensure Voting Rights (U.S. News & World Report)
Upcoming events
National Debate: Mar-a-Lago Investigation - Braver Angels - Sept. 8
Our Rights: What Are They? What Should They Be? - Crossing Party Lines - Sept. 11
Securing Your Vote: Business Briefing on PA Election Operations with Acting Secretary of the Commonwealth Leigh Chapman - Business for America - Sept. 12
The Constitution Explained Virtual Launch Event - iCivics - Sept. 12
Friends of Virginia Swain: A New American Leadership - Institute for Global Leadership - Sept. 12
We the People's Forum: What Do Everyday Americans Think of 2022 Elections? - Braver Angels - Sept. 12