How some leaders on the right are fighting for a healthy democracy
---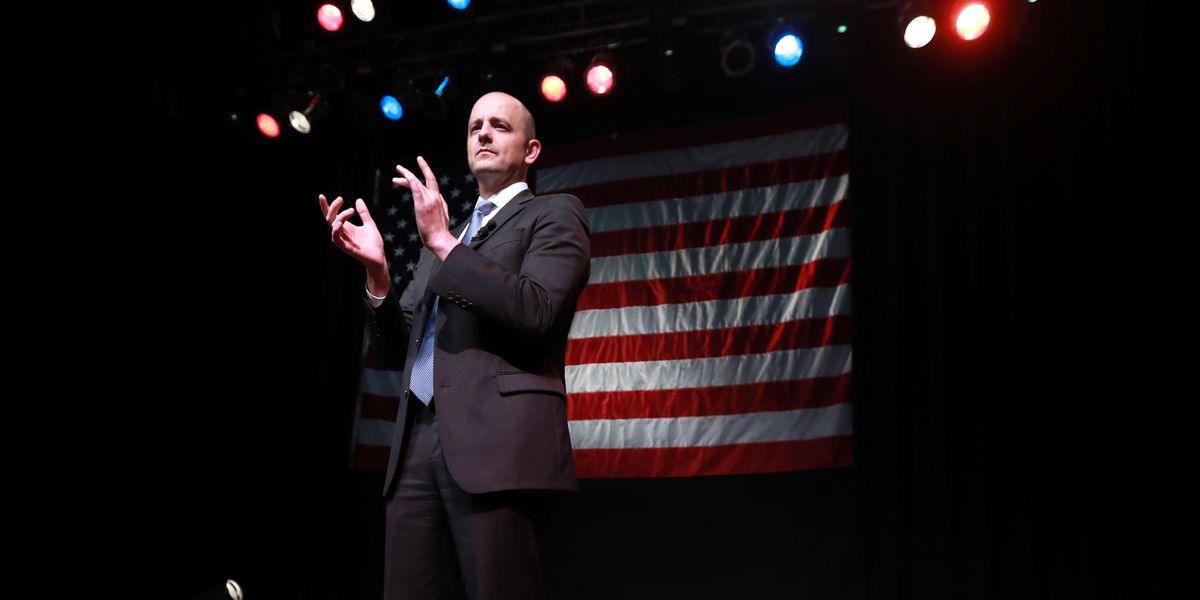 George Frey/Getty Images
There have been a number of news stories lately about the increasing number of election deniers who are running for secretary of state or other election administration positions this year. While these candidates are Trump-aligned Republicans, the pushback isn't just coming from Democrats and independents.

The Fulcrum's Faye Shen Li Thijssen recently spoke with Joel Searby, political director for the Renew America Movement, which was formed by current and former Republicans to build what they call a deep "pro-democracy" bench.
RAM says it will work with Republicans, Democrats and independents to strengthen democracy in the United States fighting extremism on all sides. The group's boldface names include former Trump administration official Miles "Anonymous" Taylor, former New Jersey Gov. Christine Todd Whitman, former Massachusetts Gov. Bill Weld, attorney George Conway, and former Republican National Committee Chairman Michael Steele.
"People who see the risks to our democracy right now are putting down a lot of their own personal preferences in order to build alliances to work against the most extreme elements of our parties, particularly on the Republican side," Searby told Faye.
One possible path forward is the establishment of a viable third party. Evan McMullin, a former CIA operative who left the Republican Party and ran for president as an independent in 2016, is among RAM's co-founders. He is attempting another run as an independent this year, challenging GOP Sen. Mike Lee in Utah.
"I see a lot of energy in the third way space, of people who want to see an entirely new way in our politics, not just trying to fix the two broken parties but thinking of new ways to creatively disrupt the system," Searby said.
Read the full story, including what may be the biggest challenge for the movement. (Hint: It involves $$.)
And some further reading:
Don't miss out on America Talks – happening this week
Our nation is divided, making it near impossible to create solutions to our most pressing problems. But you can be part of the solution. Sign up for American Talks 2022 and join thousands of people for one-on-one and small-group video conversations to heal our partisan divide. The Fulcrum is a proud media partner for America Talks, because we can't fix our democracy without coming together as one nation. The conversations are happening Thursday and Saturday. Register now!
Do you hear the people sing for Ukraine?
The pop culture section of The Fulcrum appeals to the human spirit – spirit that expresses the joys, sorrows and harmonies of the heart and soul. Culture is the quintessence of humanity's expressive hope; the realm of endeavor in which our senses can be shared in family, community and country.
Music can inspire, and during this time of world human suffering music and politics have become entwined again as so often happens in crisis.
We are pleased to share several examples of how today's artists from around the world are trying to save democracy one song at a time.
Stevie Nicks hopes Vladimir Putin never sleeps again
Rock icons Pink Floyd call on people to rise up for Ukraine
The state of voting
Each week, the Voting Rights Lab recounts legislative activity in the states. Driving the latest update is movement on voter identification laws in Arizona and Missouri, as well as a series of changes in New York that make it easier for people to vote.
Also in the news
Voters With Disabilities Face New Ballot Restrictions Ahead Of Midterms (Stateline)
Federal court looking into Ohio redistricting saga (WTOV9)
Without federal voting protections, many look to states as the 'laboratories of democracy' (Prism)
Politics Podcast: How Old Is Too Old For Elected Office? (FiveThirtyEight)
Upcoming events
Unify Challenge - Unify America - 4/19
Twitter Space on Dark Money - The Democracy Group and Campaign Legal Center - 4/20
America Talks - 4/21 and 4/23
The Role of Faith in Times of Crisis and War - Mediators Beyond Borders International - 4/21