If it's Tuesday, it must be a primary day
---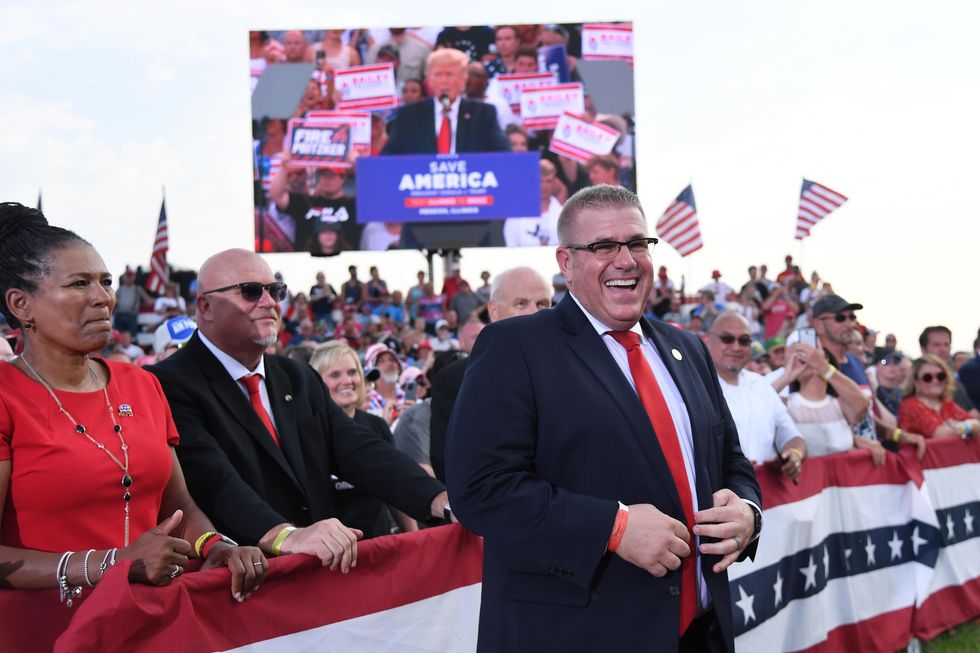 Voters in seven states head to the polls today to cast ballots in primaries and runoffs. Well, actually that's not exactly true. Two of the states – Colorado and Utah – are vote-by-mail states, so really most voters in those states have already turned in their ballots.
But you get the point: Today's the day nominees will be picked for federal, state and local races in Colorado, Illinois, Mississippi, New York, Oklahoma, South Carolina and Utah. South Carolina and Mississippi are holding runoffs after no candidate in a handful of races secured a majority during voting earlier this month. (We'll see whether these contests turn out more voters than last week's low-participation runoffs.)
Among the biggest races being decided today:
Republicans are choosing Senate and gubernatorial nominees in Colorado.
The GOP will pick candidates for the same offices in Illinois.
Two Republican House members from Mississippi have been forced into runoffs.
Republicans also are drawing the headlines in New York, where two candidates are fighting for the nomination to run for governor. One is backed by former Veep Mike Pence while the other is the son of Trump attorney (and former Big Apple Mayor) Rudy Giuliani.
Oklahoma has the rare election in which both Senate seats are up for election, and the only primaries that matter are the GOP side.
Two Democrats are in a runoff to challenge Republican Sen. Tim Scott of South Carolina.
In Utah, GOP Sen. Mike Lee is working to fend off an intraparty primary challenge before facing independent Evan McMullin, a former Republican now backed by state Democrats, in November
Read more about these races and how each of these states has updated its election laws.
The Voting Rights Lab provided an extensive recap of legislative activity in the states last week, headlined by a last-minute flurry of bills as Arizona lawmakers headed to the exits. They passed a bill to more aggressively purge voter registration lists and another to allow voters to track the status of their mailed ballots.
Elsewhere:
Louisiana Gov. John Bel Edwards signed legislation to help high school students register to vote and another codifying ballot-curing procedures. But the state also enacted a law limiting opportunities for returning absentee ballots.
The Delaware Senate voted to establish same-day voter registration.
Lawmakers in New Hampshire passed a bill giving state officials more power over local election offices.
Missouri Gov. Mike Parson is expected to sign a bill this week that would establish early in-person voting and strengthen voter ID requirements.
Your Take: What Do You Stand For? How Do You Show It?
The Bridge Alliance's Jeremy Garson and Sachi Bajaj recently presented the fifth Civvy Awards in Atlanta. Through the Civvys and other associated Civic Season activities, there was a lot of inspiration to go around. To capture that energy, Made By Us designed this very cool poster asking people what they stand for, and how they show their passion.
So, what do you stand for? And how do you show it?
Create your own poster and send it to Jeremy or simply email how you would fill in the blanks: I Stand For ___ When I ____
Send your ideas by Wednesday, 7 pm ET. We will publish select responses Friday.
Solutions journalist and podcaster Richard Davis joined the discussion about the Supreme Court decision on abortion rights. But rather than praising or criticizing the ruling, he focused on the role corporations are playing in this debate – and more broadly as employees and customers demand business reflect their values.
Pursuing shareholder value alone is not enough. Many of the most highly valued young workers expect their employers to reflect their values. Businesses also face greater scrutiny from consumers. Brands feel required to to be socially and politically relevant.
Also in the news
What the Jan. 6 committee's star witness knows (Politico)
Court strikes down NYC law granting voting rights to non-citizen residents (CBS News)
GOP poll watcher training casts unfounded suspicion on Arizona elections (Votebeat)
Louisiana officials ask U.S. Supreme Court to intervene in redistricting case (The Center Square)
In Colorado and elsewhere, 2020 election deniers seek top voting offices (Reuters)
Upcoming events
Introducing Ballotpedia's Election Legislation Tracker - Ballotpedia - June 28
Intro to RepresentUS and the Pro-Democracy Movement - RepresentUs - June 29
Braver Politics - Braver Angels - June 30
Talking About Frederick Douglass Together - Essential Partners - June 30