It appears Supreme Court's right wing doesn't have the votes
---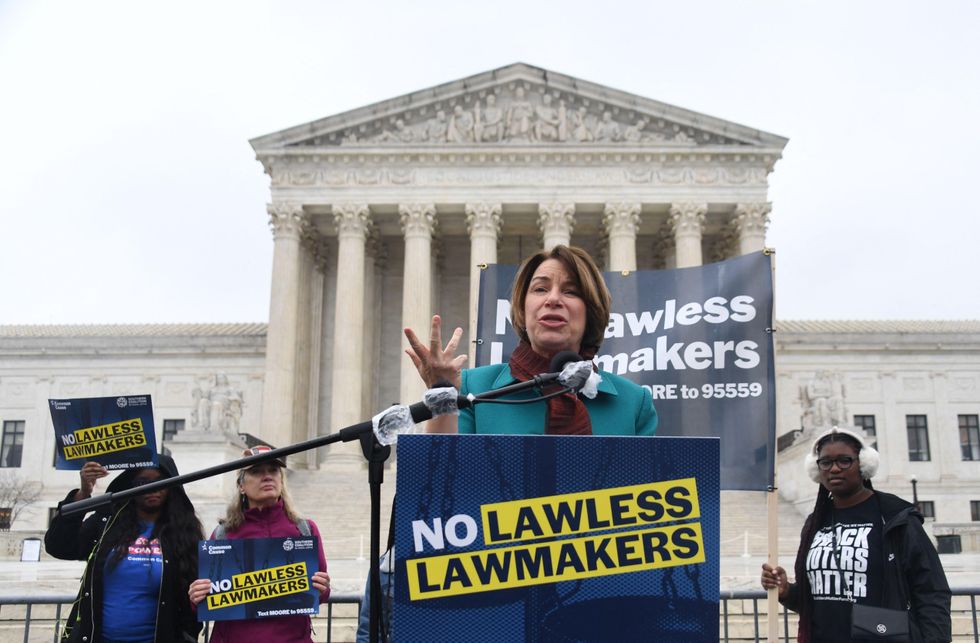 Moore v. Harper may not be as familiar as Roe v. Wade. And "independent state legislature theory" doesn't exactly roll off the tongue. But ISL was the subject when the Supreme Court heard oral arguments in the Moore case Wednesday, and it could fundamentally shift the balance of power in election law.
Or maybe not.
If the court were to side with North Carolina's Republican legislators, states' judicial and executive branches would lose any authority to check lawmakers' power to set election rules – from redistricting to how people vote.
As attorney David Thompson put it: "The elections clause [of the Constitution] requires state legislatures specifically to perform the federal function of prescribing regulations for federal elections. States lack the authority to restrict the legislatures' substantive discretion when performing this federal function."
But while some of the court's most conservative justices appeared to side with the legislators, they do not constitute a majority.
That's because Chief Justice John Roberts and Justices Brett Kavanaugh and Amy Coney Barrett took a more middle-of-the-road approach, indicating either a compromise ruling or maybe even a full rejection if they side with the court's liberal wing.
"I think what might strike a person is that this is a proposal that gets rid of the normal checks and balances, on the way big governmental decisions are made in this country," said Justice Elana Kagan. "And you might think that it gets rid of all those checks and balances at exactly the time when they are needed most."
In June, it looked possibly – perhaps even likely – that Seattle would adopt approval voting, a system in which voters check the names of as many candidates as they wish with the person who garners the most support winning the race.
But then the city council also put ranked-choice voting on the ballot in a two-part initiative (Part 1: Do you want to change how we vote? Part 2: If so, RCV or approval voting?)
"Yes" narrowly won the day on part 1, and then RCV trounced approval voting. But the latter's backers – most prominently the Center for Election Science – remains undaunted and is moving forward with plans for statewide campaigns.
"With statewide campaigns, we look at making sure we have sophisticated partners who have experience with ballot campaigns and strong connections in the community," said Aaron Hamlin, executive director of CES. "We expect that to put approval voting on the map."
The first announced campaign is in Missouri, home to St. Louis, which is one of two cities (along with Fargo) to currently use approval voting.
Back in the day, many political foes were friends outside of government – working out in the gym, attending their kids' weddings, even rooming together. But now many politicians worry about being accused of fraternizing with "the enemy."
In the latest episode of the Village SquareCast, two friends and political opposites – Jacob Hess and Liz Joyner talk about their decade of working together and their belief that liberals and conservatives are better together.
Also in the news
Trump isn't the only thing that could rock American democracy (CNN)
Republicans have a post-election epiphany on mail voting (Politico)
Opponents line up against Ohio House elections bill for photo voter ID as GOP readies a vote (Ohio Capital Journal)
Democrats double down on voter suppression narrative even after winning Georgia Senate runoff (Fox News)
CISA's 2023 priorities include election security, corporate cyber risk (Cyberscoop)
House delays action on defense bill as Black Caucus presses for voting rights (The Hill)
Upcoming events
Volunteers: We've got a job for you! (Info Session) - Crossing Party Lines - Dec. 8
Family & Politics - Braver Angels - Dec. 10
Belonging Conversation - Living Room Conversations - Dec. 11
ACC Branch Prep: Building the Grassroots Plan for 2023 - American Conservation Coalition - Dec. 12