It's primary day. Here's what you need to know.
---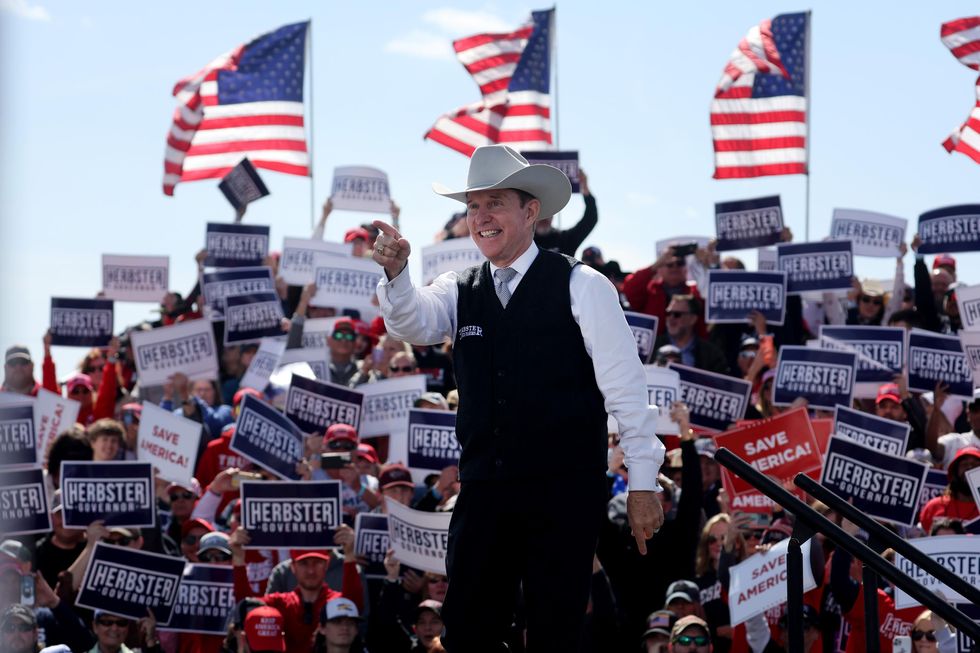 Nebraska gubernatorial candidate Charles Herbster speaks during a rally May 1.
Scott Olson/Getty Images
Voters in Nebraska and West Virginia will cast their first ballots of 2022 today, when they select their nominees for Congress and state offices. (Well, not all voters. While Nebraska's legislative elections are nonpartisan, the parties control the other nominating contests in the state. West Virginia has an open primary that requires party registration.)

And there are some high-profile races on the ballots.
Nebraska Republicans will nominate a candidate for governor who is all but assured of winning the general election.
And Republican voters in the 1st district will nominate a candidate to replace Rep. Jeff Fortenberry, who resigned after being found guilty of campaign finance illegalities. In a quirk of filing deadlines, Fortenberry remains on the ballot.
In West Virginia, where the state lost a congressional seat due to population shifts, two members of the U.S. House are running against each other for the nomination to stay in Congress.
Both states have seen a number of changes to their election laws, joining a wave of legislative activity spurred by the Covid-19 pandemic and furthered by disputes over the 2020 presidential election. In fact, legislators in both states made significant changes just in the past couple months, after we finished our Election Evolution series.
Among the latest changes:
Both states made it easier for first responders to cast ballots when operating outside their home voting jurisdictions.
Both banned the use of private funds for election administration.
Nebraska altered some of the requirements for ballot drop boxes.
The Mountain State wrapped up congressional redistricting last fall, but the Redistricting Report Card (run by the Princeton Gerrymandering Project, RepresentUs and Electoral Innovation Lab) never issued a grade.
So Howard Gorrell, a former Republican Party statistician and an opponent of partisan gerrymandering, took it upon himself to grade West Virginia's congressional map. (He's also a sixth-generation native of the state.) He used the same criteria used in the report card.
Check out his grade for West Virginia.
The Voting Rights Lab's weekly legislative tracker noticed that a bill under consideration in Missouri is a mixed bag. Those who advocate tighter voting rules will celebrate the bill's new restrictions on voter ID. But people who want to make it easier to vote will be happy the measure establishes early in-person voting in the state. The state Senate may vote on it this week and send it back to the House for a final vote.
Meanwhile:
New Hampshire lawmakers are also working on new voter ID laws.
Oklahoma banned private funding of elections.
Read more about these moves and other state-level activity.
Barbara Steinmetz escaped the Holocaust by grabbing her shoes and fleeing across Europe. Today, she encourages Americans to grab their shoes and vote. Not just because it's our civic duty, but it's how we avoid giving power to dictators.
Try as I might to think of all the shoes I stood in, the view in my mind's eye quickly changes to the shoes hastily gathered today, in 2022, by fellow human beings once more running for their lives, grabbing their terror-stricken children. To run away from their homes, their lives, their traditions, their homeland. Running on their shoes. Running with their children in their arms, leaving their lives, possibly forever … again. Didn't we say, "Never again?" But once again some tyrant is turning the world order upside down. When is enough finally going to be enough?
Ask Joe about Roe v. Wade
If Roe v. Wade is overtuned, as seems likely, states will be free to make their own laws about abortion one of the most intensely divisive issues in America.
How have you responded to the news? How have your friends responded? Is the news making you second-guess whether it's worth it to try to "bridge divides"? Our resident advice columnist, Joe Weston, wants to help you do just that.
Please send Joe your questions about navigating discussions about abortion. He is here to help you resolve tension, polarization and conflict.
Also in the news
NV Voting-Rights Groups Unite to Fight Ranked-Choice Voting (Public News Service)
Wisconsin voters with disabilities say their right to vote is at risk (NPR)
You ask, we answer: What happens next with redistricting in New York? (Daily Messenger)
How Florida's new election laws could impact you at the polls (WINK)
Upcoming events
Living in a Multi-Cultural Society - The Great Reset - May 10
Virtual Global Democracy Champions Summit - Keseb and Johns Hopkins University - May 11
The Neutrality Trap: Dialogue and White Supremacy - Mediators Beyond Borders International - May 11
Ask a Capitol Hill Staffer - Civic Genius - May 12