Kathy Hochul's rise in New York spotlights the barriers to women becoming governors
News
---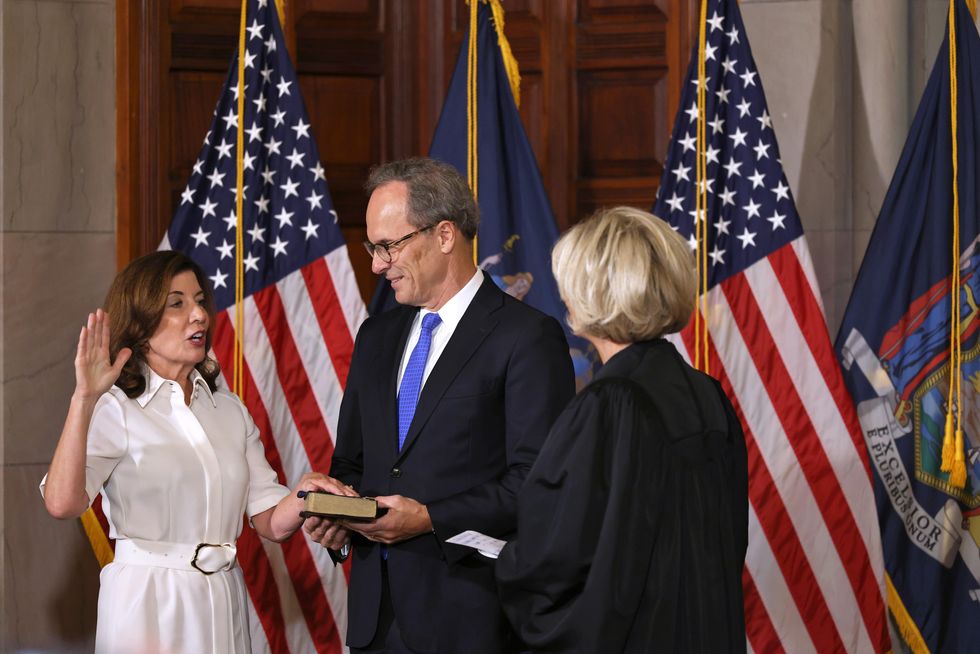 Barbara Rodriguez, The 19th
When Kathy Hochul was sworn in this Tuesday, she become the first woman to serve as the governor of New York, ascending from her role as lieutenant governor after the resignation of Andrew Cuomo. The Democrat will also be one of only nine women governors in America — and one of four who first reached that position through succession rather than election.

Of the 44 women who served as a governor before Hochul, 11 got the position through rules in state constitutions that made them next in line as governor when the current officeholder was no longer able to serve. Six later won full terms, including three currently in office: Democratic Gov. Kate Brown of Oregon; Republican Gov. Kay Ivey of Alabama; and Republican Gov. Kim Reynolds of Iowa. Separately, three women governors between the 1920s and 1960s replaced their spouses.
There have been at least 1,000 men governors, according to a general estimate from the Eagleton Center on the American Governor.
Despite gains in representation in statehouses, Congress and other statewide offices — women hold positions like lieutenant governor, secretary of state and attorney general at higher rates — their representation at statewide executive leadership remains stubbornly low. After Hochul's ascension, there are still be 19 states that have never had a woman governor. America has had three governors who were women of color, but voters have never elected a Black or Indigenous woman as governor.
Debate
The For the People Act is an effort by Democrats to ensure more people get to vote. But its restrictions on voting technology could actually make it harder for military personnel, overseas citizens and people with disabilities to cast a ballot, writes Shannon O'Brien, principal of the O'Brien Advisory Group and an advisor to Voatz, which makes a mobile voting app.
Journalist Joe Keohane is out with a new book, "The Power of Strangers: The Benefits of Connecting in a Suspicious World," which explores the lost art of connecting with unfamiliar people. In this episode of the Braver Angels podcast, Ciaran O'Connor talks with Joe about why and how we should talk to strangers and what these experiences can do to improve our daily lives and our politics.
Community
Essential Partners brings to you this one-day workshop that uses real-world case studies to introduce participants to the theory and practice of EP's Reflective Structured Dialogue framework. For three decades, our unique approach has transformed conflicts across the country and the world—but the basic principles of EP's framework are applicable to local community issues, organizational development, congregations, and everyday conversations.