Most of new climate and health care law has bipartisan support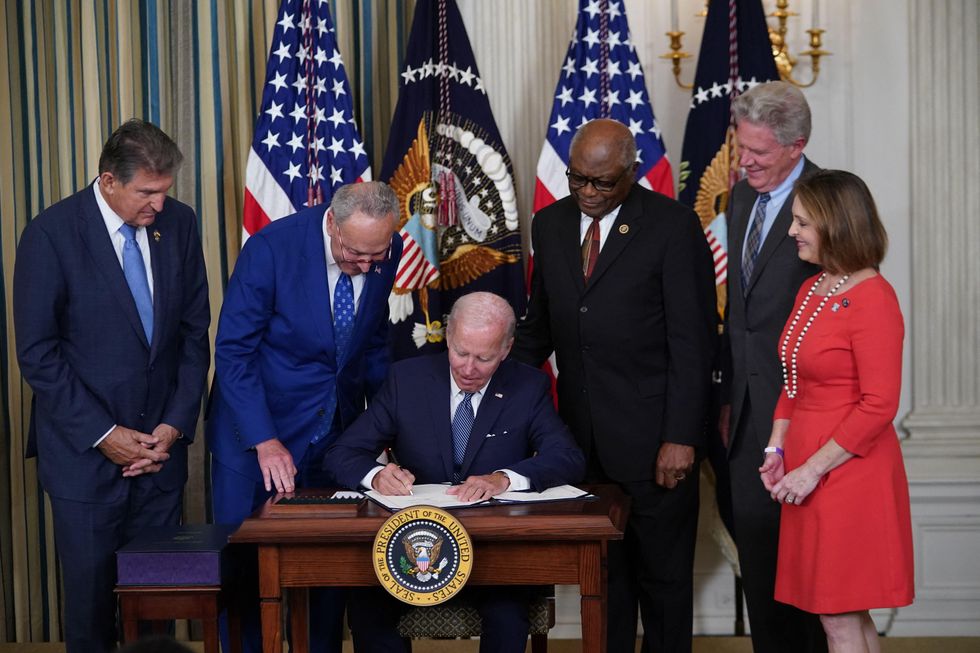 The Inflation Reduction Act, which President Biden signed into law this week, has been described as the biggest expansion of climate change policy in history. And it also has significant tax and health care components.
Unlike some other recent major legislation enacted by Congress – like the infrastructure bill, the Electoral Count Act and the CHIPS Act – this one moved through in a purely partisan fashion.
But, data collected by the University of Maryland's Program for Public Consumption showmost components of the bill actually have bipartisan support among the American public. According to surveys conducted by PPC and the Deliberative Democracy Lab at Stanford, a majority of Republicans, Democrats and independents approve of 13 out of 20 elements of the bill.
"While there has been grave concern about the state of our democracy, the movement of this bill should give Americans hope that our system can and does work, and that Congress is acting to reflect the will of the people," said Steven Kull, director of the PPC.
Get the full breakdown of the data.
Tuesday was National Poll Worker Recruitment Day, established by the Election Administration Commission to help state and local officials attract more volunteers (and, in some places, paid staff) for elections.
Amid ongoing concerns about Covid-19 and newer threats of violence against election workers from backers of the "Big Lie," election officials are concerned they will not have enough people to properly staff polling locations in November.
Therefore, a number of civic engagement proponents spent Tuesday running campaigns to get people to register as election workers. Many of them are part of a campaign run by Power the Polls, which helped recruit 700,000 in 2020.
"Now, more than ever, it's critical that polls are staffed by non-partisan, well-trained, and objective individuals who will administer a safe, secure, and accessible election," wrote Kyle Miller, impact associate for coalition partner Protect Democracy.
The Fulcrum is looking for new voices
Do you believe you can represent a constituency whose voice may often go unheard in America? In an ongoing effort to share ideas, criticisms and other opinions about efforts to fix democracy and reduce polarization, The Fulcrum is recruiting new writing across partisan, racial, geographic, age and gender spectrums. If you are interested in becoming a contributor, please email opinions@fulcrum.us.
The latest episode of "How Do We Fix It?" explores six unique perspectives about passion, purpose and meaning in our own lives.
Among the stories:
Investment advisor and wealth manager Karen Firestone shares a story about a chance encounter with advice columnist Ann Landers, who gave her a new understanding of risk vs. reward.
Obstetrician-gynecologist Rose Gowen speaks about her mission to get her small city with a large obesity problem to exercise more and eat better food.
Emily Esfahani Smith, author of "The Power of Meaning", talks about her passion for learning from strangers.
Long distance trucker Finn Murphy reveals a long-time love of America's roads and highways.
Also in the news
Florida Republicans targeted Black voters, justice department says in filing (The Guardian)
Economy takes center stage as Americans share their voting priorities ahead of midterms (Fox News)
TikTok is launching an 'Elections Center' to combat midterm misinformation (Mashable)
DEF CON Voting Village takes on election conspiracies, disinformation (Cyberscoop)
Upcoming events
Student Leadership through Civics Learning: Implementing Participatory Budgeting in Your School - Participatory Budgeting Project - Aug. 18
Who should pay for YOUR higher education? - Citizen Assembly - Aug. 21
Intellectual Property: Can You Own an Idea? - Crossing Party Lines - Aug. 21
Polarization Past and Present: What's Changed? What's Possible? - Network for Responsible Public Policy - Aug. 25
A Discussion on Medicare and Inflation - Committee for a Responsible Federal Budget - Aug. 27
Workshop: Talking Politics - Crossing Party Lines - Aug. 27