Pay attention to today's under-the-radar primaries
---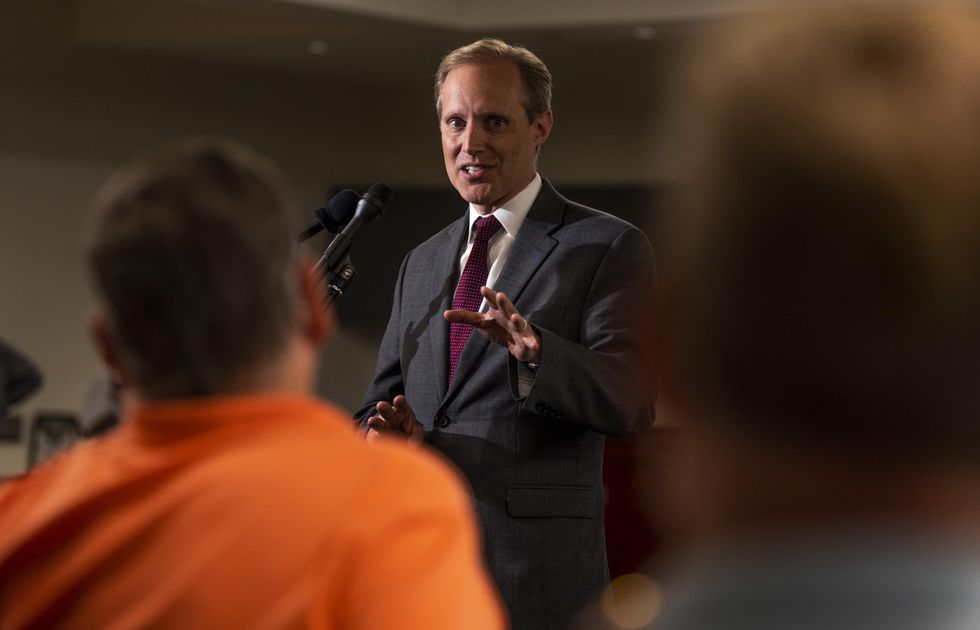 When primaries feature races for governor, the Senate and other high profile races, some of the down-ballot contests don't get a lot of attention. But voters in four states will get to select nominees for the increasingly important secretary of state job today, and the result could have a significant impact on future elections.
Connecticut, Minnesota, Vermont and Wisconsin are all holding primary elections today (although as a new vote-by-mail state, Vermont is really just wrapping things up). In each of those states, there's at least one high-profile contest, and Minnesota even features a wacky race for a vacant House seat that involves two candidates running in two different elections using different district maps.
But don't just pay attention to the gubernatorial, Senate and House races. Keep an eye on which candidates win the nod to be secretary of state, because those people will have a chance to alter the landscape for years to come. In Connecticut, Minnesota and Vermont, the
SOS is the state's top election official. In Wisconsin, elections are overseen by a bipartisan commission that has come under fire from the right. At least one of the Republican candidates wants to shift authority away from the commission and into the secretary of state's office.
In Connecticut, two women are running for the Democratic nod. Either would be the first person of color to win the post in the state but first need to get by either Dominic Rapini or state Rep. Terrie Wood. Rapini has often spoken out about alleged, but unproven, voter fraud, and both he and Wood want to tighten the voter ID rules.
The leading GOP candidate in Minnesota, Kim Crockett, wants to rewrite how the state handles elections. Incumbent Steve Simon is favored to win the Democratic nomination.
In Vermont, Jim Condos is retiring after 12 years as secretary of state. Three Democrats are vying for their party's nomination. The winner will face H. Brooke Paige, a long-shot Republican who often runs for office but never wins.
And in Wisconsin, the three Republican candidates (Amy Loudenbeck, Jay Schroeder and Justin Schmidka) all want the secretary of state to assert control over elections while incumbent Secretary of State Doug La Follette and challenger his Democratic primary challenger, Alexia Sabor, say they are happy with the system as it is.
The Voting Rights Lab's weekly update on election law activity in the states focuses on big news out of Michigan and Pennsylvania last week:
In Michigan, the Secure MI Vote collected more than 500,000 signatures for an initiative to create stricter photo ID requirements for in-person voting as well as new ID requirements for voting by mail. The proposal, if approved by the Legislature, would be immune from a veto by Democratic Gov. Gretchen Whitmer.
The Pennsylvania Supreme Court upheld a 2019 law that allows all voters to cast ballots by mail.
In Texas, a federal judge struck down requirements that would have made it harder for college students to register to vote.
The U.S. Postal Service created a new division focused on ensuring timely and secure delivery of election mail.
Your take: Reconciliation and the Inflation Reduction Act
Over the weekend, Congress used a parliamentary tool known as reconciliation to pass the Inflation Reduction, a massive bill affecting climate, health care and tax policy. Reconciliation is a step in the budget process and allows the Senate to pass the bill by a simple majority without subjecting it to a possible filibuster. (The Inflation Reduction Act passed the Senate with Vice President Kamala Harris breaking the 50-50 after the House passed with only one lawmaker going against their party position.)
Created in 1980, reconciliation provides Congress to align spending and revenue with the approved budget plan. It has become a method of enacting legislation that might otherwise not make it through the Senate when the filibuster is in play, as was the case with the Inflation Reduction Act.
What is your take? Is reconciliation a legitimate way of passing major legislation? Did you feel differently when Republicans used it to pass the Trump tax cuts in 2017? Was the Inflation Reduction Act a good use of the tool?
Email your take to The Fulcrum's Debilyn Molineaux by Wednesday at 7 pm ET. We will publish select responses on Friday.
Also in the news
Adam Kinzinger allies launch candidate and election worker training program (CNN)
Another redistricting deadline coming up, no action expected from Ohio legislature (Ohio Capital Journal)
Election issues in this Arizona county provide fodder for both political parties (WGLT)
How changing the Electoral Count Act might prevent another Jan. 6 (Yahoo News)
Upcoming events
Public School Curriculum: Who Decides? - The Great Reset - Aug. 9
Algorithms & Anachronisms: How New Tech & Old Politics are Holding Us Back - Open Primaries - Aug. 10
Citizen Engagement Forum: Election Observing - The People - Aug. 10
National Debate: Free Speech on College Campuses - Braver Angels - Aug. 11