Primaries wrap up today. Were you allowed to vote?
---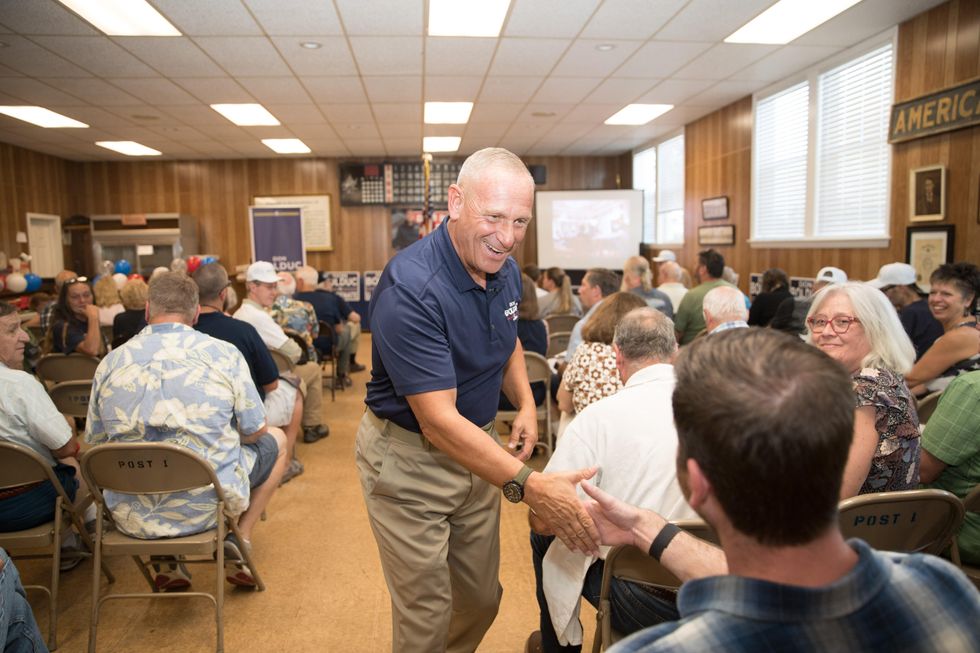 The final three primaries are being held today (well, except for Louisiana, which is a special case). Once the voters in Delaware, New Hampshire and Rhode Island are done picking nominees for various federal, state and local races, the Nov. 8 slate will be complete.
Among the races nominating contests being decided today:
In Delaware, Auditor of Accounts Kathleen McGuiness is likely to be removed from the job this year after being convicted of abusing her office. However, she could win the nomination for a new term and return in January.
Army Brig. Gen. Don Bolduc and state Senate President Chuck Morse are the leading candidates for the Republican nomination to challenge Democratic Sen. Maggie Hassan in New Hampshire. Republicans have a good shot at flipping that seat.
Rhode Island Gov. Dan McKee faces some stiff competition in his attempt to win the nomination and then a full term leading the state. He was elevated from lieutenant governor when President Biden tapped Gov. Gina Raimondo to join his Cabinet. McKee is going to have a tough time fending off his challengers.
Delaware is the only one of the three states to conduct a closed primary, meaning only voters affiliated with a political party may participate in the primary. New Hampshire passed a law in 2019 creating a partially open primary system in which unaffiliated voters may cast ballots in one party's primaries. New Hampshire uses a similar system.
Read more about the primary races.
Research into primary elections by the nonpartisan group Unite America demonstrates that very few Americans have a say in their congressional representation. According to the data, just 8 percent of eligible voters have participated in primaries that will decide 82 percent of U.S. House seats (as of Aug. 25).
There's a two-part cause to this situation:
Partisan gerrymandering has virtually guaranteed the outcomes of the vast majority of U.S. House elections before a vote is even cast.
Far fewer people vote in primaries than in general elections, partially due to the nature of closed primaries. About half the states conduct closed or partially closed primaries.
Read Unite America's "Primary Problem" report.
It was a busy week for everyone monitoring voting laws in the states. Thanks to our friends at the Voting Rights Lab, we have the full rundown:
South Dakota will go to automatic voter registration. The state will also train staff and update systems to comply with the National Voter Registration Act.
A state court ruled that Michiganders will get to vote on a ballot measure that would expand in-person early voting and expand the use of drop boxes.
A Wisconsin judge bars election clerks from filling in missing information on mailed ballots, increasing the likelihood of votes not being counted.
Staff officials in Arizona were blocked from purging people from the voter registration lists prior to Nov. 8 elections.
Pennsylvania Gov. Tom Wolf ordered that additional agencies offer voter registration.
In the latest episode of "Politics Is Everything," Sabato's Crystal Ball editors Kyle Kondik and J. Miles Coleman discuss the latest outlook on this year's Senate races. With Republican candidates struggling and abortion a key issue in the aftermath of the Supreme Court's Dobbs decision, the political envirnoment is dramatically different than it was earlier this year.

Our readers react
Kathy Rondon of Falls Church, Va., wrote to us in response to Dave Anderson's recent piece, "Schools should teach both progressive and conservative views on race relations."
I understand the impetus to try the bridge gaps, and I generally support such efforts. But in this case there is but one thing to say: Nope.
That's because, (1) inherent in the "competing viewpoints" approach is a discussion of the very topics that are now being banned in schools across the country; (2) there was nothing in the pre-CRT brouhaha that limited discussion of competing viewpoints; and (3) the "competing viewpoint" that is espoused by its proponents is not that individual effort overcomes the legacies of slavery, but that no such legacies even exist — which is ahistorical and inaccurate (we might as well teach the competing viewpoint that man and dinosaurs co-existed.)
I will give Mr. Anderson the benefit of the doubt that he is giving Republican lawmakers who are on this crusade the benefit of the doubt. But the reality is that the competing viewpoint is not just on the teaching of race relations. The same legislatures and governors inking anti-CRT-in-schools laws and executive orders are also, in parallel: banning books (on race and gender issues), removing the term "equity" from state policies, undoing progress on voting rights, and placing draconian limits on women's healthcare. I must, therefore, view the anti-CRT in schools approach through the lens of whole of the approach: it's not about healthy discourse and discussion of competing viewpoints; it's about a reactionary move toward a time when the dominant viewpoint was strongly enforced by the state on traditionally marginalized communities. That is not a gap that should be bridged.
Also in the news
Some corporate titans are coming up short on supporting voting and democracy, watchdog report says (CNBC)
How uncertainty sank Richmond's plan to be first to adopt ranked-choice voting (Virginia Mercury)
Election logistics firm sues perpetrators of voter fraud smear campaign (Courthouse News Service)
Trump's PAC faces scrutiny amid intensifying legal probes (Associated Press)
Upcoming events
How to Remedy "Advocacy Apathy" - Congressional Management Foundation - Sept. 13
Fixing Outmoded Election Laws for Business and the Economy - Business for America - Sept. 13
All Vote No Play Engaged Athlete All-Star Meeting - Vote by Design - Sept. 13
Voting 101 Citizen Engagement Forum - The People - Sept. 13
The Critical Role of Local Civic Leaders - National Conference on Citizenship - Sept. 14
Democracy Day Celebration - Team Democracy - Sept 15