Roe v. Wade and the future of democracy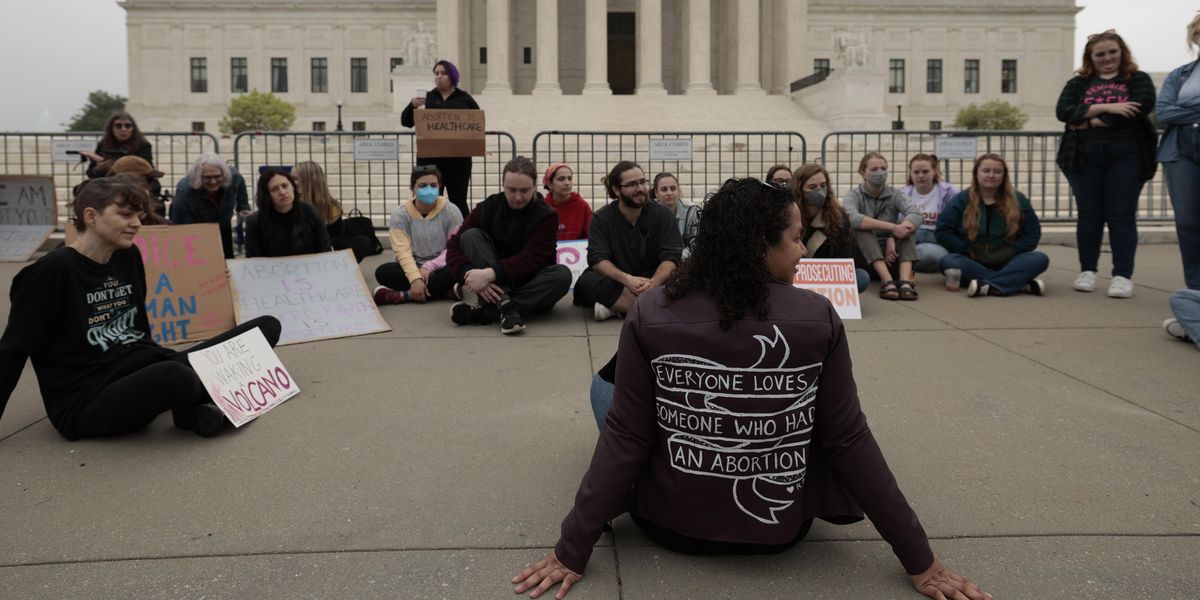 Anna Moneymaker/Getty Images
Dear reader,
The leak of a draft opinion indicating the Supreme Court will overturn Roe v. Wade has raised emotions on both halves of the political spectrum. How it will impact our ability to self govern in our democratic republic is an important question.
As a media platform where people come to meet, talk and act on issues that impact democracy, we'd like to hear from you. In the coming week, we will devote significant coverage in The Fulcrum, highlighting the community's various perspectives. We may also host a panel discussion of thought leaders who submit their views reflecting on how an issue that drives such passionate responses impacts democracy.
While most political operatives will try to use this decision to raise money and motivate their base of voters, we ask our readers to take a longer view on how this moment, this decision, will ripple out to impact the future of our nation.
We will consider publishing commentaries that are no more than 1,000 words and focus on the intersection of abortion and democracy. Send your thoughts to opinions@fulcrum.us. We look forward to hearing from you.
Additional reading
If Roe v. Wade is indeed overturned, each state will be empowered to make its own laws governing the right to have an abortion. Thirteen states have already passed "trigger laws" restricting, if not banning, abortions once the Supreme Court acts. Learn more about trigger laws and which states have them.
After Politico published the draft opinion, the Twitterverse reacted as expected – with passion and resolve on both sides of the debate. But the leak itself caused consternation about further politicization of the Supreme Court and the future of democracy. See how people reacted.
Debilyn Molineaux, co-publisher of The Fulcrum, has been streaming programs about con artists and cults, and they got her thinking about the methods both liberals and conservatives use to attract adherents and demonize the opposition.
While we cling to our beliefs and fight over who is most deluded, the conflict entrepreneurs (aka the con artists) tweak our fears of being excluded, declaring our enemies to be people who think differently from ourselves. They promise happiness when we vanquish our enemies at the ballot box or in school board meetings.
Our current conflict about the direction of our nation is being fueled by our own fears. What are the deepest desires of the American public? To feel included in society with a sense of belonging. Full stop.
In order to be a functioning society, we must accept that we all belong, regardless of background or belief. As Debilyn writes, there can't be a litmus test to belong.
How can the media play a role in decreasing polarization? The Common Ground Committee and Bridge Alliance hosted a special virtual event to find answers to that questions.
Journalists Chris Wallace and Jonathan Karl discussed the ways the media impacts American attitudes, and how public trust can be restored as news outlets navigate a changing landscape.
Also in the news
In race for Georgia's election chief, it's all about Trump and 2020 (Reuters)
Facing Friday deadline, Ohio Redistricting Commission adjourns without plans to draw maps (Cincinnati Enquirer)
Alabama church known for role in voting rights movement is on the list of most endangered historic places (CNN)
'Rogue governor' scenario spooks senators working to prevent stolen elections (NBC)
Upcoming events
Expert Dialogue with Kevin Johnson, Election Reformers Network, and Ciara Torres-Spelliscy, The Brennan Center - Election Reformers Network - May 5
Federal Reform: The Good, the Bad, the Ugly - RepresentUs - May 6
Citizen Office Hours - Citizen Assembly - May 8
We the People's Forum: Does One Size Fit All For Addressing Homelessness? - Braver Angels - May 9