Senior ranks of Hill staffers lack diversity
---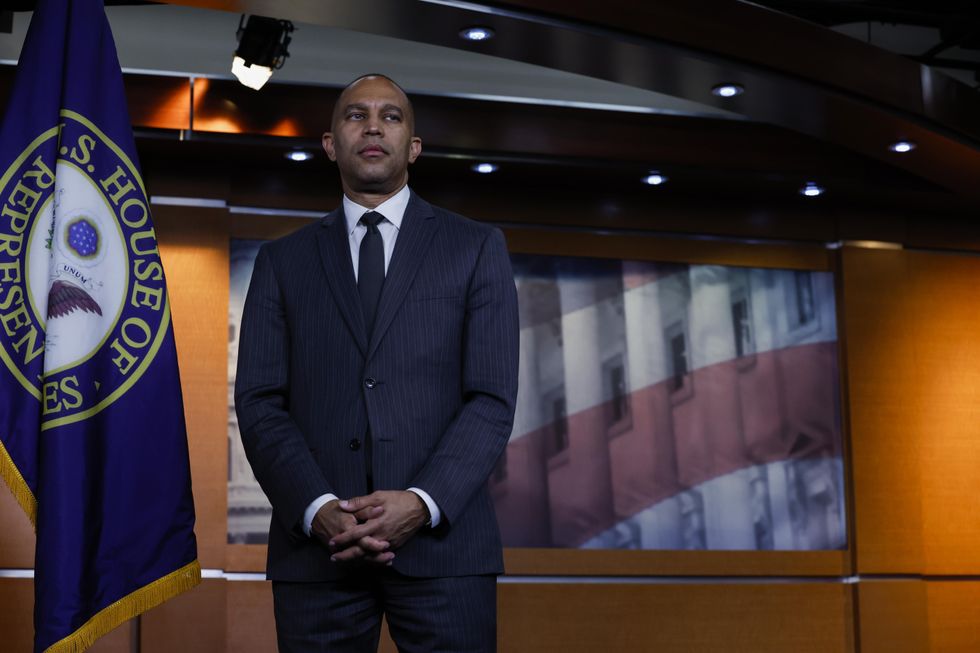 The top staff positions in the House of Representatives – jobs with titles like chief of staff, policy/staff/legislative/communications director – are occupied by more people of color than they were four years ago.
But only slightly.
New research by the Joint Center for Political and Economic Studies found that 18 percent of the most senior positions in lawmakers' personal, committee and leadership offices are held by people of color. That's an improvement over the 13.7 percent in 2018 – but still a far cry from the 40 percent of the U.S. population formed by BIPOC communities.
Some of the details:
Among the seven top leadership offices just three employ a person of color in one of the top jobs. Those offices are led by Majority Whip Jim Clyburn, Minority Leader Kevin McCarthy and Democratic Caucus Chairman Hakeem Jeffries.
Members of the Congressional Black Caucus account for the employment of 75 percent of the senior Black staffers.
Democrats employ 82 percent of the people of color in top jobs.
Progressives employ more than moderate Democrats.
"While we currently have one of the most diverse Congresses in history, their staff still falls short of reflecting the multiplicity of communities that make up the United States. By increasing the diversity of top Hill staff, especially in senior-level positions, Congress is able to make smarter policies, communicate more effectively, and ensure that everyone's needs are met," said Kayla Primes, president of the Congressional Black Associates, a bipartisan organization of Black staffers on Capitol Hill.
One of the reasons many election reform advocates want to expand the use of ranked-choice voting is to eliminate plurality victories – in which the majority of voters did not support the winning candidate.
In fact, that situation occurred 120 times in House, Senate and other statewide primaries this year, according to data compiled by FairVote. And with general elections often serving as a mere formality in heavily gerrymandered districts, that means a small share of the electorate is choosing government officials.
So says FairVote CEO Rob Richie:
"Instead of majority rule, our primaries have become a race to the bottom – who can win with the fewest votes? And with more than 90 percent of congressional districts so partisan that the election is decided in the primary, our elected officials are increasingly chosen by only a fraction of a fraction of the electorate."
Take for example Daniel Goldman, a Democrat running for a House seat in New York. He won his primary with just 25.7 percent of the vote and is considered a shoo-in to win in November.
And in races where the general election is competitive, voters have to choose between candidates who are nominated by a small subset of primary voters. Republican Christine Drazan is in a toss-up race to be governor of Oregon, but she won her primary with just 23 percent of the vote.
FairVote (and its allies) argue ranked-choice voting will ensure primary winners are supported by a majority of voters and will create more civil campaigns.
Those who believe the U.S. Constitution is a "living document" may think of it like a straitjacket strapped around the country, restricting our advancement as a nation. But proponents of change still see avenues forward.
The latest episode of "Democracy in Danger" explores ways to bring about change without tossing out the Constitution. With the 2022 midterms on the horizon, this episode's guests offer up a few ideas — some new, some as old as Athens.
CNN commentator Paul Begala, who worked on Bill Clinton's 1992 presidential campaign, joined "Politics Is Everything" to discuss the midterms, Texas politics and more.
"Partisanship is now part of our identity and social media has really put jet fuel behind all the fissures in our society. Elections have always been about dividing," he said. "We're losing the ability to come back together afterward."
Also in the news
Election Workers in Battleground States Face Surge of Cyberattacks (Time)
Voting Rights In North Carolina Could Hinge On Its Supreme Court Election (FiveThirtyEight)
Voting rights groups seek 'emergency actions' to ensure voting access in Ian zone (Florida Phoenix)
Political experts respond to security concerns that come with early voting (Dayton247)
Upcoming events
Reviving Democracy - Network for Responsible Public Policy - Oct. 13
God Squad — Souls to the Polls - The Village Square - Oct. 14
Bridging Differences: Moving from Conflict to Collaboration - Mormon Women for Ethical Government - Oct. 14
Common Ground – How Can We Ensure Fair, Secure and Accessible Elections? - Braver Angels - Oct. 15
Guns In Schools: Deterrent Or Danger? - Crossing Party Lines - Oct. 16
Digital Advocacy: Social Media & Your Community - American Conservation Coalition - Oct. 17