Somewhere between love & Washington's birthday are Nevada's caucuses
Feb 14 2020
It's half-price candy day! It's also the start of Nevada's early voting. And thanks to the meltdown in Iowa, the Nevada Democrats have scrapped their plan for counting presidential caucus results. So they may or may not have everything under control. Stay tuned for the finale next weekend.
The importance of keeping elections safe is a no-brainer to many Americans, but the folks in charge of doing that have a harder time with the concept. The Senate blocked three election security bills this week. Louisiana will be the only state without any sort of paper trail in November. And the Trump budget would cut the Election Assistance Commission's funding — though it would spend more on cybersecurity.
ICYMI: Last week, we took you on a deep dive of all things EAC budget and staffing.
One more election security note, via some hot tea from Florida: Palm Beach County may have also been hacked during the 2016 election.
North Dakota and South Dakota are ending the week on opposite sides of a big voter ID battle. Both have laws restricting the use of tribal IDs as voter identification. South Dakota doubled down on its ban last week. But its neighbor to the north flipped the script in order to settle a voting rights lawsuit led by two Native American tribes.
Sign up for The Fulcrum newsletter
Honorable mention this week:
BEFORE YOU GO — We got a few ideas in for names for this newsletter. Now it's time to vote. Take our poll and tell us which one is your favorite?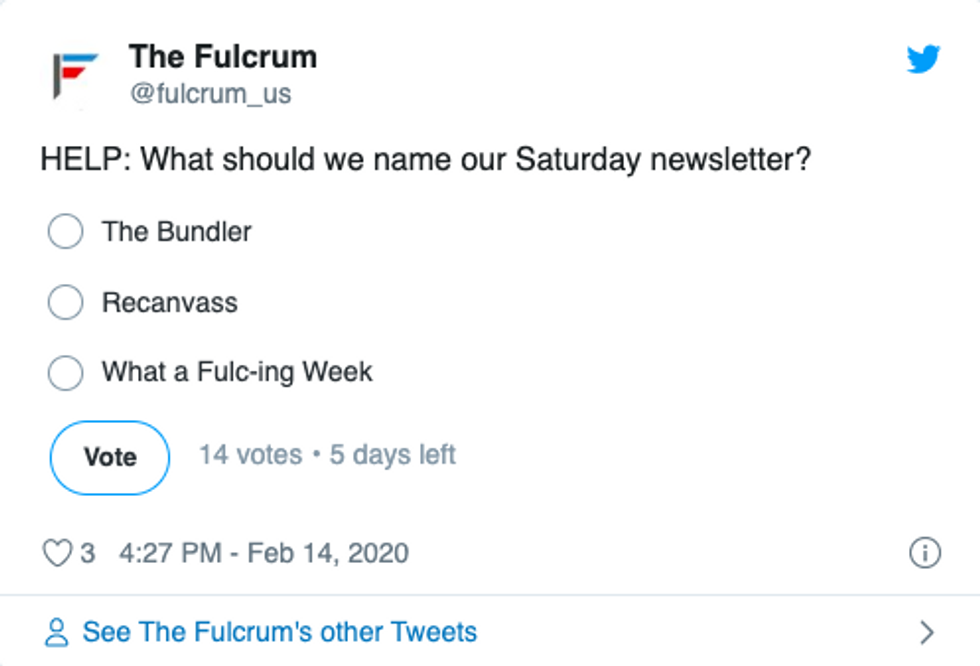 -- Tristiaña Hinton