The new Forward Party wants to be a player in 2022
---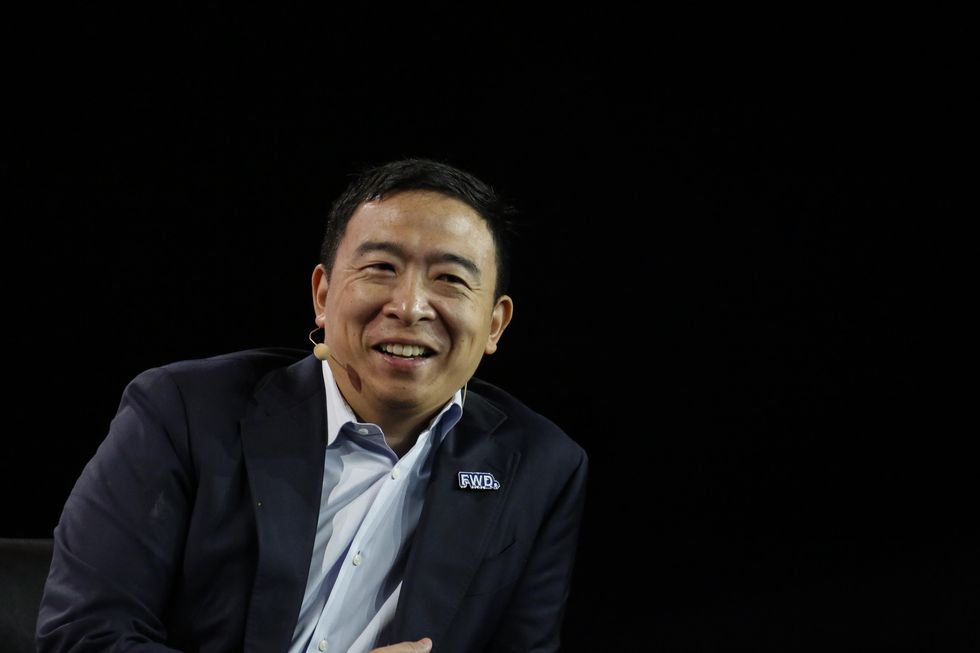 In an interview with The Fulcrum, former Democratic presidential candidate Andrew Yang and Christine Todd Whitman, a former Republican governor of New Jersey, announced that their new political party is going to make its first endorsements of 2022 this week.

While not revealing the names of the candidates, they did say the Forward Party's list would include Republicans, Democrats and independents who are seeking everything from local offices through U.S. Senate seats. And Yang revealed that he is headed to Utah to help independent Senate candidate Evan McMullin, whom Yang had previously endorsed.
(McMullin, a former Republican, is challenging GOP Sen. Mike Lee. The state Democratic Party has thrown its support to McMullin as well).
The Forward Party is focused on "solutions oriented" candidates, particularly those who embrace political reforms such as open primaries and ranked-choice voting.
"Where we see an extreme candidate versus one leaning in our direction, that's where we put our efforts," Whitman said.
The party – which was formed by merging the original Forward Party, the Renew America Movement and Serve America Movement – aims to qualify for the ballot in 15 states by the end of this year, 30 in 2023 and every state in 2024.
Your take: Have you ever voted for 'the other side'?
Voting is a core part of American civic life. Your vote holds a lot of symbolic value, which often gets lost in our hyperpartisan elections. Too often, Democrats and Republicans only vote for candidates with matching labels.
But when you support the "other team," you become an exception to the rule. And if you're a public figure, some will call you a "traitor" while others will say you're "putting country over party."
That's why it was national news when Republican Sen. Lisa Murkowski and Democratic Sen. Joe Manchin endorsed each other. It's also why GOP Rep. Liz Cheney lost her primary after voting to impeach former President Donald Trump.
With that in mind, we want to know if you have ever voted for somebody on the "other side"? And also…
What led you to make an exception for this person?
Did you feel like you were putting "country over party"?
Are you happy about your choice?
Please email your response by 9 pm ET on Wednesday. Select answers will be published Friday.
Bill Shireman, founder of In This Together, joined the latest episode of "Deconstructed" to discuss the divisive political environment within which we find ourselves - and what can be done about it.
Shireman also founded Future 500, a nonprofit that works across stakeholders to help corporations work toward the common good, and was instrumental in founding the youth-led nonprofit BridgeUSA.
In its latest episode of "Democracy Works," guests Lara Putnam (history professor at the University of Pittsburgh) and Micah Sifry (founder of Civic Hall) discuss how the Democratic Party can break out of a messaging rut.
Despite the increased grassroots activism following the 2016 election, the murder of George Floyd and the Supreme Court's decision overturning Roe v. Wade, Democrats appear to be sticking with the old fundraising and messaging playbook. Putnam and Sifry explore why that is and what they can do to advance the party's efforts.
Also in the news
The Supreme Court Case That Will Decide if Voting Rights Should Be Race-Blind (NPR)
What's Ahead for the Voting Rights Act? (The Bulwark)
Colorado: 30,000 noncitizens got vote registration mailer (The Associated Press)
Locks, laws and bullet-resistant shields: Election officials boost security as midterms draw closer (CNN)
How it started and how it's going with ranked-choice voting (San Francisco Chronicle)
Upcoming events
2022 Midterms: Who Will Control Congress? - USC Center for the Political Future - Oct. 11
Intersectionality of Faith and LGBTQIA Community - The Great Reset - Oct. 11
Conflict Resolution Training - Search for Common Ground - Oct. 12
Reviving Democracy - Network for Responsible Public Policy - Oct. 13