There's more than one way to 'fix' the Supreme Court
---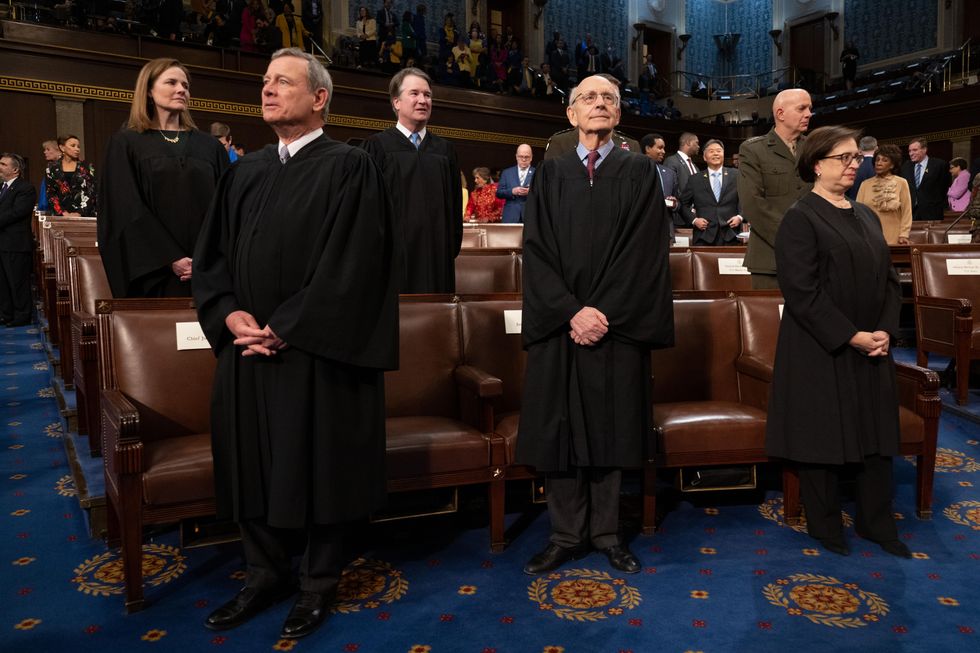 Saul Loeb - Pool/Getty Images
Three of the past four Supreme Court justices were nominated by Donald Trump and confirmed by Senate Republicans, using parliamentary tools at the majority's disposal. Democrats cried foul as Sen. Mitch McConnell blocked an appointment by Barack Obama but rushed through conservative nominees.

As a result, the American left has been calling on Democrats to expand the Supreme Court. The Constitution does not define the number of justices; rather, that number is set by Congress and has been changed multiple times in the nation's history – but not since 1869.
While there have been nonpartisan arguments for expanding the court (for example, one proposal would increase the number of justices to 13 to match the number of federal circuit courts), in reality, it has been a partisan fight.
However, there are other proposals for reforming the court that do not get nearly as much attention but are worth exploring. A by-no-means-exhaustive list of potential changes includes:
Broadcasting court proceedings, just like C-SPAN's coverage of Congress.
Creating an ethics code that applies to the Supreme Court, which is the only federal court exempt from the current code of conduct.
Establishing term limits for justices.
Learn more about each of these ideas.
The Fulcrum's Debilyn Molineaux is concerned about the growing influence of the politics industry. Campaign managers, marketing experts and conflict entrepreneurs have learned how to exploit technology, campaign finance laws, rising polarization and social media to win elections at any cost.
And one of the costs has been our social norms.
Collectively, our social norms have been eroded, exploded and imploded to the point where appeals to our basest survival instincts are used to create conflict among Americans. This is how nations fall. Appeals to our first instinct – that survival instinct – which resides in every human brain, easily manipulate and fool us into thinking our actions are righteous. They are not.
If, as Debilyn suggests, we all take a pause and not commit to our first instinct but rather allow for some critical thinking to follow, we will realize that we are being manipulated. And we'll all be better off for it.
Political reformers often point to Maine as a pioneer in improving elections. After all, Maine was the first state to adopt ranked-choice voting for federal elections.
The Pine Tree State made another significant change this week (although this time it's playing the role of follower rather than leader) when it enacted a law creating semi-open primaries. Beginning in 2024, voters who have not registered with a political party will be able to vote in the primary of their choice, joining dozens of other states in offering some form of an "open primary."
More than one-third of Maine voters are registered as independents, who have not been allowed to participate in primaries. As gerrymandering and partisanship have created a system in which many congressional races are decided in the primaries, advocates see open primaries as an important method of creating a more representative democracy.
Read more about open primaries.
Thousands of corporations have recognized the importance of creating opportunities for their employees to practice civic engagement (particularly by voting). Many of them have joined Time to Vote, which helps such businesses create civic engagement plans. Business for America recently brought together representatives from Patagonia, Hims & Hers, and Legacy Vacation Resorts to discuss the benefits of joining Time To Vote.
Also in the news
Election officials in Arizona, other battleground states, stand up against restrictive voting laws (Arizona Mirror)
Judge strikes down Florida governor's 'unconstitutional' election map (The Guardian)
SC Senate compromises and resurrects early voting bill (WIS News 10)
Missouri's waylaid congressional redistricting saga hits another roadblock (St. Louis Public Radio)
Upcoming events
Getting Elected Officials to Act Team Call of American Promise - American Promise - May 12
Depolarizing Within - Braver Angels - May 14
Abortion: Moral Issues and Laws - Crossing Party Lines - May 15
Transformative Listening and Other Essential Skills - Peace Through Action USA - May 16