Tuesday offers another test of Trump's ongoing influence
---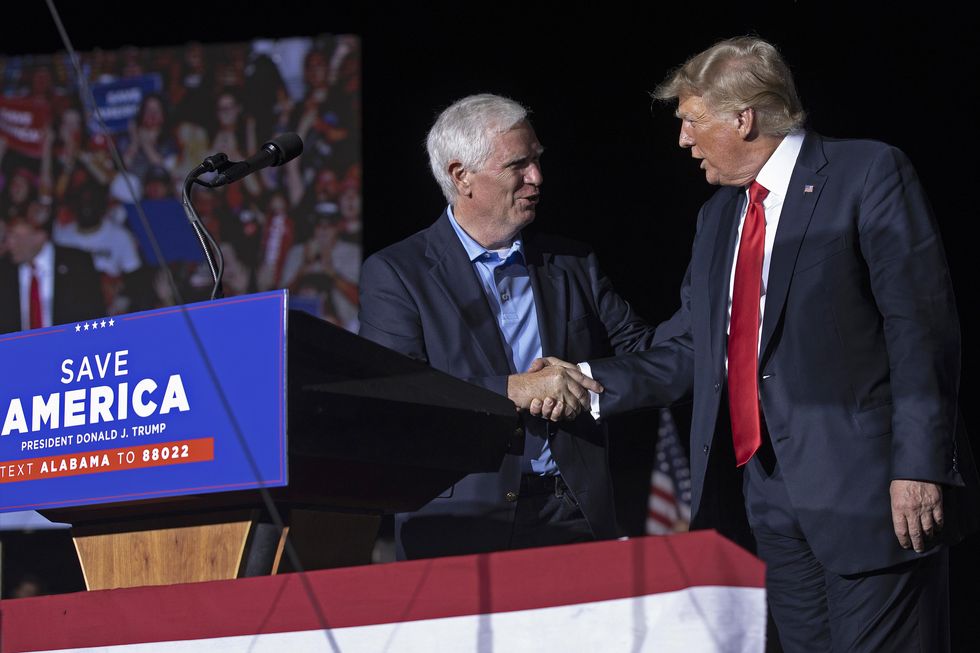 Chip Somodevilla/Getty Images
Three states (Alabama, Arkansas and Georgia) are conducting primary elections today, and former President Donald Trump has played a role in statewide nominating contests in all three:
Alabama: Trump endorsed Rep. Mo Brooks for Senate, and then rescinded his support when Brooks' campaign faltered. The House member is back in the mix.
Arkansas: Trump's onetime press secretary Sarah Huckabee Sanders is the clear frontrunner for the GOP nomination for governor.
Georgia: The former president backed ex-Sen. Sonny Perdue's challenge to Gov. Brian Kemp, but the incumbent has opened up a big lead in the latest polls.
Voters in Texas will return to their polling locations Tuesday for runoff elections to decide a handful of races in which no one received a majority of support on March 1.
George made national headlines in 2021 when it passed a major election law that opponents said would make it significantly harder for people to vote, prompting backlash from major corporations and the relocation of the Major League Baseball All-Star Game. But virtually every state has made significant changes to how they register voters and administer elections in response to the pandemic and claims of election fraud.
This week, we break down the changes in the states conducting primaries today.
Additional reading:
In fact, many states are continuing to alter their election laws, and the Voting Rights Lab is helping The Fulcrum keep track of them all. Just last week, multiple states enacted new election laws.
Arizona expanded voter registration options and made it easier for people to track their ballots.
Oklahoma made it more complicated to request a mail-in ballot but made it easier for visually disabled people to vote.
Illinois also made it easier for voters with disabilities.
Historians, politicians and, in fact, most Americans believe that as a nation we have moved to the left over the past 120 years. And from the narrow perspective of American history, that's true. But, according to scholar and author Dave Anderson, the shift has been a bit different when viewed from a worldwide perspective.
From the standpoint of world history, however, the United States since the early 1900s has been moving toward the center, because socialism became the rival force to capitalism from the mid-19th century through the work of writers in France, the U.K. and especially Germany, namely Karl Marx. By 1917 the Russian Revolution brought forth the first major socialist, indeed communist, totalitarian state.
Franklin Roosevelt, Lyndon Johnson, even Barack Obama and Joe Biden are regarded as socialists by huge numbers of Republican voters and many Republican politicians. From the perspective of world history, none of these democratic leaders comes close to being a socialist leader. The social democracies of the Nordic countries today, and indeed the socialist-led coalitions on and off in Germany, France and the United Kingdom since World War II, represent the real leftist challenge to the advanced industrial age, the information age and capitalism.
For years, debate over abortion rights has been more a political fight than one of policy. But with the anticipated undoing of Roe v. Wade, states are quickly taking action to enact new laws related to abortion.
On the latest episode of "The Science of Politics," Rebecca Kreitzer discusses her long work on abortion politics, including the role of women representatives, interest groups and public opinion, helping us understand how we got here and prepare for what's to come.
Also in the news
The election system shuddered in 2020. Now, there are fears of an attack within (NPR)
Youngkin restores voting rights for thousands of Virginia ex-felons (The Center Square)
Voting rights groups may be able to challenge Arizona law eliminating permanent early voting list (KAWC)
Upcoming events
Dialogue Launch: Building Pathways to Better Jobs - Convergence - May 24
How to Rebuild Rural Politics & Why Our Future Depends on It - Open Primaries - May 24
Connecting Around Common Ground and Collaborating Despite Our Differences - American Promise - May 25
National Strategy Call: Protect our Free and Secure Elections - RepresentUs - May 26