Tuesday's main event: MAGA vs. Moderates
---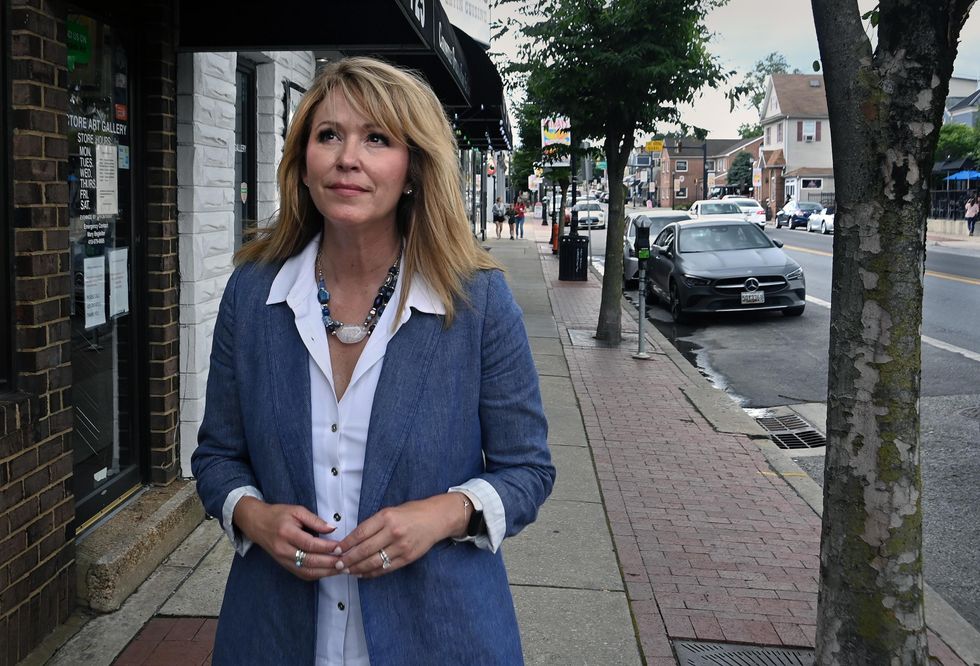 Kelly Schulz
Primary voters headed to the polls in Maryland today will be presented with lengthy ballots. They will be choosing nominees for governor, senator, the House of Representatives, other statewide offices and the legislature. The most consequential race may be the Republican primary for governor.
Two of the three most recent governors (including the current chief executive, Larry Hogan) have been Republicans – in a state that hasn't had a GOP senator since the mid-1980s and where Democrats have controlled the legislature for decades.
So if Republicans want to hang on to their share of power in the Free State, they likely need to win the gubernatorial race. Four candidates are vying for the nomination, and the two leaders represent very different aspects of the GOP.
State Del. Dan Cox has been endorsed by former President Donald Trump, and former state Commerce Secretary Kelly Schulz has the backing of her former boss, Hogan.
Recent polling has Cox with a slight lead but half of GOP voters were undecided.
Read more about the primaries and election law changes in Maryland.
Additional reading: Maryland – "America in miniature" – is giving birth to a New Center
It was a busy week in North Carolina, where a judge blocked an election law and the governor signed another.
A federal judge ruled that a rule limiting who can help people with disabilities cast their ballots is a violation of the Voting Rights Act. The law says only close relatives can help someone with a ballot, putting limits on those who live in nursing homes or are hospitalized.
And Gov. Roy Cooper signed a bill providing funding for the state to join the Electronic Registration Information Center. ERIC's database allows 31 states (and Washington, D.C.) to share voter registration information to help each keep the voter lists clean.
Elsewhere:
New Hampshire Gov. Chris Sununu signed a bill that eliminates the attorney general's ability to use their discretion in prosecuting election crimes.
Pennsylvania Gov. Tom Wolf signed a bill barring the use of private funds for elections but allows organizations to donate space for elections.
A lawsuit has been filed in Wisconsin that would compel election officials to reject mail ballots for small errors (like a witness forgetting to include their ZIP code).
California lawmakers passed a bill that would increase transparency in the ballot signature verification process.
Joe Weston wants to help you
Summer time is often an opportunity to travel and see friends, but with Covid still around, it can be difficult to figure out everybody's comfort levels. It's rare to see masks in public anymore, but that doesn't mean that everybody feels safe.
Have any of your plans been canceled by arguments over masks? Rapid tests? Vaccinations? Have you had a falling out with a friend or family member over what kinds of precautions are "reasonable"?
Joe Weston, the voice of The Fulcrum's "Ask Joe" advice column, wants to help you resolve any tension, polarization or conflict that may arise in these difficult situations.
Send your questions to Joe. If chosen, we will publish your question and Joe's response.
Polarization is one of the defining features of our current politics. But it doesn't need to be that way.
The hosts of the "How Do We Fix It?" podcast spoke with Columbia University professor Peter Coleman, who is an expert on conflict resolution about how we can use science to reduce toxic polarization and push back against conflict entrepreneurs.
Also in the news
Georgia's ban on water for voters challenged in court (Associated Press)
VP Harris: 'We will not let the filibuster stand in our way' in protecting voting rights, abortion access (Fox News)
Arizona voting groups want Cyber Ninjas barred from federal contracts (Arizona Republic)
Florida ramping up election security with surveillance cameras, 'ballot escorts' (WESH 2)
Upcoming events
Staying Nonpartisan During Voter Engagement - Nonprofit Vote - July 19
Make Your Voice Matter, Even When Your Elected Officials Already Agree With - Civic Genius - July 19
Back to the Future – Where are we Post-Pandemic (ish)? - Davenport Institute - July 20
Book Discussion: "I Have the Right To Remain Silent …" - Braver Angels - July 20