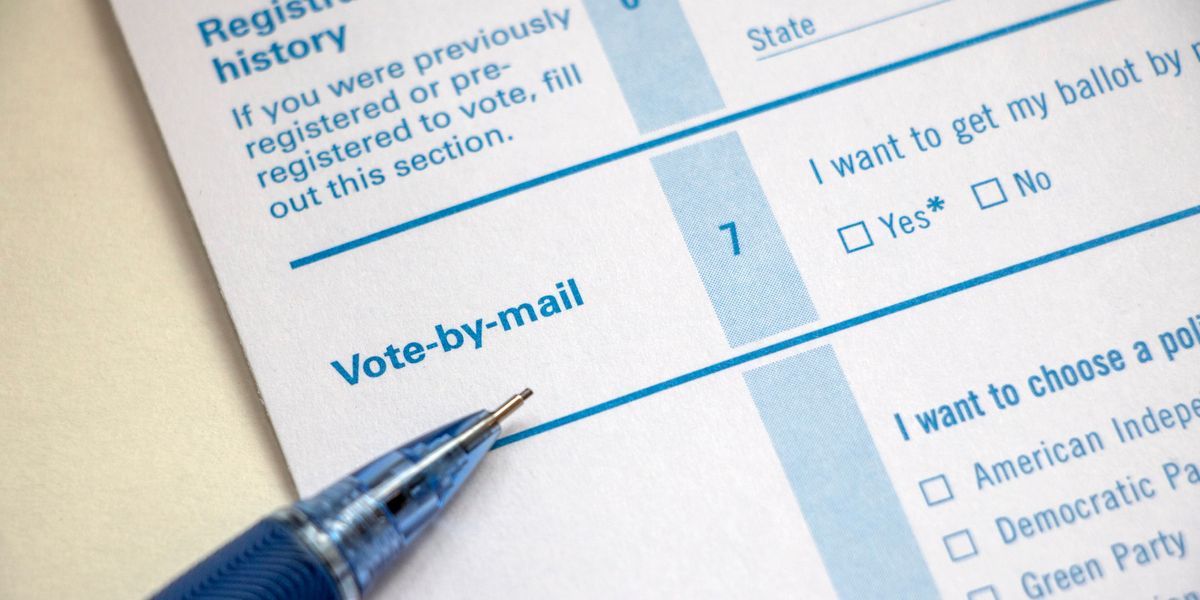 Darylann Elmi/Getty Images
Edkins is political director of Stand Up America , a progressive advocacy and voter mobilization organization.

Our country has rarely faced a threat as dangerous as the coronavirus pandemic. Our economy is in freefall, millions are out of work, thousands are dying — and there is no clear end in sight. The decisions our leaders make now will determine whether we withstand this outbreak.
I am incredibly proud that during this crisis my fiancé, a physician in New York City, is working day and night treating Covid-19 patients. I can't do what he does. Instead, I'm working with advocates and activists to ensure that Americans don't have to sacrifice their health to exercise their right to vote this year.
But on Tuesday, that's exactly what happened in Wisconsin when Republican lawmakers forced hundreds of thousands to vote in-person despite the incredible risk. The chaos that unfolded during that primary cannot be permitted to happen again — and that's why Congress must swiftly intervene to provide states the resources they need to keep voters safe.
Our lawmakers need to make bold choices now, on many fronts, to give our country a fighting chance to get the best of this public health crisis. That means providing health care workers the protective equipment they need. That means helping tenants keep a roof over their heads. And that also means protecting our most fundamental American right: the right to vote.
Sign up for The Fulcrum newsletter
At a White House news conference last week, President Trump rejected the idea that states should help millions of Americans vote by mail in November. But the United States has never administered a presidential election during a pandemic of this size — and states and localities will need resources they simply don't have right now.
Congressional Democrats estimate that $4 billion is needed to safeguard our elections during this crisis. The Brennan Center for Justice says at least $2 billion is required to expand vote-by-mail options and guarantee no-excuse absentee voting — and to print, deliver and track millions of additional ballots. Funding is also needed to clean and sanitize in-person polling places, pay poll workers more and train new ones, expand online voter registration and lengthen the time for early in-person voting to cut down on the risks posed by long lines and crowds at polling places.
Last month, thanks to pressure from activists and progressive lawmakers, Congress provided $400 million in election funding to the states. But that is just a fraction of what states need. The scale of this crisis demands a far more robust response, and Congress must pass additional funding now if we have any hope of protecting our elections before November.
If Congress can spend $2 trillion shoring up our economy, including $50 billion to bail out the airline industry, it can afford to invest $4 billion to secure our elections. Our democracy is worth that investment.
Ultimately, the states will have to implement the election reforms needed this November, and we cannot focus exclusively on mail-in voting. Studies show mail-in ballots submitted by voters of color are rejected at higher rates than ballots from white voters. And all vote-by-mail systems may unintentionally leave vulnerable communities behind.
Many Native Americans, especially those who live on reservations, do not have traditional street addresses. Voters with physical disabilities may have to vote in-person, as do many voters who need translation and language assistance to cast their ballot.
No one method is a solution on its own, and we cannot ask millions of voters to follow a one-size-fits-all approach. That's why states need adequate funding — to give voters options as to how they'll cast a ballot this year. We need expanded early voting, same-day voter registration, online voter registration, and other reforms to protect voters' rights and health.
It's also not enough to enact these reforms and just expect voters to take advantage of them. States must actively work to educate all voters about their options before November. The Brennan Center estimates that more than $250 million is needed for a public education campaign with "mailers, television, radio, social, and other media, all in multiple languages."
The truth is that we don't know how long this pandemic will last. But we do know we are running out of time to get the response right. Whether the president likes it or not, a record number of Americans will vote by mail in 2020. The only question is whether we are prepared. Failing to provide states with the resources they need puts the health of our democracy at risk.
Too much is at stake for lawmakers to go home without ensuring the safety of voters and poll workers during this election.