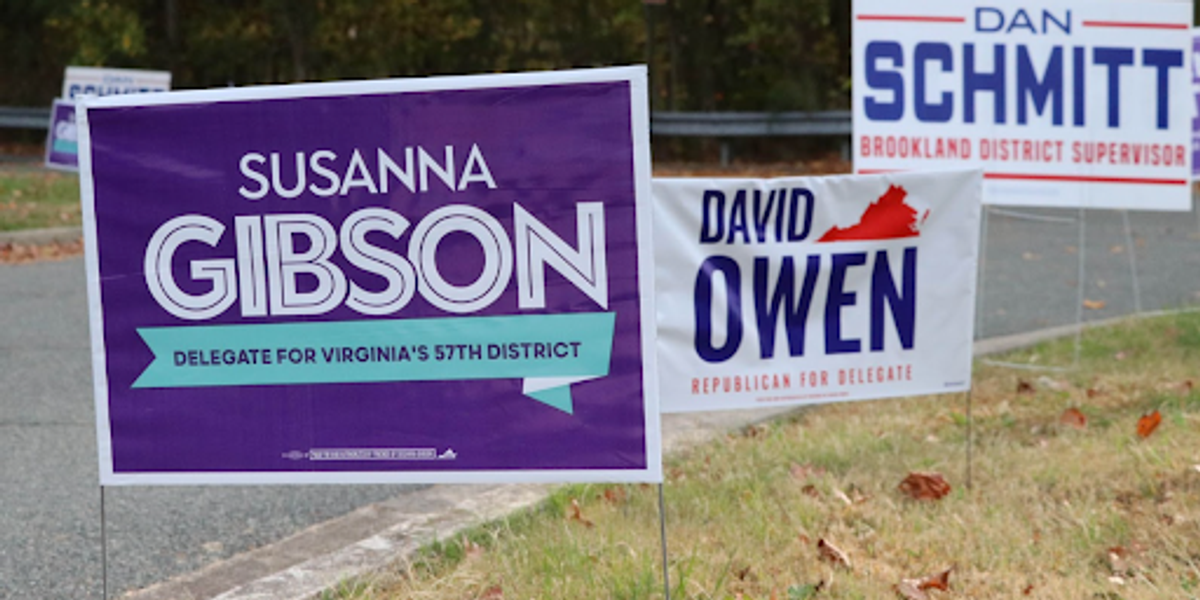 Esther Frances/Medill on the Hill
Mason is a graduate student for Medill on the Hill, a program of Northwestern University in which students serve as mobile journalists reporting on events in and around Washington, D.C.

Seven-year-old Colton Owens laid on the ground outside his elementary school and played with his mother's shoelaces. It had been a long day of errands, flu shots and now, voting.
When his mother, Stephanie Owens, began to answer a question, he chimed in with a list of names, the candidates he learned from television ads: Susanna Gibson, Siobhan Dunnavant and David Owen. Although Colton isn't old enough to vote, he seemed to have given the advertisements more attention than many in Virginia's 57th Delegate District, a suburban area northwest of Richmond.
"Honestly, a lot of it, I just kind of scroll past and then I go do my own research rather than looking at a lot of ads. I see the ads just to know who is running pretty much, but that's about it. I don't pay attention to the rest of that stuff," Owens said.
Owens was selecting between Susanna Gibson and David Owen to serve as her representative in the state House of Delegates. The race made national news after recordings of Gibson and her husband performing sex acts on a streaming site called Chaturbate were leaked by an unnamed Republican operative to The Washington Post in September. For an election that received national attention for a sex scandal, few voters seemed focused on those videos or the ads and media stories about them, instead prioritizing the issues at stake, such as abortion access. Although Gibson lost , the margin was less than 3 percentage points, or just 715 votes, in a district that was considered competitive .
Sign up for The Fulcrum newsletter
"In this political climate, it's really fascinating, this case with Susanna Gibson. It shouldn't really be a surprise that she didn't lose in a landslide because we're in a time where women, especially in this state, as you can see from the results of the election, women felt like abortion rights, access to abortion, access to reproductive rights were at risk," said Dr. Jatia Wrighten, Assistant Professor of Political Science at Virginia Commonwealth University. "I think that this is also playing in favor of Susannato Susanna Gibson and her right to privacy, her right to her body, the right to do what she wants in terms of sexual behavior."
In addition to mailers and traditional campaign ads, national media outlets and social media users across the country addressed the scandal. A YouTube recording of FOX News' Greg Gutfeld's analysis garnered 397,000 views, more than six times the district's population.
Gibson described the leaks as "the worst of gutter politics" but she and Owen, her opponent, largely avoided addressing the issue before the election. Afterwards, she explained the reasoning for her silence.
"A lot of people say, 'Well, why didn't you speak out?' Because I didn't want to give it oxygen. If I spoke out, if I did something, it would keep it in the news and in the media," Gibson told Medill News Service in an interview two weeks after the election.
Owen stated he was unaware of the videos until they were leaked and was focused on his own campaign.
Despite the national media, fellow Democratic candidates said the scandal didn't play a big role in the local elections.
"The vast, vast majority of people I have met had not mentioned it to me," said Democratic candidate for the Henrico Board of Supervisors, Stephen Rast. "I honestly don't think it impacted the local elections too much. Once this story came out, she decided that she wasn't going to be campaigning with the rest of the Democratic ticket in the area anymore."
Gibson's campaigning did shift dramatically following the leaks, but rather than a conscious step from the party, she described it as concern for her family and mental health.
"It wasn't necessarily that I distanced myself from the Democratic Party, it's that I couldn't get up off the floor for about a week, I would lay down on my bathroom floor and not be able to get up. It was absolutely horrific and something I would never wish on my worst enemy," said Gibson.
By October, Gibson was back on the trail, knocking on doors. Then, in late October, thousands of voters received GOP mailers with explicit content warnings that contained censored screenshots and quotes from the videos. After the initial leak, Google searches for Gibson peaked, rising again slightly after the mailers were sent.
Regarding the explicit mailer, voter Michael Jenkins said, "I thought I saw something, but a lot of it, it gets to be too much. I knew who I was voting for so I just started chucking things, but I heard of [the leaks]. I think it was on social media."
Other voters arrived at the polls without knowledge that anything had happened, stating that even if they had known about Gibson's videos, it wouldn't have altered their vote.
After being told a brief rundown of the scandal, Lauren Cash, a voter whose priorities were abortion and LGBTQ+ rights, said, "I guess I'm more open-minded, but I don't think that would have really necessarily affected my decision as long as the values were kind of in line."
Top on many voters' minds was abortion. Virginia is currently the only southern state that has not imposed abortion restrictions since Roe v. Wade was overturned in June 2022. Governor Youngkin repeatedly expressed interest in tightening the current legislation from 26 weeks to 15 weeks with exceptions for incest, rape and to save the life of the mother. For some voters, and in Gibson's platform, it was the single most important issue on the ballot.
"Abortion. I have two daughters. It's not my, even as a man, it's just not my right to say whether someone can or can't have an abortion," Jenkins said when asked what issues he was basing his vote on.
Following redistricting, the 57th District changed significantly, moving from central Charlottesville to the northwest suburbs of Richmond. The Virginia Public Access Project listed it as one of seven highly competitive districts. Following the election and despite Gibson's loss, Democrats retained control of the Senate and took the House.
Siobhan Dunnavant, a Republican candidate for Virginia's 16th District Senate seat, which includes parts of the 57th House District, responded to questions about Gibson by saying that her mother had taught her, "if you can't say something nice, don't say anything at all."
Before Virginia's new district lines were approved in 2021, Dunnavant held the 12th District Senate seat for eight years, and much of that district ended up in the 16th District after redistricting. But the overall makeup of the new district leaned blue, according to the Virginia Public Access Project , a nonpartisan election group. Dunnavant narrowly lost to a Democrat, Schuyler VanValkenburg.
"I have five brothers, I've never seen a glass ceiling, I've always thought I could do anything if I worked hard enough and built consensus in a lot of ways. So I had that perspective, walking into politics. I have really been floored by how different a woman's voice is in the legislative process, and how diversity is such an important part," Dunnavant said.
Although Dunnavant doesn't see a glass ceiling, women remain underrepresented in politics across the country. According to the U.S. census, Virginia has a female population of 50.5%, but women make up only 30% of the Senate and 34% of the House after Tuesday's election.
The AP recently highlighted four Virginia candidates who were accused of violence against women. Of the four, Tom Garrett, R, was the only winner. He won his race for delegate in the 56th District with 89% of the vote.
The district is located directly east of Gibson's District 57, including the majority of conservative Goochland County whose votes in 57 directly contributed to Gibson's Republican opponent's win.
Garrett previously represented Virginia in the U.S. House of Representatives for one term but declined reelection in 2018 to pursue alcoholism treatment. In 2019, his wife filed for divorce, citing a list of allegations including violence and abuse in the relationship. Garrett has denied these claims. These accusations received some local coverage, but did not reach the levels of national attention that Gibson's story did. To Gibson, the difference is striking, though not necessarily surprising.
"Revenge porn is really rooted in the idea that men are in charge of, or own women's sexuality, that men are entitled to someone else's body and can use it as a weapon to control them. I think it's really like our misogynistic and patriarchal culture and our understanding of sex, that essentially views women as morally and ethically painted for something that the man then is praised for," Gibson said. "That's one of the reasons that this has become such a big deal for me, because of that really deeply ingrained and rooted misogyny and patriarchal society, whereas those men can commit horrific acts of violence, hitting someone with their car [Matt Fariss], strangling them [Garrett], and that is not considered nearly as bad as what I did with my husband."
In response to the leaks, Jenkins, a voter in the 57th District, said they were "very dirty" and remembered seeing another female politician criticized for a similar issue. He stated that a candidate's personal life has nothing to do with how they do their job.
The other politician he references is California Democrat Katie Hill, a former member of the U.S. House of Representatives who resigned amidst a 2019 scandal that revealed she had been in a polyamorous relationship involving her former husband and a campaign staffer. Her nudes , the release of which she blamed on her ex-husband, included a photo of her with the staffer.
Following the release of the photos, Hill filed a suit against the Daily Mail and two journalists, alleging that they violated California's revenge porn laws. Hill lost the case and was required to pay the other parties' legal fees.
Gibson is pursuing a similar suit, according to her lawyer who told The Washington Post that he believed the leak was illegal under Virginia's revenge-porn guidelines and her own confirmation to the Medill News Service.
"I want to make sure that this person who shopped around those illegal pornographic images is found and prosecuted to the fullest extent of the law," Gibson said.
A different lawyer who specializes in Virginia's revenge porn law, Lee E. Berlik, explained that a successful outcome for Gibson seemed unlikely based on Virginia's relevant statutes 18.2-386.1 and 18.2-386.2 .
"I'm not sure that what happened to Gibson falls into any of these categories, mostly because the images that circulated of her were images that were taken with her consent. As I understand it, she arranged for the photos and video to be taken of her willingly," said Berlik, founder and managing member of BerlikLaw, LLC.
Under Virginia law, it would be important to show that the videos were posted without her consent, he said.
"Consent really is misunderstood. People say, 'Oh, she put this out there. What does she expect?' No. Incorrect. I did not," Gibson said. "I consented to a group of people seeing something for a moment in time, I did not consent to that being recorded videos played over and over and over again, splashed across the Internet and across the world. They are two very different things."
Gibson has begun working with Delegate Marcus Simon, a lawyer who helped create Virginia's current revenge porn laws, to strengthen the current code. She is specifically focused on the requirements for intent and general understanding of consent, citing Illinois' current legislation as a step in the right direction.
"In Illinois, it doesn't matter what the intent was, if it was, essentially, like leaked or shared. If someone commits nonconsensual dissemination of private sexual images, that is all that would be needed, which I think is really important. Whether they intended to harm the victim or not, that's really inconsequential," Gibson said.
As for whether the explicit videos played a role in Gibson's loss, it was difficult to say, though Gibson herself believes they did not have much of an impact. The district was listed as competitive and that rang true in the close results.
Gibson believes an unexpectedly high turnout in a conservative part of her district played a role. The district had the second highest voter turnout of the General Assembly elections.
"Goochland County had about 140% of expected turnout to vote, and that was not because of me. That was because there was a very, very contentious Commonwealth attorney race in Goochland," Gibson said. "I think that really played a large part in why Goochland showed up because if Goochland hadn't had 140% of expected turnout, I would have won. I think it [the leaks] had a minimal impact."
As one voter said, it's time for the country to evaluate candidates based on their stances on the issues, rather than their personal lives.
"I see more and more people that don't think like their mothers and fathers and grandparents. I think the right is trying to hold on to what this country used to be opposed to what this country is more for," Jenkins said.
In an era when technology has a profound effect on our lives, Gibson agrees that times have changed and treatment of women should too.
"As more women step up to run for office, … there are going to be very few of us that don't have some kind of explicit content on our phone, on an ex's phone, on our spouse's phone, on our computers, on the cloud," Gibson said. "This will continue to happen over and over and over again if we allow it to and will only further discourage women and younger people from stepping up and running for office. We have to make sure that it doesn't remain acceptable."