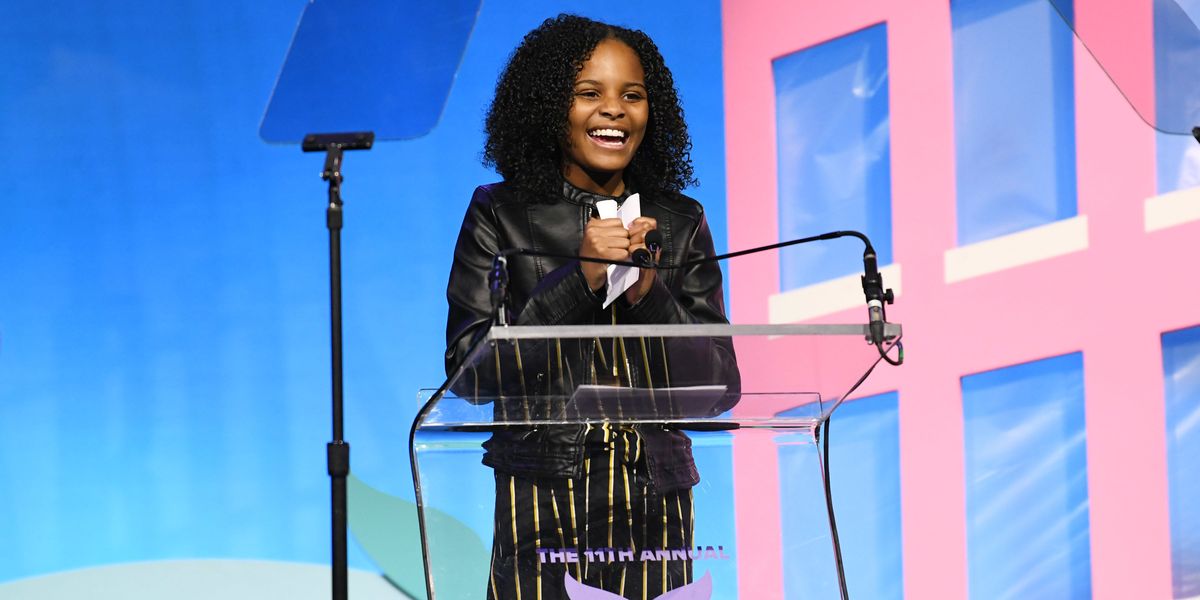 Noam Galai/Getty Images
Harris is the advocacy director of Generation Citizen, an education nonprofit that works to ensure young people are prepared to participate in civic life.
As we watch young people around the country stand up for climate change, it is impossible not to consider the power of young people to change our world.
People have been listening to Greta Thurnburg as she speaks on the world's most prominent platforms while droves of young people have been rolling up their sleeves to drive change. Many have been largely overlooked by the media including Mari Copeny, the African-American middle schooler who brought attention to the water crisis in Flint, Mich., and Vic Barrett, one of 22 young plaintiffs suing the government for its contributions to the climate crisis.
A look through history similarly reminds us that young people have pioneered some of our most important societal advances: From college students in North Carolina who led a sit-in at the lunch counter during the civil rights movement, to the young people on the frontlines in Ferguson, Mo., to the leaders of Black Lives Matter, to the survivors of the high school shooting in Parkland, Fla., who founded March for Our Lives.
The passion young people have for their communities, their futures and the world is palpable. The energy that ran through the streets in September, as millions of students walked out of classrooms to participate in the Global Climate Strike, was universal. Yet the opportunity — skills, resources, platforms — for young people to stand up and lead is not.
Sign up for The Fulcrum newsletter
Across the country, the opportunity to learn social and political activism is not created and implemented equally. Instead, there is great discrepancy in civic education opportunities so young people can engage constructively with political systems and inform policy decisions, derailing our democracy's promise of equal representation.
Young people from white, wealthy and otherwise privileged communities generally receive more — and better — civics education than young people from communities of color, low income communities, rural communities and other historically underserved places. And when civics is taught, it is typically tailored to the experiences of white, middle-class students without acknowledging experiences of those traditionally excluded from the political process. As a result, too many students experience a detrimental disconnect between what they learn in the classroom about American government and its ideals and the systemic discrimination they experience in their everyday lives. This ultimately discourages their embrace of, and belief in, the power of their political potential.
One way to address this inequity is to pass state laws mandating high-quality civics education and allocating funds to prepare teachers to teach it.
Massachusetts, for instance, recently passed an innovative civics education law requiring schools to create student-led civics projects in which they take action to address real problems in their communities. Furthering its commitment to equitable civic learning, the state allocated $1.5 million to implement the law.
But civics courses alone do not assure youth civic development. This is particularly true in communities where civic activity is often rooted in settings outside schools, including community centers and religious institutions. As such, it is critical that all individuals, institutions and organizations that work with youth from underserved communities — and not just in schools — understand they are civic educators and prepare themselves to support young people cultivating their own civic identities.
Our organization works to give all students an Action Civics education, partnering with schools to teach a semester-long curriculum and advocating for statewide policies like the one in Massachusetts. We prioritize reaching youth in historically underserved communities. To this end, we spoke with over two dozen young people, from low-income and rural communities in five states, to understand their needs, aspirations and experiences so we could identify patterns to make our engagement efforts most effective.
To some, the insights we collected were surprising. For others, they reaffirmed an existing understanding. These insights are worthy of consideration by all who work with young people from underserved communities.
We learned that while young people champion social issues they care about, they don't necessarily consider themselves to be "political" while engaging in that cause. They have strong core values that they strive to live by, and simultaneously don't always feel they have the tools to apply these values to social and political priorities outside their personal lives.
They have strong opinions and beliefs and want them to be heard. Yet they have a hard time finding comfortable spaces to share their ideas and not be drowned out by competing adults. They have strong visions of their future, while still developing an understanding of how the world works and how to achieve that vision.
And, driven by a sense of purpose and the desire to have a positive impact, they often feel ineffectual in a vast political system not designed to facilitate their participation.
Considering these findings as we shape our programs, services and policies will help us more meaningfully support young people from communities with a dearth of civic learning opportunities. Every young person should have the opportunity to be the next Greta Thurnburg, Mari Copeny or Vic Barrett. We need to provide more — and better — civics education to our nation's students.
In doing so we must meet students where they are, and honor their experiences, in order to initiate a path towards unlocking their true civic power.