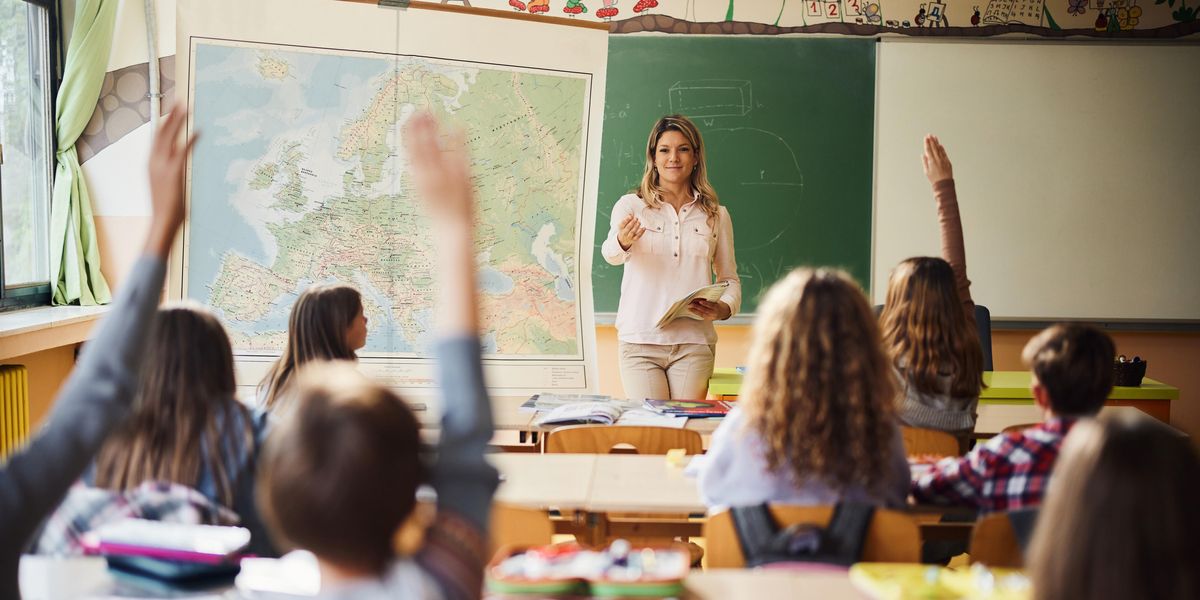 skynesher/Getty Images

Goodwin is a sixth grade social studies teacher and the 2021 New Hampshire History Teacher of the Year.

The United States has an alarming problem: civic negligence. The signs of civic decline and decay are all around us – threats of extremist violence, book bans and legislative efforts to restrict honest discussions of history in schools. Renewing schools as civic spaces will require ending punitive testing policies to restore rich educational experiences. It will take shelving book bans to reaffirm trust in the freedom of thought. And it will call for repealing laws that seek to disrupt academic discussions to assert the value of freedom of speech. Urgent action is needed for our beloved public schools to renew civic life.
Civic education is essential
In Tennessee, there was an effort to ban "Maus," a graphic novel series chronicling survival during the Holocaust, in public schools. Art Spiegelman, the author and illustrator of the book, said that the act of censorship was "a harbinger of things to come."
The jetsam of antisemitism is but one example of a rising tide of intolerance. Each new high-water mark in the coarsening of American life leaves less and less room for finding common ground. The widespread targeting of public schools by politicians is further evidence of shrinking public space for reason and pluralism.
Sign up for The Fulcrum newsletter
Public schools represent the last best hope for Americans to learn from one another and to learn to live with another. The idea of free universal education for every child, regardless of background, is the promise of America. Going to school with people with different views and lived experiences is one of the best ways to fight stereotypes and prejudice. When we can see each other for the full and complex humans that we all are, we are less likely to buy into caricatures that simplify us down to "others." Inclusion is the antidote to a reactionary politics of divisiveness.
How we arrived here: Civics and history pushed to the margins
A recent study by the Brookings Institute reports that there is widespread bipartisan support for learning about different perspectives in high school. That same report, though, shows that there is shrinking agreement on what should be talked about and taught in elementary and middle school.
This matches a troubling trend identified by the National Council for Social Studies and the Council for Chief State School Officers, two nonpartisan organizations. In a 2018 pre-pandemic report, they found 44 percent of districts surveyed had cut instructional time for Social Studies since the enactment of No Child Left Behind in 2001. Robust civic life requires a renewed focus on civics and history in our public schools and a reversal of a decades-long trend limiting instructional time.
The decline in teaching time for history and civics coincides with political polarization in the country. Harvard professor Meira Levinson's "No Citizen Left Behind" highlights how federal mandates created a singular focus on test scores and a narrowing of the curriculum in public schools. This meant reducing class time and eliminating classes that provide students with forums to study history, discuss the nuances of American government and engage in projects connected to the people and communities surrounding schools. In short, we are living in a time where civic education has become an afterthought – a time of civic neglect.
The narrowing of curriculum does not affect all schools equally. But all students share a stake in the future of our republic. High enrollment in free or reduced lunch programs is a predictor of a school's instructional offerings. I worked at a school in Manchester, N.H., that had a free/reduced lunch rate of over 90 percent. There was no time in the day to learn about state history or civics as a result of NCLB-related overhauls. Schools that serve children with the least should have the most resources, not the other way around.
In Manchester and beyond, teachers try their best to use scant resources – often supplementing what schools do not provide by spending money out of their own pockets or asking for donations from friends and family. Dedicated professionals yearn to share their love of learning and their pride in local history. It's time we release them from the handcuffs of high-stakes testing, which placed rigid requirements on curriculum, squelched pedagogical innovation and diminished intellectual curiosity.
Renewing public schools as civic spaces
Civic trust starts with supporting public education, not shouting it down. Across the board, educators want to provide students with a rich understanding of the past, where we can challenge and support each other through honest inquiry. As professionals, we understand that as the times change so too we must change; we want to keep up to date with practices and the latest scholarship in our field. For this reason, teachers are working to share more complete accounts of the past. We seek inclusive and accurate histories, not one-sided accounts. It is discussing the challenges and the triumphs of the past that a new generation imagines the possible.
Teachers also need time to learn and grow. This includes time for reflection and an environment where teachers feel like they can be themselves. Lawmakers undercut the creation of supportive learning communities when they target teachers. Legislative action threatening "career death" is no way to support teachers who are trying their best to have difficult, but honest, conversations in the classroom. Harsh penalties inspire fearfulness and self-censorship, another way to limit public discourse.
For a moment coming off the height of the Covid pandemic, there was a glimmer of possibility: that teachers would be given the freedom to be responsive to the needs, especially social-emotional health needs, of students. Yet, the most recent announcement of National Assessment of Educational Progress scores will likely raise unhealthy demands on schools and teachers. Doubling down on a "back to the basics" approach that will once again narrow the curriculum and, in so doing, reduce the chances of recovering the civic purpose of schools.
It has been said that public schools are mirrors of society. A society's thoughtfulness, caring and compassion are reflected each day; as is its pain, anger and hurt. In these anxious times, we cannot look away from the truths and choices that the mirror of schools lays bare.
We must help our neighbors to see how corrosive policies have weakened civic and history education for decades. Highlight what is working for students at your local school. Demand that all students are given access to high quality civic learning. Stand up for intellectual freedoms. Respectfully rebuff those who would try to police thoughts through book bans and legislative restrictions on classroom conversations. Insist on expanding the concept of civic space – both in our schools and in the public square. Civic education is for the many, not the few.
Let this be the beginning of a new Renaissance of commitment toward our public schools as sites of civic renewal. The cause of decency, honesty and integrity must reside in every classroom and in each person. It is by adopting this cause that we can show Spiegelman our commitment to a better America; an America that is not governed by fear. When we do, we will be able to read freely, speak truthfully, and to look into the mirror again and see ourselves fully.