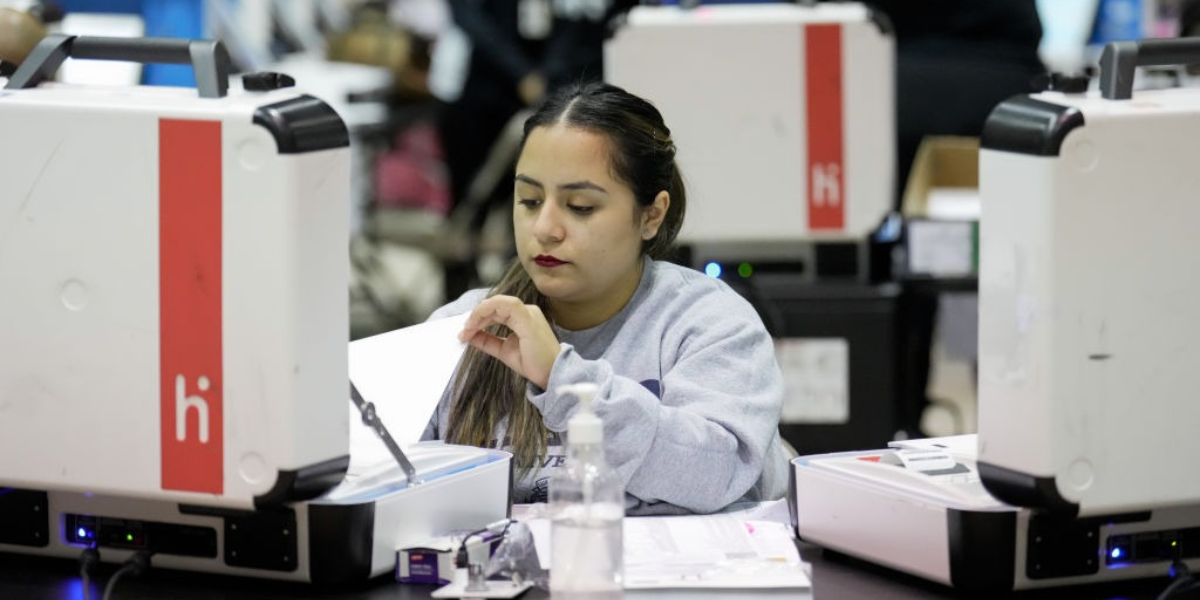 Getty Images
Levine is an elections integrity fellow at the Alliance for Securing Democracy, which develops strategies to deter and defend against autocratic efforts to interfere in democratic institutions.
Krystyna (Krysia) Sikora is a program assistant for the Alliance for Securing Democracy, where she serves as the assistant to the director.
Earlier this month, Harris County sued the State of Texas to temporarily block a law, known as Senate Bill 1750, that would eliminate the Harris County elections administrator position effective September 1st. Harris County really messed up its administration of the 2022 midterms, but removing its top administrator position with less than two months to go before the start of early voting for a countywide election is likely to cause more problems than it solves. Harris County needs more checks and resources behind their election officials, not an elimination of the top election position altogether. While the lawsuit is ostensibly about preserving a critical election position, beneath the surface it is also about the weaponization of mistakes to justify the takeover of election operations.
The 2022 midterms were not the first time Texas' most populous county experienced election administration problems. On Election Day in 2022, more than a dozen voting locations ran out of ballot paper. As had occurred in past elections, there were widespread reports of voting machine malfunctions, paper jams, and unusually long lines. Several polling places failed to open on time for various reasons, including election workers quitting, not showing up, or not being given the keys required to operate voting equipment.
Sign up for The Fulcrum newsletter
The mishaps did not impact Harris County's election results, but they were significant enough to justify greater state oversight of the county's election administration. However, rather than taking the opportunity to help Harris County improve its elections, state officials wielded the mistakes to increase partisan control over election processes in a way that could further cast doubt on the legitimacy of its elections. In addition to Senate Bill 1750, Governor Greg Abbott also recently signed Senate Bill 1933 into law, which authorizes the secretary of state to essentially take over Harris County's elections on vague grounds, as well as Senate Bill 1070, which enabled Texas to resign from the Electronic Registration Information Center, an interstate compact that allows states to share information to help maintain accurate voter rolls. Another proposed bill would give an Abbott-appointed official authority to order an entirely new election in Harris County if 2% of its polling places run out of ballot paper for an hour. The bills were justified by the false claim that the election problems were deliberately orchestrated to disenfranchise certain voters.
Harris County is not alone in facing repercussions from election errors. A new report by the Alliance for Securing Democracy at the German Marshall Fund examines election administration mistakes made in three pivotal counties across the United States—including Harris—during the 2022 and 2020 elections, and how those mistakes were subsequently weaponized. For example, misreported results in Antrim County, Michigan served as the basis for a swarm of conspiracy theories about Dominion voting machines, which subsequently sparked the January 6th attack on the U.S. Capitol. Likewise, after Maricopa County, Arizona reported issues with vote-counting machines reading ballots printed on site, losing candidates claimed malfeasance and sued to overturn and rerun the election. The claims underlying the suit were found to be without foundation. The weaponization of election mistakes is likely to increase in the run-up to the 2024 General Election as long-serving election officials leave their posts and less experienced—or ill-intentioned—officials replace them, risking more mistakes.
In a voting system as complicated as those in the United States, mistakes are bound to happen.
But without more evidence they are not signs of malfeasance. State lawmakers should bolster election administration processes through proactive, intermittent reviews that enable all counties to improve their administration of elections, making legislation like that adopted by Texas misguided. State lawmakers should strive to improve systems before problems arise, such as adopting vote counting timelines that can ensure election officials can accurately count ballots without unnecessary pressure. And if a mistake is made, post-election audits are an important tool for verifying results amid skepticism.
As polarization continues to prevail, it is more important than ever that our democratic institutions cooperate with and support one another. This includes our election system. Heading into 2024, less than half of Americans have high confidence that the votes in the next presidential election will be counted accurately. It is not too late to begin fixing this problem, but it will require political leaders to support their fellow election officials, not weaponize their mistakes for partisan gain. As the Harris County situation demonstrates, the latter risks undermining the work of election officials and casting doubt on legitimate results.