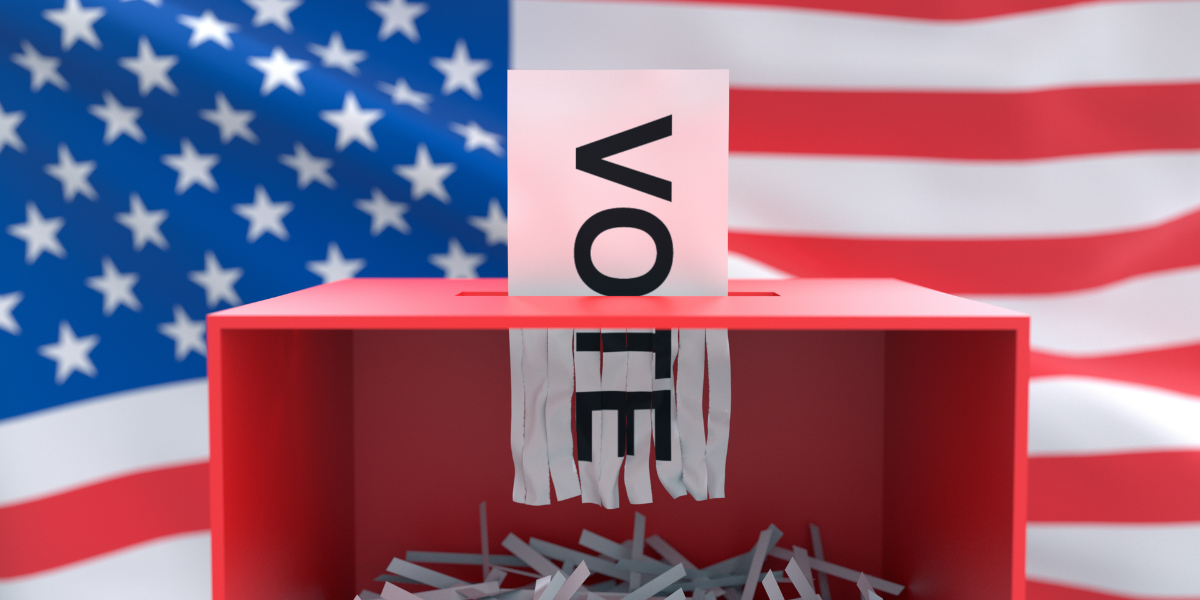 Getty Images
Troiano is the executive director of Unite America, a philanthropic venture fund that invests in nonpartisan election reform to foster a more representative and functional government. His new book, "The Primary Solution," is now available for pre-order.
It's no secret that most Americans are frustrated with politics. We're sick of our political leaders not working together to solve important issues — even when the majority of us agree on how to fix them. We're tired of the vitriol and the negativity. We don't want to see a rematch of the 2020 presidential election, yet that's exactly what we're likely to get.
But while poll after poll shows that Americans are feeling down about our democracy now, there's a silver lining: We actually agree on a basic vision for what our it should look like.
According to a 2023 Citizen Data poll commissioned by Unite America, Americans overwhelmingly agree that two things should be true about every taxpayer-funded election: 1. All voters should be able to vote for any candidate, regardless of party; and 2. Candidates should have to win the support of a majority of voters to take office. In the poll, more than 90% agreed with the first statement, and more than 75% agreed with the second.
Sign up for The Fulcrum newsletter
These principles are so reasonable that in the same poll, 70% of respondents thought that they were already true. The unfortunate reality, though, is that those two statements are only true in four states: Alaska, California, Louisiana, and Washington — all states that have eliminated partisan primaries, in one way or another.

In 2022, Unite America — the organization that I lead — published groundbreaking research on the "Primary Problem" with our politics: that a mere 8% of voters elected 83% of the U.S. House of Representatives in 2022. This shocking reality exists for a couple key reasons. First and foremost, 46 states have party primaries and the majority of them restrict which voters can participate. The worst offenders are the nine "closed" primary states, where independents are banned from casting ballots altogether. Second, because of partisan gerrymandering, most general elections aren't competitive. So whoever wins the primary, will almost certainly take office, even though millions of voters are banned from participating.
The Primary Problem reared its ugly head earlier this month when Rhode Island and Utah held special primary elections for the U.S. House. Rhode Island is a "safe" Democratic seat in the general election, just as Utah is a "safe" seat for Republicans. In last Tuesday's election, just 10% of eligible voters in Rhode Island's 1st Congressional District cast ballots, and only about 16% of eligible voters did so in Utah's 2nd Congressional District.
Clearly, these two elections violate the two key principles that most Americans agree should be true.

As I mentioned earlier, there are four states that have tackled the Primary Problem. Louisiana eliminated primaries altogether in the 1970s, opting instead to have a general election with all candidates on the ballot. If nobody secures a majority, there's a runoff election between the top-two finishers. Washington and California have top-two nonpartisan primaries, where all candidates appear on the primary ballot and the top two advance to the general election. Finally, Alaska voters adopted a top-four nonpartisan primary in 2020, where the top four vote-getters in the primary advance to the general. The general election is then decided by an instant runoff, ensuring the winner secures a majority.
While each of these four states pursued a slightly different solution to the Primary Problem, they all fulfill the two key principles of reform that most Americans agree on. Every eligible voter can cast a ballot for any candidate they wish, and winning candidates must earn support from a majority of the electorate. Replacing partisan primaries with nonpartisan primaries, and implementing an instant runoff in the general election, is one powerful way to do that.
According to research Unite America has released over the past year, nonpartisan primaries give voters better representation, improve governance, and decrease polarization. For example, before its top-two nonpartisan primary, California was the most polarized state in the nation — by far. But from 2013-2018, it's one of only five states in the country that has become less polarized. Californians' opinion of their state government has also improved.
Similarly, the Louisiana State Legislature routinely ranks among the least polarized in the country. To provide a real-world example, its runoff system helps explain how it was the first state in the Deep South to expand Medicaid. In 2015, Democrat John Bel Edwards won a close runoff election for governor. If Louisiana had party primaries, it's likely that his pro-gun, anti-abortion positions would have resulted in defeat. However, because he appealed to the majority of the electorate — not just primary voters — he won the runoff election. Gov. Edwards then joined with moderate Republicans to expand Medicaid under Obamacare, delivering better health outcomes to its residents compared to its neighbors.
Crucially, in all four states, more voters are casting ballots in elections that will actually determine the outcome.
Even though the mood might seem sour in the country right now, there are tangible reasons for optimism. Americans are ready to change our election system, we agree on some bedrock principles that get us there, and we support a powerful solution: nonpartisan primaries. 2022 polling found that nearly two-thirds support replacing partisan primaries with nonpartisan primaries. That includes 56% of Republicans, 68% of independents, 71% of Democrats.
Four states have already done this, and more could and should soon do the same.