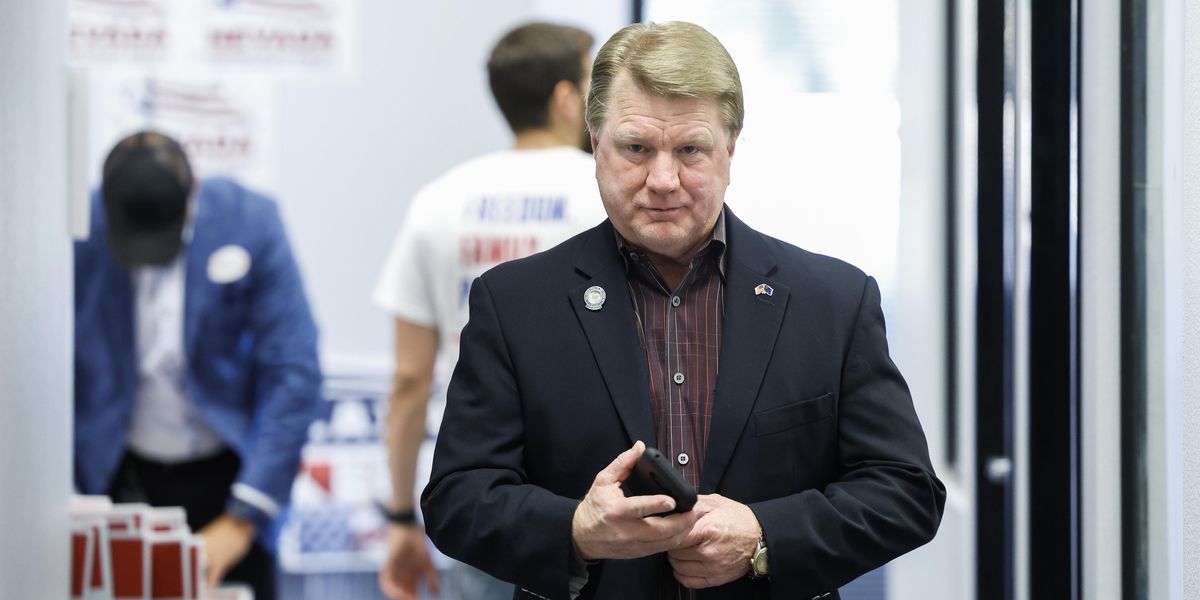 Anna Moneymaker/Getty Images
Grayson, a Republican, is a former secretary of state of Kentucky. McReynolds, a former election official, serves on the board of governors of the U.S. Postal Service. Both are members of Issue One's bipartisan National Council on Election Integrity.

As voters head to the polls in the midterm elections, their choices up and down the ballot will determine whether our democracy thrives or backslides.
Among the most important races this year are those for secretary of state — contests that historically have not commanded news headlines or much fanfare. Yet the outcomes in the races for the relatively obscure office will be crucial to maintaining and strengthening our representative democracy as we know it.
By and large, secretaries of state are administrative in that in most states they oversee the conduct of elections that usually occurs at the local level, within a county or city. Typically, administering elections at the state and local level are noncontroversial tasks, which we both know from experience. Trey, a Republican, served as the secretary of state of Kentucky for seven years, and Amber, an independent, served as a local election official and the director of elections for the city and county of Denver for 13 years.
Sign up for The Fulcrum newsletter
But today's political environment is anything but typical. This year, in roughly a dozen states — including the battleground states of Arizona, Michigan and Nevada — the secretary of state races feature candidates with little regard for democratic norms who deny the legitimate results of the 2020 presidential election and peddle disinformation about our elections.
These individuals may not follow the rules or uphold the will of the people in future elections. Should they prevail, they could attempt to use the administrative levers of government to put their thumb on the scale to favor their preferred candidates.
For instance, Republican Jim Marchant of Nevada, a former state assemblyman running for secretary of state, has expressed openness to sending an alternative slate of electors to Congress that would not support the winner of the popular vote in Nevada in 2024. He has wildly claimed that Nevadans' votes haven't counted "for decades" because a "deep state cabal" has been rigging elections.
Similarly, Republican Mark Finchem of Arizona, a state legislator running for secretary of state, has called for the 2020 election results in several Arizona counties to be "decertified" — an act that isn't legally possible. Finchem has links to the Oath Keepers, a right-wing militia, and he was part of the crowd outside the Capitol on Jan. 6, 2021, when rioters stormed the building in an attempt to disrupt the peaceful transfer of presidential power.
That's in stark contrast to the approaches taken by numerous Republican officials who worked with Democrats and independents in 2020 to defend the integrity of the election and stand up to pressure from then-President Donald Trump, who sought to overturn the election and remain in power.
For instance, as has been widely reported, Republican Secretary of State Brad Raffensperger of Georgia resisted immense pressure from the former president, who personally urged Raffensperger to "find" the votes necessary for him to win Georgia. And in Michigan, Republican Aaron Van Langevelde, a member of the board of state canvassers, cast a critical vote to certify the state's election results.
Interference with the electoral process is not only dangerous, it poses a direct threat to U.S. democracy.
Secretary of states must be responsible for serving all voters, regardless of their party affiliation or political ideology, and they must ensure that elections are conducted in a fair, efficient and transparent manner. That means not engaging in partisan gamesmanship. Secretaries of state need to be serious and capable people who are ready and willing to take up the challenge of protecting democracy. There is no room in this office for those who don't respect the rule of law or the will of the voters.
The American people ought to reject these conspiracy theorists and election deniers who don't want our votes to count. If somebody doesn't want your vote to count, or doesn't think your previous vote should have counted, then we should not elect them to be responsible for administering elections.
Secretaries of state must not undermine the bipartisan apparatus that undergirds our elections. They need to be impartial referees and respect the will of the people, no matter the outcome of the election.
Across the world, people look to American elections as models of freedom, fairness and choice. We are lucky to live in a country where we can disagree with one another on a host of policy debates, but our democracy is a red line issue. Refusing to accept the legitimate outcomes of elections should be a disqualifier for anyone who wants the job of administering them.
There are no two ways about it. We need election officials who put voters first, not their political party. If we make the mistake of electing individuals who are willing to hijack the management of elections for partisan gain and enact changes that could lead to an outright reversal of the will of voters, we will have jeopardized the future of our experiment in self-government. Let's not make that mistake.