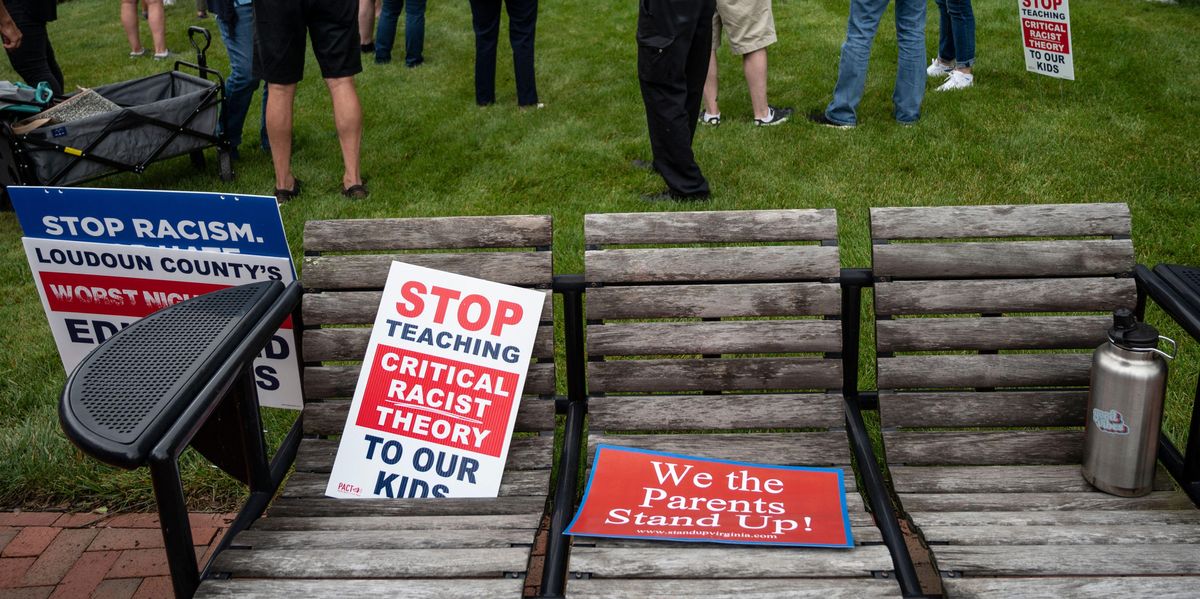 Andrew Caballero-Reynolds/Getty Images
Hicks is a contributing writer.

More than half of the state legislatures have spent much of this year debating whether to enact bans on critical race theory in K-12 education. Civics experts are concerned that fight, over a curriculum primarily found in law schools, could prevent students from becoming engaged citizens.
In at least 26 states, lawmakers have introduced legislation that would ban critical race theory, which identifies racism as a systemic issue rather than a product of individual bias, or limit how teachers are allowed to discuss topics such as racism and sexism. So far, 11 states have enacted such bans. Still, some civics experts said the debate surrounding the term could limit culturally relevant lessons and prevent students from understanding multiple perspectives in civic education.
In order to have a democracy that functions appropriately, students need to have an understanding of people's lived experiences as well as the root causes of systemic inequalities and issues both locally and nationwide, said Noorya Hayat, a senior researcher at Tufts University's Center for Information and Research on Civic Learning and Engagement.

Supporters of the critical race theory laws are concerned that students will feel guilt or discomfort if they are taught about systemic racism or privilege, but there are ways to have age-appropriate and productive conversations about race, Smith said. Students need to learn about the causes of systemic issues in order to solve them, she said.
Sign up for The Fulcrum newsletter
Hayat suggested teachers create simulations of what a polarized democracy looks like and host debates so students can productively learn different opinions and perspectives.
"If you're going to set up your democracy and your students for success, it has to be throughout life. You can't just say, 'Oh, you're 18, here are your voting rights and here is your precinct to vote,' if they can't even debate issues, if they can't see the pros and cons of issues," Hayat said. "It's not about being a red or blue state or being conservative or liberal, it's about coming together to talk about it."
For these lessons to be productive, teachers and administrators need proper training and development, which requires more investment in civic education, Hayat said.
But there hasn't been significant investment in civic education for decades. The federal government spends on average just 5 cents per student every year on civic education, compared to $50 per student on STEM classes, according to the "Roadmap to Educating for American Democracy," a 36-page report that provides guidance on strengthening K-12 history and civic education. Legislation targeting critical race theory could further hinder investments in civic education, Smith said.
"For a democracy itself to function, you need an educated citizen that knows how to talk about it, that knows how to talk about community problems together," Hayat said. "If you don't give your students the skills or the knowledge or the dispositions to be able to do that, then you're hurting your democracy."
'That is actually not a thing that happens in real life'
To Candis Watts Smith, legislation banning critical race theory in schools is solving a problem that doesn't exist.
"The idea that public schools even teach critical race theory — that is actually not a thing that happens in real life, in real classrooms across the country," said Smith, an associate professor of political science at Duke University. "This doesn't even really happen in college classrooms."
Smith, who is also the co-host of the Democracy Works podcast by the McCourtney Institute for Democracy at Penn State University, compared the critical race theory debate to voter identification laws, which are meant to help prevent voter fraud, an issue she said also isn't as prevalent as it may seem.
Politicians use "grab bag words" such as critical race theory to rile people up about problems that they shouldn't really be concerned about, Smith said. Critical race theory has been conflated to generally mean inequality in America rather than just the academic concept that it is, she said.
"It's easy to say, 'We do not want to teach our children 'blank' because it shows division among our students, and because it makes them feel uncomfortable about race,'" Smith said. "If many of us are just being introduced to the concept by a group of people who are misusing it, then we can see how we can rally around misinformation."\
'Chilling effect'
The legislation targeting critical race theory could create an unintentional "chilling effect" where teachers don't know what they can teach, said Peter Levine, the associate dean of academic affairs and a professor of citizenship and public affairs at Tufts University's Tisch College.
Many of the bills are vague and don't explicitly mention critical race theory, so it's difficult for teachers to identify what is actually being prohibited, Levine said. In Georgia, the state board of education adopted a resolution prohibiting lessons that "promote one race over the other." Other states, including Tennessee, Texas and Utah, have also adopted new limits on how teachers can discuss racism, sexism or other controversial issues.
While not every state is making drastic changes, this legislative trend could still cause teachers to overreact and change the way they approach lessons on racism and sexism, Levine warned.
"The most you could get out of it would be a ban on critical race theory, which is not helping teachers understand what they should be teaching," Levine said. "It's a negative, you can't teach these things. But what should teachers teach — that's the conversation we should be having."