Stephen Barnes/Getty Images

Shannon is the founder of Negative.vote, which is promoting statewide ballot initiatives to allow voters to register firm opposition to one candidate in each race.
It was at a 1980 Alcoholics Anonymous meeting when someone is first recorded coining this famous aphorism: "Insanity is doing the same thing over and over and expecting different results." You may have heard a rumor that Albert Einstein said it, and that would be false.
We live in an era, though, when truth is subjective. If enough people believe a thing, it does not have to be true.
The coronavirus jumped to humans in a Wuhan seafood market. Vote-by-mail is fraudulent. Jared Kushner is a cyborg. The flu vaccine makes you susceptible to Covid-19. Hillary Clinton eats babies. All true, we've heard.
Just like the Romans reveled in gladiator games and torture, so too are our citizens addicted to conflict of their favorite untruths. Conflict is very entertaining, after all.
Our elections are the modern-day version of the Roman Colosseum. We keep the masses captivated with semi-regular clashes.
There is a 24-hour opinion industry that reaps the benefits of constant conflict coverage. Networks have devolved into de facto subsidiaries of the two major political parties.
Sign up for The Fulcrum newsletter
And so, it goes. Another Black man receives unjust, extrajudicial capital punishment on our streets from a white police officer. No judge, no jury; just the death penalty, aired.
Protests turn counterproductive when antifa socialist agitators (and white supremacists pretending to be antifa) join in. Looters loot. Police shoot rubber bullets at badged media, on air. Our president openly calls for the shooting of looters. No trials or conviction required. Who needs a legal system? These ratings are gold.
We all seem to be living in a parallel universe, with time running in reverse. The 1960s are upon us and the 1860s may be on the horizon.
The root cause of all this suffering is plainly one fundamental flaw — the way we vote. A voter's voice is limited to just one thumbs-up vote, which guarantees conflict.
A one-vote system always manifests over time into a tug-of-war, or an actual war, between two major parties.
It also artificially empowers two ideological minorities to make them appear to be much larger than they really are. This is called a cramming effect. It inflates and emboldens extremists and unbalanced partisans, who then wrongly believe they represent a majority. In truth, Republicans and Democrats nowadays each represent less than 20 percent of the American electorate.
To make matters worse, some "reformers" prescribe a new way to vote, which is really the same old way in disguise. They call it ranked-choice voting — and it is yet another one-vote system.
Ranked-choice voting is spreading like a disease because Americans are desperate to try anything to fix their political system. And they are extremely gullible to disinformation that it will disrupt the two-party system. RCV will not.
That majority winner will always be from the two-party system, because multiple independent and minor party candidates must all split votes with each other.
One-vote elections fuel negative propaganda and a money-in-politics arms race — then generate plenty of close contests.
Ranked-choice elections perpetuate the two-party system, artificially inflate those parties to make one appear dominant, further empowers extreme partisans — then generate even more close red vs. blue contests
And the prospect of razor-thin margins of victory enable foreign governments to meddle in elections, exacerbate the money-in-politics arms race and cement the status quo.
RCV advocates shamelessly, and falsely, promote the opposite narrative. Here's an example of the disinformation and another below how this false claim is constantly re-spread.
Imagine for a moment that we decided criminal guilt by popular opinion. Now, I know that RCV advocates are going to say, "You can't possibly believe that crackpot Shannon fella. He's the guy that thinks we should decide guilt based on popular opinion."
To clarify, I do not think that we should resolve guilt or innocence based on popular opinion. It is just a useful mental exercise to illustrate how RCV fails.
So consider an opportunity to rank these three possible answers — President Trump, Minneapolis police officer Derek Chauvin or George Floyd himself — to the question: Who was responsible for George Floyd's death?
This presents a complex dilemma. Because the first reaction for many is surely going to be "definitely not George Floyd!"
However, RCV prohibits you from voting against any options. You may only list in order of priority the options you favor.
Under RCV's instant runoff system, the second-place finisher will get a head-to-head matchup runoff against the first-place option, with ballots with the third-place option on top getting redistributed to those voters' next choices.
What if polls indicate well above one-third support for the idea that Floyd was responsible for his own death? What if many are also likely to vote that the president was responsible?
If you wanted Floyd to "lose the election" (as I would) but believe he is not going to be eliminated in the first round, your ranking decision would be influenced by your conclusion about whether Trump or Chauvin would fare better in a head-to-head against Floyd.
Accordingly, you cannot always vote sincerely with RCV. You must vote strategically to make sure your worst outcome does not prevail.
It would be much simpler just to vote thumbs-down against our worst outcome.
Unfortunately, Americans everywhere will adopt ranked-choice voting in coming decades. Its momentum of untruth is unstoppable. It will become widely accepted before voters inevitably experience its shortcomings — and it will ultimately be repealed by voters, again. All that will cost us millions of dollars and many years of precious time.
But if Albert Einstein invented ranked-choice voting, who can be against it
Keep reading...
Show less
Jay LaPrete/Getty Images
Shannon is the founder of Negative.vote, which is promoting statewide ballot initiatives to allow voters to register firm opposition to one candidate in each race.
Beneath the 2020 campaigns, a different battle is brewing between two wonky factions to replace America's plurality voting system — sometimes called first-past-the-post, which means the most votes wins.
Advocates lobby in different cities, online and on social media for instant-runoff voting and approval voting.
Maine, San Francisco, Minneapolis and New York have adopted instant-runoffs for municipal elections, while Fargo and St. Louis are considering approval voting.
Instant runoff and approval voting advocates agree that plurality voting is deeply flawed. The problem is vote splitting. If there are more than two options, similar candidates dilute each other's support. Vote splitting multiplies with each additional candidate on the ballot.
In college, a handful of similar fraternity members were vying to preside over the fraternity system, so I entered the race. I was less interested in fraternity affairs than election odds. It was like a "Revenge of the Nerds" movie, and my uniqueness prevailed.
However, the two-party duopoly is far more sophisticated than fraternity row. Democrats and Republicans cooperate to nominate just one candidate in their primaries.
Sign up for The Fulcrum newsletter
They are used to self-endorse two ideological minorities as perpetual rulers over an unaffiliated majority.
One alternative, instant-runoff elections, is marketed as ranked-choice voting in order to make it easier to explain. After voters rank the candidates, instant-runoff means a series of (still flawed) plurality elections where the last-place finisher in each runoff is removed. This is followed by subsequent recounts after votes for the last-place finisher in each round are redistributed to candidates still left standing. Runoffs continue until one candidate obtains majority support. You may notice that ranking your favorite candidate first is not always the best strategy.
A rival faction favors approval voting, where voters are instructed to vote for as many candidates as they wish. It has a shortcoming. Enlightened parties will train their supporters to vote for their nominee only and for no one else. With approval voting, a constituency should never risk boosting even another friendly candidate's vote total. If you vote for more than one, then you're the sucker.
As you can see, voting systems add layers of strategy and complexity.
And despite each group's claims to the contrary, neither will disrupt the powerfully dysfunctional two-party system. Do you think that's a good thing? It's not.
Ask yourself if you have a least-preferred candidate. Most people do. Then ask why you are prohibited from expressing that.
Introducing a disapprove option brings any ballot into "balance."
If voters could express disapproval we could punish negative propaganda campaigns and stop aspiring autocrats like President Trump — as well as extreme leftists like Sen. Bernie Sanders — in their tracks. This is not a matter of opinion. There's a mathematical proof.
These truths may be counter-intuitive: positive votes equal negative politics. And negative votes compel pragmatic politics.
Future candidates would be forced by the math to moderate their positions toward compromises in order to avoid the wrath of our thumbs-down votes.
Our board member Paul Cohen has a favorite ranked-choice scenario: Imagine an instant-runoff among five candidates of which you know only your favorite and least favorite.
In this scenario, with ranked-choice voting you may find yourself inventing arbitrary reasons to rank the three unfamiliar candidates. That experience would leave you feeling uncertain. Such reckless voting may inadvertently swing an election to a candidate you were indifferent about. Instead, rank your priorities on this balanced ballot: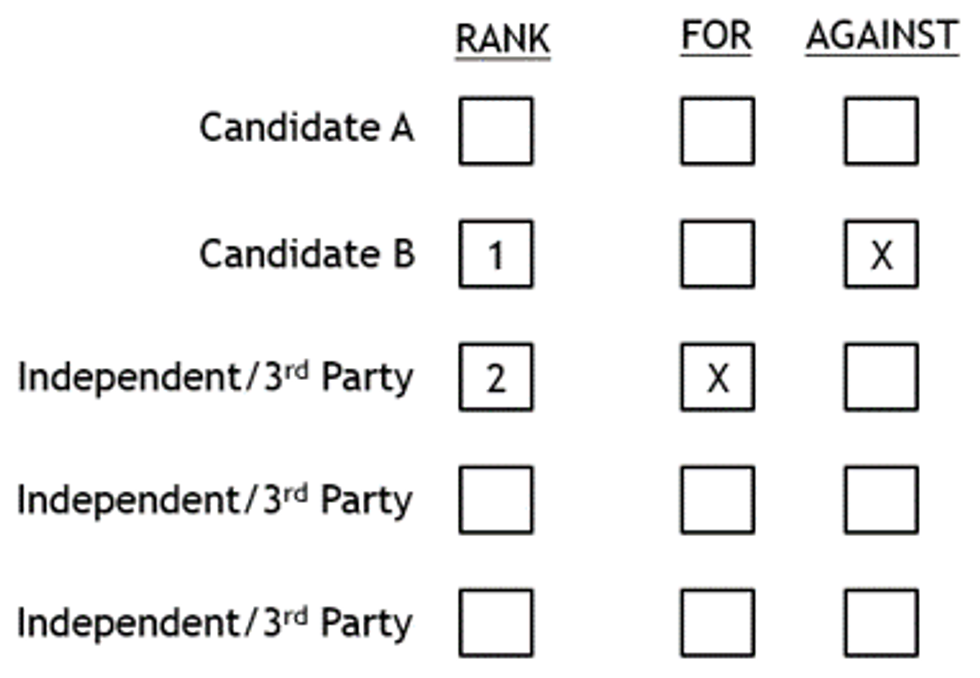 Above, your top priority is a disapproval vote against your least-preferred candidate in each runoff until that person is eliminated. After that, your second priority may be a vote for your favorite candidate — or maybe vice-versa. Why bother ranking those that you're indifferent about when you could just abstain? This experience would leave you feeling empowered and satisfied.

To supplement approval voting, the disapprove option enables you to distinguish between candidates that you are indifferent about from those you do not want to win. Here's a sample: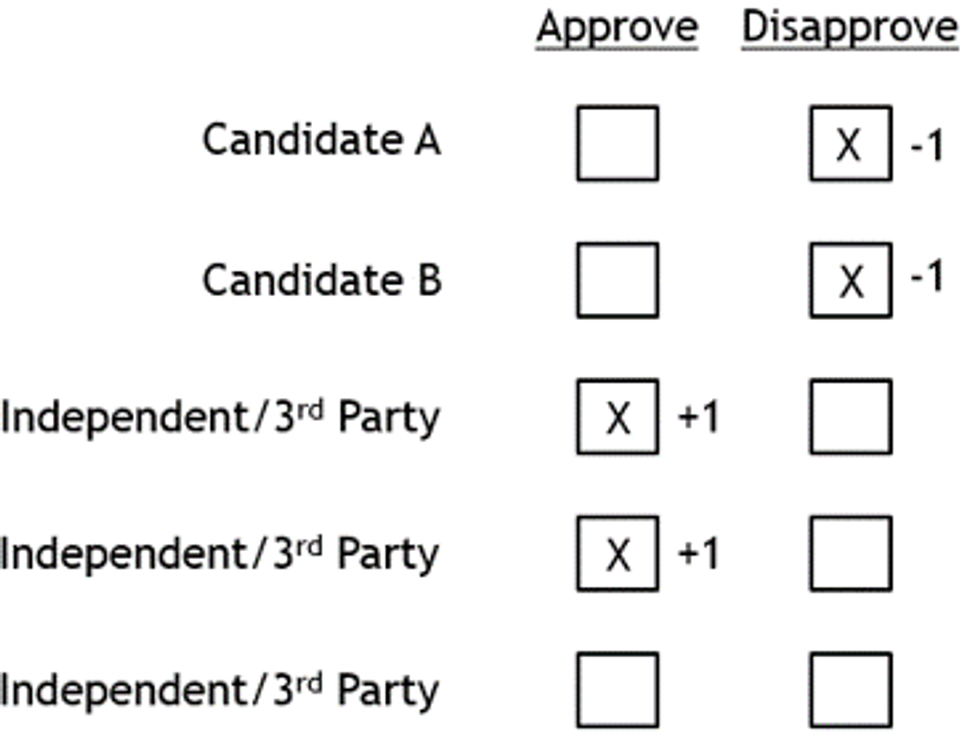 By introducing a negative vote, we turn approval voting into a condensed range vote. Simply check the approve box for all the candidates you like, and the disapprove box for those you don't.

There's a bonus: A balanced approval ballot reduces the influence of money in politics. Consider that being too well-known could be a disadvantage.
If these alternatives are dizzying, we can achieve similar results simply by furnishing each voter one thumbs-up vote and one thumbs-down vote.
As our group's global ambassador, Sam Chang, likes to say: Ranked-choice and approval voting are each worthless in an election with just one candidate. For example, candidates for 60 percent of elected offices in Illinois run unopposed. With a negative vote, voters could express their sentiments for unopposed candidates and we could establish minimum thresholds for claiming victory.
Yes, vote-splitting can be isolated or eliminated with ranked-choice or approval voting respectively. But neither will reverse our nation's current path to divorce. As proven by game-theory mathematician Arkadii Slinko, only the power of a negative vote can do that.
Ranked-choice and approval voting can each be made more effective, and simpler with a minor tweak.
Embraced, a negative vote option can also end infighting between reform factions regardless of which system they prefer.
Most importantly, balanced ballots can neutralize the tribalists that govern us with their unbalanced minds — intent on destroying one another at the expense of our union.
From Your Site Articles
Related Articles Around the Web
Keep reading...
Show less
Stephanie Keith/Getty Images
Shannon is the founder of Negative.vote, which is promoting statewide ballot initiatives to allow voters to register firm opposition to one candidate in each race.
Many reformers are partisans in disguise. Here's one way you can tell: If someone advocates for something called ranked-choice voting, they either intend to disempower independent voters by eliminating pesky independent or reform candidates to the benefit of the two-party system, or they don't fully understand how RCV works.
Many professors advocate for ranked-choice voting, which is decoy reform at best. We could just as well prohibit all independent or opposition candidates from getting on the ballot in the first place, as Russia itself has done, because that is the ultimate effect of RCV. It is designed to eliminate independent candidates.
To the casual observer, having the ability to rank all candidates from best to worst may seem like a good thing, on the surface. When you dig deeper, though, you will find that RCV is an instant-runoff system, wherein votes for the last-place finisher in each round are redistributed to the voters' next choice among the candidates left standing. That process keeps happening, eliminating candidates one by one until somebody wins a majority.
"Wait," you should be asking, "Last place out of how many?"
Sign up for The Fulcrum newsletter
Both Republicans and Democrats work to ensure that they only ever nominate one candidate for each office in a general election. That gives the two-party system a devastating advantage over independent candidates in any instant runoff.
Each independent on the ballot would likely ensure that none of them would ever prevail, since they would all split the votes of like-minded supporters among each other in each round except the next-to-last one. To preserve the status quo under RCV, Democrats and Republicans would need only to conspire to open the floodgates of ballot access.
Ranked choice requires you to declare a preference, somewhere in your rankings, between the two major-party candidates. With RCV, that preference will end up being your real vote. Partisans who masquerade as reformers want to harvest those second and third choices to move the needle for their side.
So, the two-party system will be happy to pacify voters like you and me with ranked-choice voting by giving us the ability to express who we would otherwise prefer. It's like asking teenagers for a list of their dream cars, "but still choose between these two clunkers, just in case," because those are the real choices.
Unless independent voters conducted a primary of our own, RCV may irreversibly cement a two-party system, result in continuous swings back and forth between the same old partisans, and have little effect to counter the accelerating gravitational pull of ideological, social, geographical and racial polarization.
For true reform — and to empower the middle-minded majority over a two-party system that is prone to rely on minority rule, cults of personality and insurmountable debt — independent voters must be able to vote directly against our least-preferred candidates with the equivalent of a thumbs down vote.
This is not a matter of opinion. In fact, it is mathematically certain. Research led by Jean Francois Laslier out of the Paris School of Economics confirms that, if voters had the ability to indicate disapproval of extreme candidates, it would benefit lesser-known, moderate ones. Game-theory mathematics professor Arkadii Slinko, at the University of Auckland, and assistant professor Dodge Cahan, of the University of Alberta, go further and guarantee that, furnished with a negative vote to cast against our least-preferred candidate, voters would act to curb the influence of extremists of both stripes and create a wide-open lane for new parties and solution-oriented candidates to emerge. In other words, it could make us all Americans again.
Voters as early as ancient Athenians had a negative vote, and they invented democracy — originating from the Greek word demos. They had this figured out over 2,600 years ago! Unlike ranked-choice voting, it is not a partisan gambit in disguise and it satisfies all voters' primary motivation — which is to prevent one's least-preferred candidate from prevailing.
From Your Site Articles
Related Articles Around the Web
Keep reading...
Show less