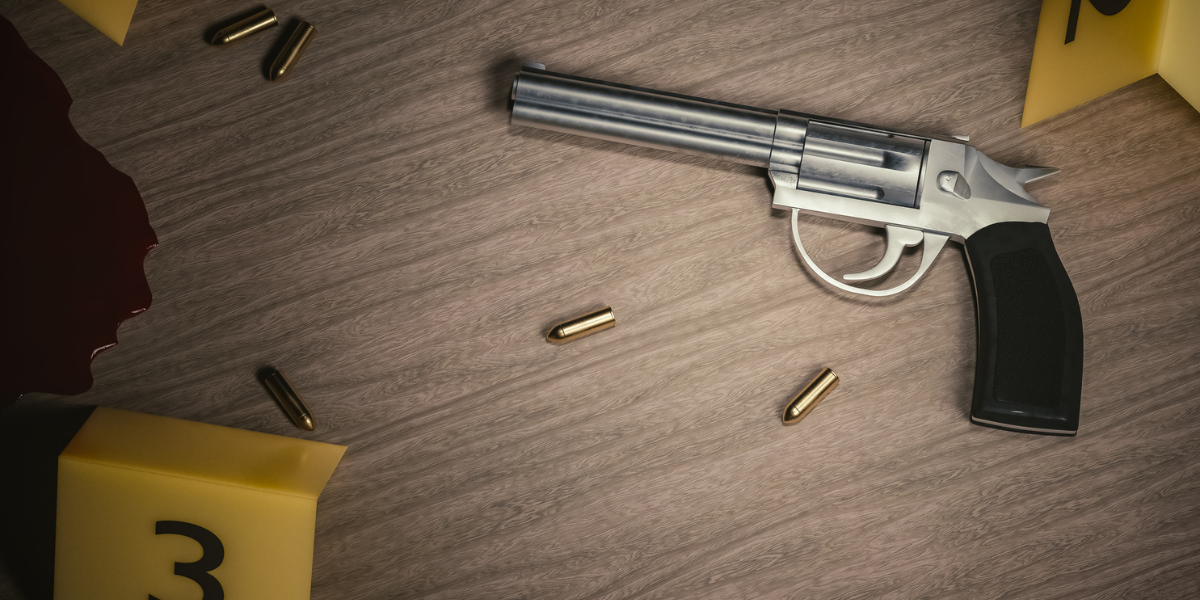 Getty Images
Jiao is a professor of criminal Justice at Rowan University. His research focuses on policing issues in the U.S. and other countries and regions. Overarching themes of Jiao's writings include Consent Decrees on Police, Policing Gun Crimes, and Police reforms.
Current media portrayal of and public debate about gun violence are big on shock values but short on solutions. Broad definitions of mass shootings with no differentiation of types of shootings, victims, and circumstances, lumping gang violence, home invasions, armed robberies, familicides, and personal vengeance together with random public mass killings are not conducive to effective interventions.
Only incidents involving four or more shot and killed randomly during a singular event in a public place should be considered mass shootings to differentiate them from more common types of gun violence and allow the police and society to develop relevant and effective strategies tailored to specific types of incidents.
With this definition, there are usually a handful of mass shootings involving fewer than 80 murdered victims out of more than 15,000 total gun violence deaths in a given year. There were 31 mass shootings from 2017 through 2021, about six per year (Marshall Project) and four in 2022 in Buffalo, New York; Uvalde, Texas; Tulsa, Oklahoma; and Highland Park, Illinois. There were 74 mass shooting deaths among about 15,000 gun homicides in 2019 (CDC.gov and Wilson, 2021). From 1966 -2020, there were 420 mass shootings, 1449 deaths, which account for 27 deaths per year (Rockefeller Institute of Government).
Sign up for The Fulcrum newsletter
Even including shootings in both public and private spaces, any number of shooters, and regardless of motives, there were 206 incidents in the last ten years from 2012 to 2022, an average of about 20 per year (Every Town for Gun Safety). But there were 15,448 total gun crime deaths in 2019, 19,411 in 2020, 20,100 in 2021, and about 19,592 in 2022 (CDC). Even expansive definitions that include about 550 to 650 events as mass shootings (Gun Violence Archive) still account for less than 1% or only a fraction of all gun murders that occur each year.
Recommendations on Addressing Public Mass Shootings
With random public mass shootings being extremely rare and over 99% of gun homicides involve more routinely occurring incidents, our police and society should differentiate different types of gun violence and implement strategies that capture their nuances and contexts. Due to mass shootings' rarity and lack of patterns, they are extremely difficult to prevent by police themselves. While gun legislations might be important at the national level, the most immediate and realistic ways to address mass shootings are risk assessment and target hardening at the state and local level (Capellan and Jiao, 2019).
State-level risk assessment centers should be established to identify and analyze risks and disseminate risk information to local establishments.
At-risk entities should fortify their facilities, making their environments unattractive, increasing the effort and risks of offenders, and thus disrupting opportunities for mass shootings.
Recommendations on Addressing Routine Gun Homicides
For the overwhelming majority of gun homicides that occur routinely, the police and the public should be able to discern their patterns and apply strategies according to their natures. Several strategies have been proven effective, including problem-oriented policing, comprehensive policing, situational/routine activities, and ten-driven law enforcement (Jiao, 2022).
Problem-oriented policing involves directed patrols and focused deterrence and may have a significant effect in reducing gun homicides due to street fighting and gang rivalries.
Comprehensive policing combining immediate tactical responses and community-oriented policing may achieve a sustainable impact on gun violence rooted in underlying social, economic, and cultural conditions such as home invasions and armed robberies.
Situational/routine activities involve deploying resources in areas and contexts prone to gun violence by using a variety of situational measures such as risk analysis, traffic/pedestrian stops, firearm removal, differential licensing, and sting operations to reduce gun homicides due to drugs, personal vengeance, and family violence that tend to recur in specific locations and domestic settings.
Tech-driven law enforcement utilizing gun tracing/ballistics analysis can improve gun homicide clearance and thus have a deterrence effect on premeditated gun murders.
Meanings tend to be lost in broad discussions of gun violence data. Accurate definitions and understandings of true mass shootings and other more common types of gun homicides would allow our police and society to focus on specific intervention strategies and reduce gun violence deaths. Research has demonstrated that there are effective strategies at the disposal of our police and society in addressing various forms of gun violence as outlined above.
For more information:
Centers for Disease Control and Prevention (CDC). CDC.gov
Every Town for Gun Safety. Everytown.org
Gun Violence Archive. Gunviolencearchive.org
Marshall Project. Themarshallproject.org
Rockefeller Institute of Government. Rockinst.org
For further readings
Capellan, Joel A. and Allan Y. Jiao. (2019). Deconstructing Mass Public Shootings: Exploring Opportunities for Intervention. Albany, New York: Rockefeller Institute of Government, Regional Gun Violence Research Consortiu
Jiao, Allan Y. (2022). Policing Gun Crimes: A Comprehensive Review of Strategies and Effectiveness. The Police Journal: Theory, Practice and Principles. DOI: 10.1177/0032258X221113454 Wilson, Chris. (2021). 41 years of mass shooting