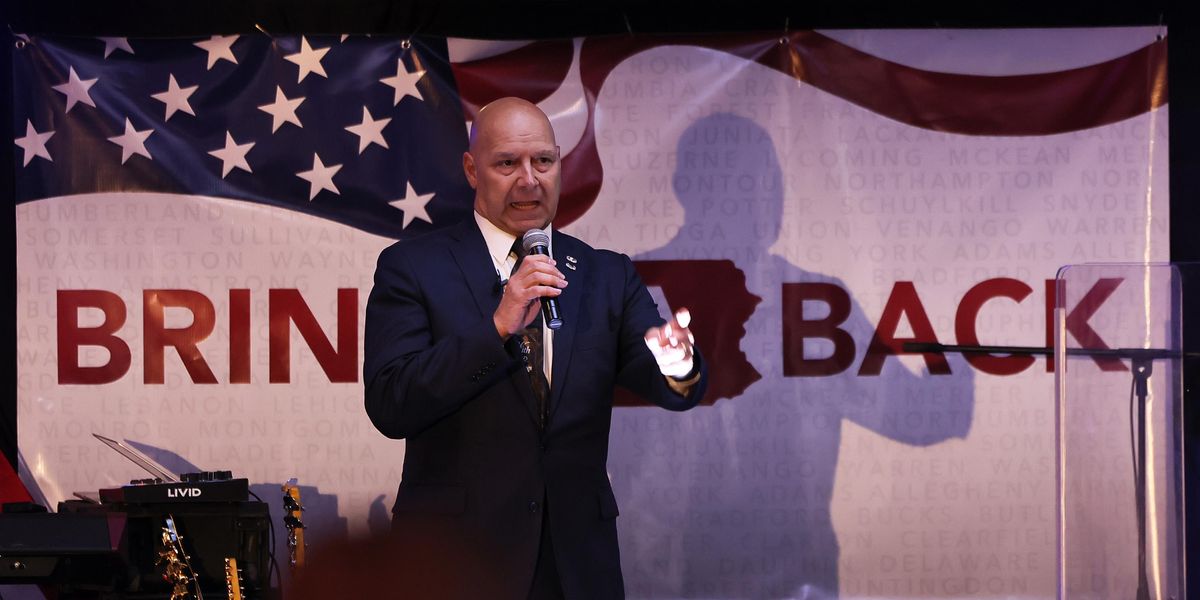 Michael M. Santiago/Getty Images
Effingham is the director of strategic partnerships for RepresentUs.

During the 2022 election season, an alarming trend is emerging. Dozens of candidates spouting the lie that the 2020 election was stolen are running for office in Republican primaries. And not only are many of these candidates winning, Democrats – the party on the front lines of fighting the Big Lie – are shockingly helping some of these election deniers win.
In fact, more than 100 candidates who deny that President Biden won the 2020 election have won their primaries as of mid-June. That list includes eight running for the U.S. Senate, 86 for the U.S. House, five for governor, four for state attorney general and one for secretary of state.
This trend is also a major issue at the state level. In the four battleground states of Georgia, Pennsylvania, North Carolina and Texas, 157 legislators who attempted to block the 2020 results have advanced to the general election this November. With many more primaries to come this year, these numbers are sure to rise.
Big Lie candidates receive funding from unexpected sources
Here at RepresentUs, we've previously documented that corporate America is continuing to fund politicians who voted to overturn the election results on Jan. 6, 2021. And while these election liars are only running in Republican primaries, they're receiving funding from an unexpected source: the Democratic Party.
Sign up for The Fulcrum newsletter
Wait, what?
As NBC News reports, Democratic groups are running political advertisements to help the most extreme GOP candidates win in primaries around the country. This isn't a new strategy. These groups think that by helping put such fringe candidates on the general election ballot, their party will have an easier time winning.
This strategy comes with serious risks to democracy. For example, in the Pennsylvania governor's race, Democratic candidate Josh Shapiro ran ads that aimed to boost Republican Doug Mastriano's chances in the primary. One of the ads even went so far as to state that "if Mastriano wins, it's a win for what Donald Trump stands for." A current state senator, Mastriano is an election-denier who attended the Jan. 6 riots and was questioned by the FBI about it. Mastriano went on to win the Republican primary, and if he wins this November, he will become the governor of a major election battleground.
This tactic has increased the chances that an anti-democratic extremist will have enormous power. These commercials are ultimately a risky gamble that directly contradict the Democratic Party's stated goal of protecting American democracy.
Democratic groups have also launched similar ads for the most extreme candidates in the Colorado Senate race and California's 22nd District race.
Supporting democracy, not tricking voters
Supporting a weaker candidate in the primary to improve your chances in the general election may seem like a clever strategy. But as we've seen in the past, these campaigns are playing with fire. Famously, Hillary Clinton's 2016 campaign staff privately hoped to face Donald Trump. Obviously, their assumptions about that race were wrong.
Boosting radical anti-democratic candidates may not only be ineffective, it's also completely irresponsible. By engaging in this cynical strategy, these campaigns are in fact pushing extremists closer to power – something that should concern American voters on both the right and the left. With the Jan. 6 hearings showing how vulnerable our democracy is, Democrats are risking handing power to dangerous anti-democratic extremists for the short-term gain of facing a "weaker" opponent.
At a time when the American people already distrust the two-party system and politics generally, these kinds of partisan shenanigans only make it worse.
Americans who support democracy should instead focus their efforts on building large, cross-party coalitions to defeat these extremist candidates at the ballot box. The majority of Americans view Jan. 6 as an attack on American democracy, proving that underhanded campaign tactics are unnecessary to win elections.
One way to stop this strategy of holding up extreme candidates in the hopes of an easier general election is by changing our primary election system. Nonpartisan open primaries, where every candidate is on the ballot and every registered voter gets to participate, is one answer. And it's already being used in places like Alaska.
RepresentUs will continue to work with partners and allies across the political spectrum to pass nonpartisan primaries, ranked-choice voting and other pro-democracy reforms that will help put an end to partisan games and give everyday voters a voice.
RepresentUs Political Analyst Adam DuBard and Research Analyst Ally Marcella contributed to this report.