Sara Swann
Sara Swann is a staff writer covering campaign finance and other reform issues. She previously reported on local and state government for The Daily Times on Maryland's Eastern Shore. She has also done money in politics reporting for the Center for Responsive Politics. Sara is an alumna of Syracuse University.
Joanne Rathe/Getty Images
Nearly every state legislature is considering bills to either roll back pandemic-era voting easements or make permanent the rules that allowed a record-breaking number of Americans to cast their ballots ahead of Election Day.

But with election officials already looking ahead to the 2022 midterms, the Center for Election Innovation and Research is concerned with the rules that are on the books right now. So CEIR released a report Monday analyzing the current laws in each state to determine where it will be easiest to cast a ballot early in person or by mail next year.
CEIR found that almost every state offered at least one method of early voting to all eligible voters. Only a handful make voting before Election Day difficult for most Americans.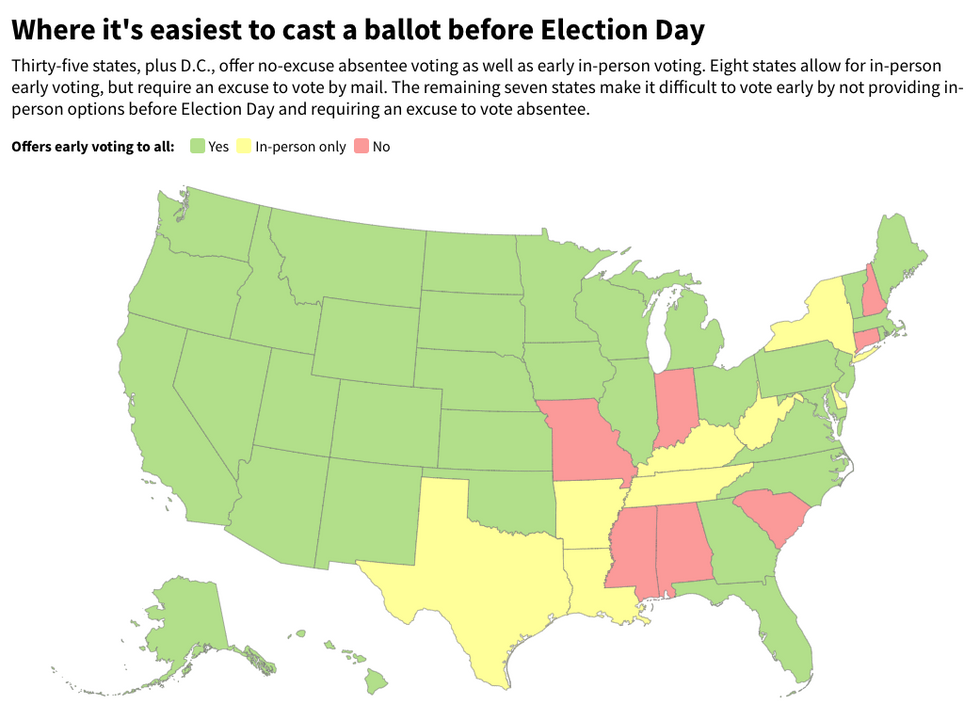 Center for Election Innovation & Research
Thirty-five states, plus Washington, D.C., have both no-excuse absentee voting (or run predominately vote-by-mail elections) and in-person early voting for federal races.

Eight states offer early in-person voting, but require an excuse to vote by mail: Arkansas, Kentucky, Louisiana, Tennessee, Texas and West Virginia. Delaware and New York are also currently in this category, but lawmakers in the two Democratic-controlled states are likely to pass amendments eliminating the excuse requirement to vote by mail later this year.
Sign up for The Fulcrum newsletter
Seven states are considered to have the most restrictive access to early voting because they require an excuse to vote absentee and they don't offer in-person voting before Election Day. These states are Alabama, Connecticut, Indiana, Mississippi, Missouri, New Hampshire and South Carolina.
While most states now offer multiple voting options, there are ongoing efforts in state legislatures to restrict access to early and mail voting because of erroneous claims that these methods are more susceptible to fraud.
"These efforts not only could create barriers for eligible voters, but also negatively impact election integrity by concentrating voting on a single day instead of over a longer period, which could hamper efforts to detect fraud or cyber-attacks," said David Becker, executive director and founder of CEIR.
Keep reading...
Show less
BackyardProduction/Getty Images
Much of the efforts to change the way states conduct elections, in the wake of last year's pandemic-era voting, are being done in favor of one major party or the other. Democrats are pushing voting expansions, while Republicans are backing restrictions.

But election reform advocates say it doesn't have to be this way. The Bipartisan Policy Center released a report this week in the hopes of cutting through the partisan noise. The new report details a dozen bipartisan recommendations for improving the voting process moving forward.
While election security experts have repeatedly confirmed that the 2020 election was the most secure in American history, the report says there are still many ways to streamline the voting process, bolster voter confidence and increase election security.
Because many of the changes implemented for the 2020 election were done quickly and at the last minute, a number of these recommendations emphasize the timing of passing and implementing new election rules. The policy proposals also underscore the importance of communicating any changes to voters.

"Some changes to the process are necessary and inevitable, but policymakers have fallen into a dangerous and unrelenting cycle of regaining interest in election administration only in the lead-up to major elections," the report says.
Sign up for The Fulcrum newsletter
Here are the 12 policy recommendations curated by BPC's task force of 28 state and local election officials:
"States should plan to enact legislative or administrative changes to standing election procedures outside the 90-day window before a general election."
"Challenges to standing election procedures within 90 days of an election should be considered by courts only for future elections."
"Courts should consider challenges to the merits of election administration changes in an election year on an expedited basis."
"No later than 60 days before an election, counties and states should produce and publicly display detailed observation procedures for the voting process, ballot reconciliation and canvass, recounts, and audits."
"States should create emergency election procedures that include contingencies for weather, terrorism, or other disasters."
"States should require local election offices to develop emergency election procedures and submit them to the state for review and coordination."
"States should mandate voting systems that produce voter-verifiable paper ballots. The voter-verifiable ballot should be the ballot of record for any audit or recount."
"States should standardize and simplify ballot return deadlines. Local and state officials should conduct vigorous voter communication efforts to educate voters about return deadlines."
"States should expand the options for the return of vote-by-mail ballots to include secure drop boxes."
"Voters should have the option of voting early and in-person for a period of at least seven days in advance of a federal election. States should provide a balance of early, mail, and Election Day voting options that are informed by voter behavior."
"States should codify a detailed certification timeline that includes all fundamental requirements and deadlines while thoughtfully balancing the amount of time devoted to state versus local responsibilities. County certification deadlines should be set no earlier than 14 days after a general election to provide time to complete precertification tasks."
"Threats against election officials and all permanent and temporary elections staff should be taken seriously by policymakers and law enforcement. These offenses should be punishable by penalties equivalent to those assessed for threats against other public employees carrying out their official duties."
While these recommendations are not the only bipartisan solutions out there, BPC's report says they would be good starting points for bolstering the election ecosystem. The report urges state lawmakers to work across the aisle to implement changes that would fortify election security and improve the voting process, without overburdening local election administrators.
"The election process transcends politics and demands reforms that are in the best interest of all Americans, regardless of party," the report says.
Keep reading...
Show less
Courtesy Millennial Action Project
Growing up in Milwaukee, Steven Olikara felt that playing music was the only way to bring people of all backgrounds and ideologies together — until he was inspired to launch the Millennial Action Project.

Believing the trend toward polarization had put American democracy on perilous footing, Olikara decided to translate his musical performances into political involvement on a national scale. In 2013, he officially launched MAP with the hopes that the next generation could bridge the political divide and put America on the right path forward.
Now, after nearly a decade at the helm, Olikara has stepped down as both he and the organization enter new chapters. On Wednesday, the organization announced as his successor Layla Zaidane, who previously served as MAP's executive director and COO. As for Olikara's next steps, the 31-year-old has his sights set on a potential Senate run next year when Republican Ron Johnson's seat is up for election.
"I'll be focused on how we can raise the consciousness of our politics and how we can bring the MAP model to a new level in our country," Olikara said. "I'm very deeply engaged in how that model can make a positive impact in my home state of Wisconsin."
Sign up for The Fulcrum newsletter
His name is one of several that have been thrown out as possible Democratic contenders for Wisconsin's hotly contested Senate seat. Others include: Outagamie County Executive Tom Nelson, Lt. Gov. Mandela Barnes, state Treasurer Sarah Godlewski, Milwaukee Bucks Senior Vice President Alex Lasry and state Sen. Chris Larson of Milwaukee, according to the Milwaukee Journal Sentinel.
There's a chance Johnson, who is in his second term, may not seek re-election, which would dial up the competitiveness of that race. The 65-year-old senator has said previously that he intended to serve only two terms, but he has not yet made an official decision. If Johnson decides to retire, his open seat would be one of two in a state that went to Donald Trump in 2016 and Joe Biden in 2020. (The other is held by Pennsylvania Republican Pat Toomey, who announced his retirement last October.)
Regardless of where Olikara's political career takes him, he will stay involved with MAP as founder and senior advisor. (Olikara also serves on the board of directors for Issue One, which owns, but is journalistically independent from, The Fulcrum.) Over the last few months, he has been transitioning out of his leadership position while MAP's board of directors vetted more than 100 candidates for the role.
Ultimately, Zaidane was chosen because "there was no one quite so intimately connected or committed to MAP's mission and vision as Layla," board Chair Nicholas Maschari said in announcing her promotion.
Since joining MAP in 2016, Zaidane said, she has been "truly inspired by MAP's vision of a more inclusive democracy, led by young people."
As the new CEO, Zaidane will continue to grow the organization's Future Caucus Network, a bipartisan coalition of young legislators from across the country. Through this work, MAP and its caucus members will develop future-oriented solutions on issues such as climate change, criminal justice and democracy reform.
"It's hard to imagine a more important time for our country to move beyond the partisan framework that's defined our politics for far too long, and I am honored to be leading MAP and our network of young legislators in this movement," she said.
Zaidane, before joining MAP, was managing director of the youth-oriented Generation Progress and a marketing specialist for LivingSocial. She earned a degree from Georgetown University's School of Foreign Service.
During his time leading MAP, Olikara said his biggest accomplishments came when he saw the hard work of his staff and legislators in the Future Caucus pay off.
"Often it happens behind the scenes where they exhibit tremendous political courage to get a bill over the finish line or when they reach across the aisle to build a coalition," he said. "That always speaks deeply to the possibilities of this movement, so it's these stories of growth and leadership that, to me, are the most personally meaningful."
And millennials' impact on politics will only continue to grow. Last year's election saw more victories from young candidates than ever before: 1,641 people under the age of 45 were elected to state legislatures — representing nearly a quarter of the total seats. And 81 young members from both parties, including 23 freshmen and 58 incumbents, were elected to the House of Representatives.
Plus, Democrat Jon Ossoff won his January runoff in Georgia, making him at age 33 the youngest person elected to the Senate since Joe Biden in 1972. Another young senator, 43-year-old Republican Tom Cotton of Arkansas, was re-elected last year.
Olikara is hoping these young representatives will help inject new life into politics and political decision-making. One of the biggest problems MAP has tried to tackle from the outset is what he calls the "short-termism" of politics.
"It's all about short-term wins and short-term fixes, often at the expense of the long-term health of our country," he said. "It's been too politically convenient for our leaders to just kick the can down the road on a lot of generational problems, whether it's climate change or the national debts or preparing our workforce for the jobs of the future."
Having young people represented in state legislatures and Congress, Olikara said, is going to have a huge impact on policymaking because their generation brings different life experiences and ideas.
Reflecting on his time at MAP, Olikara said there is no person better suited to lead the organization into its next chapter than Zaidane.
"For over four years, Layla has been by my side for every major decision at MAP. She brought energy, conviction and dedication to her role first as COO and then as executive director & COO," he said. "As I step down from serving as CEO at the organization I helped found over eight years ago, I'm proud to pass the baton to such a capable leader. It's honestly a dream come true."
Keep reading...
Show less