Sara Swann
Sara Swann is a staff writer covering campaign finance and other reform issues. She previously reported on local and state government for The Daily Times on Maryland's Eastern Shore. She has also done money in politics reporting for the Center for Responsive Politics. Sara is an alumna of Syracuse University.
Utamaru Kido/Getty Images
A lawsuit filed this week over Illinois' new legislative district lines is a preview of what's sure to be a litigious and tense second half of the year for mapmakers.

While Illinois has made more progress than most states, the redistricting process in the Prairie State is far from over. Full census data has not yet been released due to delays caused by the Covid-19 pandemic. As a result, many states are facing impossible redistricting deadlines — some of them constitutionally mandated. If adjustments aren't made soon, courts will have to step in and draw temporary maps for upcoming elections.
Late last week, Gov. J.B. Pritzker signed legislation to establish new lines for the legislative districts in Illinois, a process the state Constitution requires to be completed by the end of this month. (The state still needs to draw new congressional maps.) Because Democrats have a 73-45 majority in the House and a 41-18 majority in the Senate, they were able to quickly draw districts and get Pritzker's approval without any input from Republicans.

A few days after the new maps were finalized, the state's top Republican officials, House Minority Leader Jim Durkin and Senate Minority Leader Dan McConchie, filed a federal lawsuit. They argue the redistricting plan approved by Democrats was inaccurate, "arbitrary" and discriminatory toward minority voters.
Sign up for The Fulcrum newsletter
By forgoing the official Census Bureau counts in favor of population estimates, "the Plan ensures that historically undercounted minority communities will continue to be underrepresented and lose their right to an equal vote in the legislature," the lawsuit states.
The GOP leaders want a judge to declare the redistricting plan unconstitutional and to require the Legislature to establish a bipartisan commission to draw new maps.
Redistricting has historically been a heavily litigated issue due to partisan disputes like this. But there will likely be even more challenges this time around thanks to the Supreme Court's recent landmark decision. In 2019, the five conservative justices ruled that determining whether there is a constitutional limit to partisan gerrymandering fell outside the purview of federal judges. As a result, many election maps are expected to be battled out in state courts this year.
The added time constraints this year won't help matters either. If states fail to meet certain mapmaking deadlines, the line-drawing will be left to the courts. The Census Bureau intends to begin releasing the data that states need to kick off the redistricting process on Aug. 16. Then the final set of data will be made available at the end of September — much later than a typical redistricting year.
The Census Bureau released its first set of data at the end of April, providing population estimates for congressional apportionment. Due to population growth, Texas gained two House seats, and another five states gained one seat each: Colorado, Florida, Montana, North Carolina and Oregon. Seven states saw population declines resulting in the loss of one House seat each: California, Illinois, Michigan, New York, Ohio, Pennsylvania and West Virginia. The remaining states did not see a change in their number of seats, but all states with more than one district can redraw the lines.
While Illinois opted to use the population estimates already available to draw its legislative maps, most states will have to wait until more detailed data is released later this year. A delayed start could conflict with statutory deadlines set by state constitutions.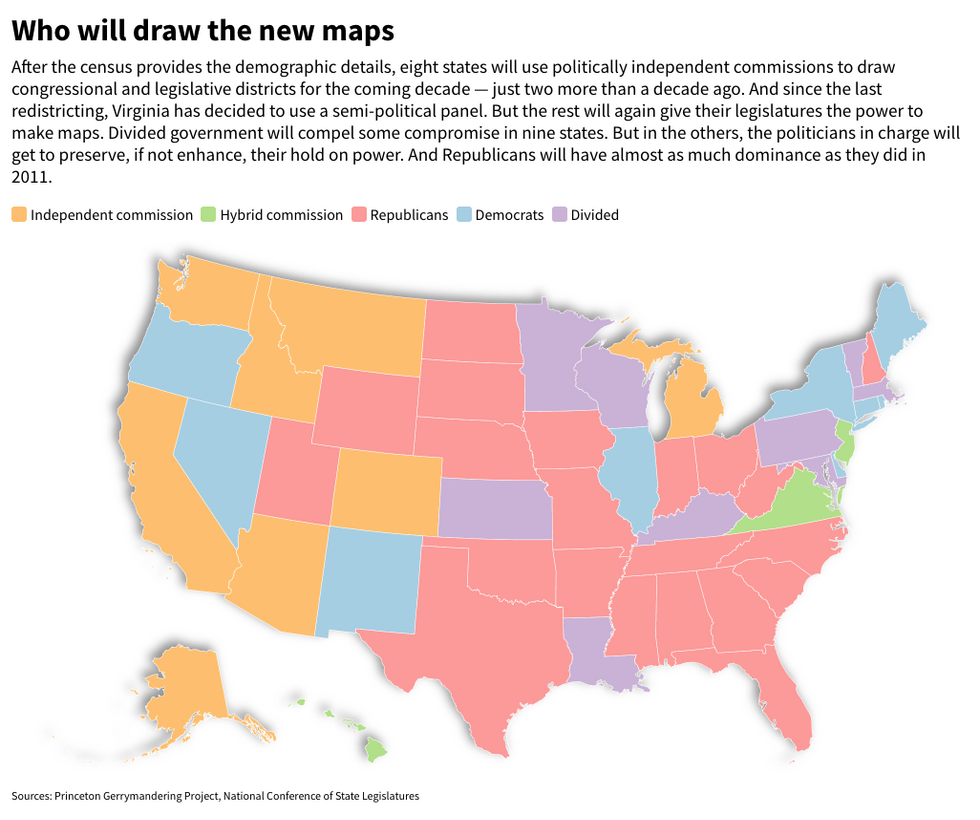 The Brennan Center for Justice, a liberal public policy institute at New York University Law School, released a report in April analyzing how census delays could impact states' redistricting plans. The Princeton Gerrymandering Project also created a tool to track how the delays are affecting states and where urgent intervention is needed most.

Hawaii and Michigan, two states with redistricting commissions, are among the most severe cases identified by both the Brennan Center and the Princeton Gerrymandering Project because they have fixed dates for redistricting.
Hawaii's constitution states that its redistricting commission has 150 days from its first meeting — which this year was April 13 — to finalize election maps. However, that deadline will be impossible to meet given the data delays. State lawmakers have asked the attorney general to petition the Hawaii Supreme Court, requesting forgiveness for missed deadlines.
Similarly, Michigan's inaugural independent redistricting commission and Secretary of State Jocelyn Benson have asked the state Supreme Court to extend the deadline by which election maps need to be finalized.
Most states have relatively flexible redistricting timelines, though, because either the dates are tied to the release of census data, the deadlines are in 2022 or they have no set deadlines. However, these states will still most likely need to hold special sessions to finalize election maps in a timely manner.
Keep reading...
Show less
pabradyphoto/Getty Images
Maine has taken a big step toward making its primaries more politically inclusive.

State lawmakers voted in overwhelming bipartisan fashion on Wednesday to allow voters not registered with a major party to cast a ballot in a primary election. While the bill requires another vote in both chambers before it goes to Democratic Gov. Janet Mills' desk, the previous votes indicate passage is very likely.
While many state legislatures remain divided on election reform issues, Maine and nearby Vermont presented rare examples of bipartisan collaboration this week.
Currently, independents (also known as unenrolled voters) cannot participate in primaries unless they register with a party. Starting in 2024, such unaffiliated voters would be able to cast a ballot in a party's primary without needing to register with that party. Fifteen other states use a similar semi-open primary system, according to the National Conference of State Legislatures.

Open Primaries, an election reform organization that advocates for nonpartisan primaries, says this change would enfranchise 400,000 independents in Maine, or about one-third of the state's total registered voters.
"For many years, the attitude about independent voters has been that they should join a party if they want to participate. That's changing, in Maine and around the country," said John Opdycke, president of Open Primaries. "Elected officials are starting to appreciate that independents want to participate but they don't like the idea that you have to join a team in order to have a voice. Letting all voters vote may sound simple, but it's a profound component of what it will take to improve our politics."
Keep reading...
Show less
Alex Wong/Getty Images
Since proclaiming his opposition to the For the People Act, Democratic Sen. Joe Manchin has drawn a lot of ire from voting rights advocates, including some from his home state of West Virginia.

Former Secretary of State Natalie Tennant and five other West Virginia advocates vowed during a press call Wednesday to keep the pressure on Manchin in the coming weeks. The the sweeping election reform bill is scheduled to be brought to the Senate floor later this month.
In an opinion piece published over the weekend, Manchin did not say he was opposed to specific elements of the For the People Act. Rather, he said he wouldn't vote for the bill unless Republicans were also on board — a nearly impossible standard. The moderate Democrat also reaffirmed his opposition to weakening or eliminating the filibuster, dealing another critical blow to the bill's chances of success.
The group of West Virginia voting rights advocates pushed back on Manchin's claim that there was no bipartisan support for the For the People Act.
"Sen. Manchin has an idea of bipartisanship that is not formed or based on reality. Bipartisanship is not how many Republican senators you can get to vote for a bill," said David Fryson, pastor-elect of The New First Baptist Church of Kanawha City in Charleston. Bipartisanship, he added, is demonstrated by the broad support the legislation has among West Virginians of all political affiliations, much like it does across the rest of the country.
Sign up for The Fulcrum newsletter
An April poll conducted by Global Strategy Group and ALG Research for End Citizens United, a liberal democracy reform group, found that 79 percent of West Virginians overall, including three-quarters of Republicans, supported the For the People Act.
"So to be quite frank, it is Sen. Manchin who is not being bipartisan. What he is doing is being political. I don't see how protecting the sacrosanct of voting rights could be anything but a positive," said Fryson.
While many voting rights advocates were disheartened by Manchin's announcement, Tennant said she's not going to let it stop them from pushing forward on this issue. As she's been advocating for the For the People Act in the Mountain State, Tennant has also been actively combating misinformation and misconceptions around the bill. For instance, one falsehood she said she hears often is that the legislation would lead to a federal takeover of elections. In response to that, she emphasizes how it would actually help set minimum standards for states to make voting and elections more fair, transparent and accessible.
"When the facts aren't stated correctly or fairly, or there is this intention to mislead, that is what is so hurtful," Tennant said. "Our West Virginia voters are the ones that are going to be hurt by people just making up stuff."
Following the 2020 election, hundreds of restrictive voting measures have been introduced in nearly every state legislature. Fourteen states have already enacted a collective 22 laws limiting access to the ballot box and imposing stricter voting rules.
The For the People Act has been billed as the ultimate remedy to this wave of restrictive voting legislation. Another landmark bill being considered in Congress, the John Lewis Voting Rights Advancement Act, would also help combat future restrictive voting measures. Advocates say both are necessary to protect voting rights across the country.
Manchin wrote that, instead, he supports the Voting Rights Advancement Act, claiming it has bipartisan support. And while Republican Lisa Murkowski of Alaska has joined him in backing that bill, it appears unlikely that enough lawmakers from her party will sign on to prevent the GOP from blocking the legislation.
The West Virginia senator is receiving heat not only from his home state, but also on a national scale. On Wednesday morning, a coalition of national political reform advocacy organizations and several of Manchin's congressional colleagues gathered for a rally outside the Supreme Court. Advocates and elected officials reiterated the importance of both bills and implored Manchin to choose democracy over politics.
But it remains to be seen if any of this outside pressure will convince Manchin to change his mind on the reform legislation. Even a meeting this week with civil rights leaders did not seem to sway his stance.
The voting rights advocates from West Virginia said whatever Manchin decides on this issue will not only reflect on his legacy as a senator but also the entire state's reputation.
"I don't want us to be the state that said 'no,'" Tennant said. "We are fighting stereotypes all the time that we're backward, that we don't understand. But we do understand [...] and we could lead the way on this."
Keep reading...
Show less