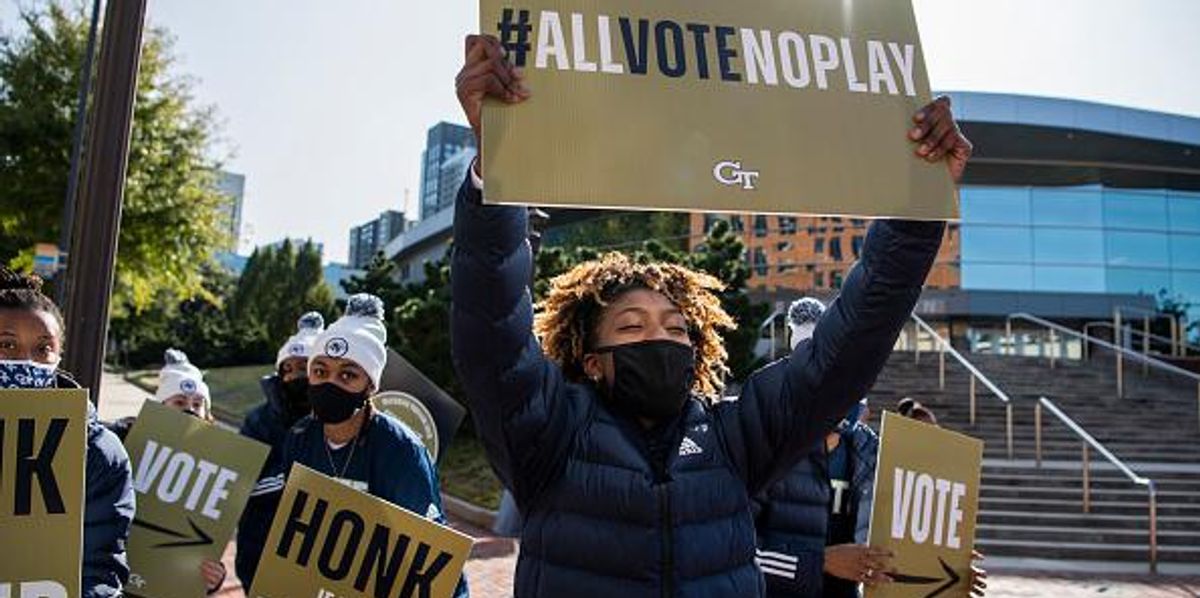 Tom Williams/Getty Images
Nearly 200,000 valid voters should be returned to the rolls in time for Georgia's twin elections that will decide partisan control of the Senate in five weeks, a new lawsuit argues.

The suit, filed Wednesday by three voting rights groups in federal court in Atlanta, alleges the Georgia secretary of state's office improperly removed 198,351 voters from the state's registration database last year — an error rate of 63 percent.
The Black Voters Matter Fund, the Transformative Justice Coalition and the Rainbow Push Coalition maintain that voters who hadn't moved were taken off the rolls because the state did not use the correct list to verify addresses. The suit also challenges the state's "use it or lose it" law, which requires people to vote in at least one federal election every four years or interact with a state election office in order to remain registered.
The lawsuit is based on a report released by the ACLU of Georgia in September. As with most potentially disenfranchising actions, it concluded, young, poor, urban and minority voters were the most affected by the apparent purge.
It is unclear how many, if any, re-registered in time for the November election. The voting rights groups have asked that all the voters be restored by Jan. 5. That is when the state will vote in one of the most impassioned and expensive runoff elections in modern congressional history. Both of the state's Senate seats will be contested, because on Election Day nobody received the 50 percent majority required by state law.
Sign up for The Fulcrum newsletter
Republican incumbent David Perdue is seeking a second term against Democratic activist and documentary filmmaker Jon Ossoff. And GOP Senate appointee Kelly Loeffler is seeking election in her own right against Democratic Rev. Raphael Warnock. If Democrats win both races, they will effectively control the Senate, with 50 seats and the new vice president, Kamala Harris, available to break a tie.
At a news conference Wednesday, Gabriel Sterling, the voting system implementation manager in the secretary of state's office, dismissed allegations of bad behavior by his office. "I'm going to go with no," he said when asked if nearly 200,000 voters had been unfairly purged, but he added: "Frankly, I've not seen or heard of this lawsuit yet."