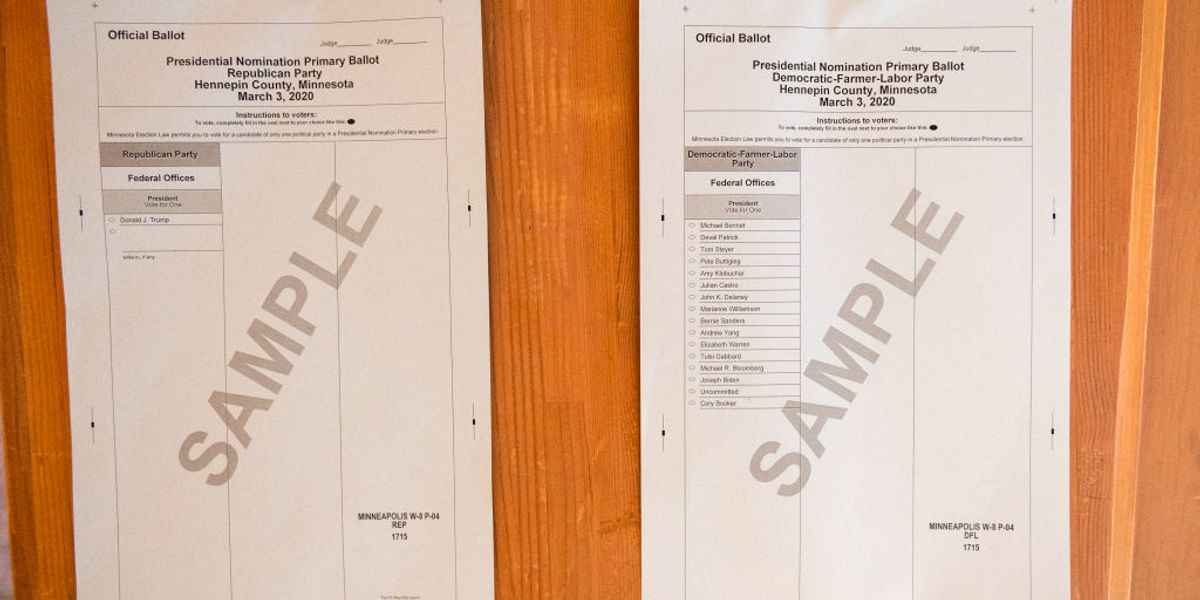 Stephen Maturen/Getty Images
A lottery should assign partisan billing on Minnesota ballots this year, a federal judge has decided.

The rules of probability say the decision will be a victory for Democratic candidates, who would be listed below the Republicans under the current system.
Challenges to the arcane rules of ballot design have become a feature of the multifaceted campaign of Democratic voting rights lawsuits this year. They're also being watched by good government advocates, who favor getting rid of any election rule written by the party in power to preserve its influence at the expense of old-fashioned electoral competition.
Minnesota's ballot ordering is unusual, with the parties featured in the reverse order of their most recent statewide performance. Judge Susan Richard Nelson on Monday decided that was still not altogether fair and that a random drawing should determine which of several parties with statewide credibility will get top billing in November, when both President Trump and Joe Biden have a shot at winning the state's 10 electoral votes.
The higher ballot position alone would give the GOP candidates a boost of 2 to 3 percentage points if the system stays as is, according to research done for the Democrats who filed the suit. Hillary Clinton carried the state by just 1.5 points last time.
Sign up for The Fulcrum newsletter
Political operatives pay so much attention to the vote-getting power of topping the ballot that they have nicknames for it including the "primacy effect," the "windfall vote" and the "donkey vote."
Democratic Party groups have also filed similar lawsuits in Arizona, Georgia and Texas — all potential 2020 battlegrounds where the laws now benefit the Republicans who control the state government. A federal appeals court in April rejected a similar challenge to the rules in Florida, the biggest presidential swing state.
At the same time Nelson blocked the current system, she also rejected Secretary of State Steve Simons' bid to get the suit dismissed.
Stanford political scientist Jonathan Rodden conducted the research looking at the impact of ballot order on election results in Minnesota in the 21 federal elections since 1982. A faculty colleague, Jon Krosnick, reviewed 70 years of research on the subject of ballot primacy and concluded being higher on the ballot "almost always" gives that candidate an advantage.