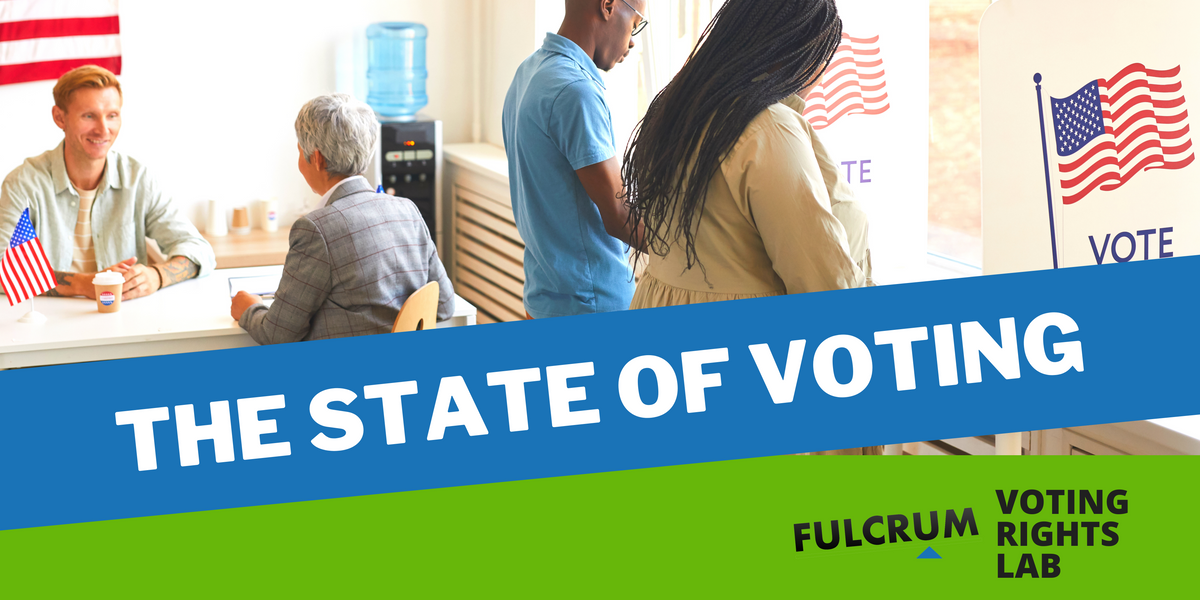 This weekly update summarizing legislative activity affecting voting and elections is powered by the Voting Rights Lab. Sign up for VRL's weekly newsletter here.

The Voting Rights Lab is tracking 2,201 bills so far this session, with 580 bills that tighten voter access or election administration and 1,054 bills that expand the rules. The rest are neutral, mixed or unclear in their impact.
It was a busy week for those tracking the state's election laws, with courts, executive officials and and others across the country weighing in.
A new lawsuit seeks to force Pennsylvania counties to reject mail ballots if they are undated or misdated. An Arkansas law that prohibits polling place translators from assisting more than six voters each will go into effect this election, despite the fact that a lower court found that it violates the federal Voting Rights Act. And Wyoming's new interim secretary of state sent a nonbinding letter asking that counties cease providing mail ballot drop boxes this election.
Following the 2021 enactment of legislation enabling limitless challenges to voter registrations, Georgia counties have been faced with tens of thousands of frivolous challenges. But counties seem to be rejecting them.
And a federal judge ordered the Alabama secretary of state to turn over records related to voter purges. A new Michigan law prohibits polling places from being placed on property owned by a candidate.
Sign up for The Fulcrum newsletter
Here are the details:
Republican Party sues to invalidate Pennsylvania mail ballots with undated or misdated signatures. Pennsylvania law requires voters to "date and sign" their ballot certificate. However, counties disagree about whether to count ballots when the voter leaves the date line blank. After multiple lawsuits, the 3rd U.S. Circuit Court of Appeals ruled that timely ballots from eligible voters with missing signature dates must be counted because the date is not "material," and the federal Voting Rights Act prohibits rejecting ballots for immaterial reasons. On Oct. 11, the U.S. Supreme Court vacated that decision without reversing it, preventing it from being binding on future cases. On Sunday, the Republican National Committee, National Republican Congressional Committee, and Republican Party of Pennsylvania petitioned the Pennsylvania Supreme Court to rule that timely mail ballots from eligible voters must be rejected if their signature isn't dated or is misdated (for example, if the voter inadvertently put their date of birth, instead of the date they signed the certificate).
Michigan enacts new siting rules for polling places. Gov. Gretchen Whitmer signed H.B. 6071, which allows a legislative body to consolidate up to six precincts in a single polling place when "convenient for voters." Such consolidation, however, cannot happen for the election this November because another rule prevents changing polling places within 60 days of an election. The new law also ensures polling places cannot be placed on property owned by a candidate.
Alabama forced to produce records on voter purges. U.S. District Judge Myron Thompson ordered Alabama Secretary of State John Merrill to turn over records relating to voter purges to a plaintiff nonprofit organization, the Greater Birmingham Ministries.
Federal appeals court allows Arkansas restrictions on polling place translators to go into effect. The 8th U.S. Circuit Court of Appeals stayed a ruling by a district court judge who found that Arkansas' law prohibiting translators from assisting more than six voters each on Election Day violated the federal Voting Rights Act. The stay means the restrictive law can go into effect while the state's appeal is pending.
Wyoming interim secretary of state requests that counties cease using ballot drop boxes, questioning legality. Secretary of State Karl Allred, who assumed the office on an interim basis after his predecessor was appointed to a judgeship, sent an introductory letter to the state's 23 county clerks in which he expressed disagreement with his predecessor's determination that drop boxes were permissible under the state code. In the letter, Allred asked that counties stop making them available to voters. This letter is not binding and does not block clerks from offering drop boxes for the November election if they wish to do so.
Georgia counties continue to reject thousands of challenges to voter registrations. S.B. 202, enacted in 2021, clarified that challenges to voter registrations can be limitless. Counties are now facing – and rejecting – tens of thousands of frivolous challenges. According to the League of Women Voters, out of over 25,000 challenges to voter registrations made by the group VoterGA, only 1,800 registrations have been canceled. On Oct. 4, Gwinnett County in suburban Atlanta rejected all of the pending challenges.
Columbus City Council passes ordinance to protect poll workers. The Columbus, Ohio, city council enacted an ordinance establishing a mandatory sentence of three days in jail for those convicted of harassment of election workers, members of their household or their immediate family. Secretary of State Frank LaRose criticized the ordinance as unnecessary, claiming that existing state law provides adequate protections for poll workers.