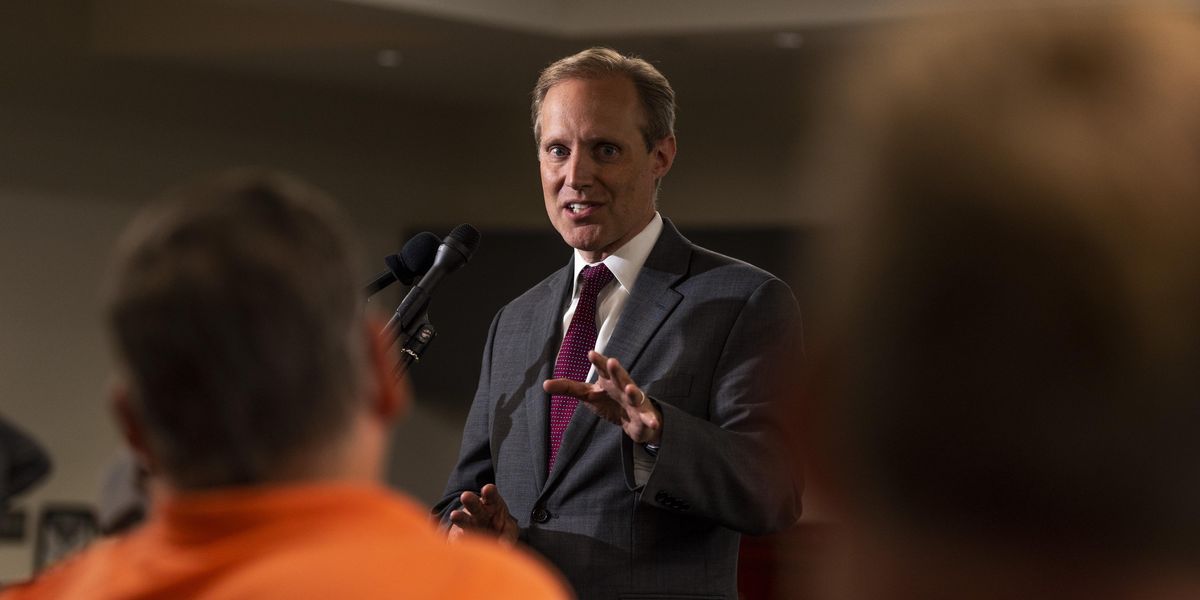 Stephen Maturen/Getty Images
In most years, races for secretary of state draw little attention. But as election administration has become an increasingly hot topic, the contests to be the state's top election official have taken on greater importance. Voters will choose their candidate for that post in four states on Tuesday.

Voters will also select candidates for a variety of federal, state and local elections, as well as decide special elections for vacated seats. In addition to facing the voters, candidates will deal with complications that endorsements can bring, as well as challenges from within their own parties.
As voters from Connecticut, Minnesota, Vermont and Wisconsin — all states with open primaries — head to the polls to choose the candidates who will represent their parties in the general elections later this year, here's a rundown of the key races at hand, as well as the changes in election policy that govern the primaries.
Connecticut
The highest profile race in Connecticut is the Republican primary to challenge Democratic Sen. Richard Blumenthal. With Blumenthal's approval rating dipping, Republicans see an opportunity to flip the seat.
Republican frontrunners are socially moderate Themis Klarides, a previous minority leader in the Connecticut House, and Trump loyalist and political fundraiser Leora Levy. Klarides is an outlier in her party, supporting abortion rights, marriage equality and gun control, and acknowledging systemic racism — positions that have drawn attacks from Levy.
Sign up for The Fulcrum newsletter
Still, Klarides gained the party endorsement and polls show that she has a better chance of beating Blumenthal than Levy in November (although still likely to lose), which may convince voters on the fence.
The Democratic primary for secretary of state features Stephanie Thomas and Maritza Bond, either of whom would be the first person of color to hold the post in Connecticut. The primary winner will face either Dominic Rapini, who has made concern about voter fraud central to his campaign, or Rep. Terrie Wood, who hasn't gone that far but agrees the state should tighten election rules, including requiring an ID to vote. Voters will also pick candidates for state Treasurer. Democrats have held both posts for more than 20 years and will likely win in November.
As a state that previously had some of the most restrictive voting laws in the country, Connecticut has enacted many bills in recent years to expand voting access. These laws include measures to restore voting eligibility to convicted felons upon their release from prison, expand absentee voting, require employers to allow two hours of paid time off on election days and adopt online voter registration.
Just this year, the state further extended absentee voting by broadening the requirements to include caregivers, not just people who are ill or disabled.
Read more about election law changes in Connecticut.
Minnesota
In Minnesota, a special election for a U.S. House seat will determine who finishes the term started by Rep. Jim Hagedorn, who died in February. Some voters in that district will actually vote twice for the same seat, once for whether Republican Brad Finstad (the favorite) or Democrat Jeff Ettinger will finish out the year, and again in the primary for the regularly scheduled November election.
While the district is considered to be solidly Republican, it has been represented by Democrats such as Gov. Tim Walz when he was in the House. The underdog for the special election, Ettinger, a former CEO of Hormel, is favored to win the primary so he could have another shot in November. Finstad, who served in the Department of Agriculture under Donald Trump, is being challenged by state Rep. Jeremy Munson who lost the May primary for the special election to him and is running to his right.
To make matters more confusing, the borders of this district changed in the 2020 redistricting cycle. Some voters who are no longer in the district will only have the special election on the ballot, while those who have been drawn in will only be able to vote in the primary.
The top of the ballot features a Republican primary for governor. Former state Sen. Scott Jensen is expected to win the right to challenge Walz. Minnesota hasn't had a Republican governor since 2007.
The Republican primary for attorney general has also made headlines. Doug Wardlow, who was endorsed by the Republican Party in 2018, is now facing the GOP's wrath. He has continued to fight for the nomination after the party endorsed Jim Schulz, despite pledging to honor the endorsement system. The winner will face incumbent Keith Ellison, whose office led the prosecution of Derek Chauvin, the police officer convicted of killing George Floyd.
In the race for secretary of state, the leading GOP candidate, Kim Crockett, has been very critical of how Minnesota handled the 2020 election but usually does not go so far as to say the race was stolen from Trump. The winner is expected to face the incumbent, Steve Simon, in November.
Two House Democrats representing the twin cities of Minneapolis and St. Paul are facing challengers. Rep. Ilhan Omar, who made headlines last week when she was arrested at a protest for abortion rights with several colleagues, is facing a well-known community activist Don Samuels. While they share many positions, Samuels was instrumental in stopping a bill Omar supported that would have abolished the Minneapolis Police Department and replaced it with a department of public safety.
And Rep. Betty McCollum, who has been in Congress for over 20 years, is facing a challenge from her left. Political organizer Amane Badhasso is running against her, claiming that a new generation of progressive Democrats is needed to solve issues such as climate change, systemic racism and income inequality.
Few changes in election law have passed in recent years due to Minnesota's divided government. Though 166 bills have been introduced in the past two years, only one has been enacted. It increased security measures for absentee ballot drop boxes, required lists of rejected absentee ballots to be made available to the public after voting ends on Election Day, and appropriated funds to improve election administration and security.
Read more about changes to election laws in Minnesota.
Vermont
The Green Mountain State's primary features a pair of statewide contests for open federal seats, triggered when Vermont's senior senator, Patrick Leahy, announced plans to retire in 2021. Three Democrats are running for the nomination to succeed Leahy, with Rep. Peter Welch favored over Niki Thran and Issac Evans-Frantz.
On the Republican ballot, Gerald Malloy, Myers Mermel and Christina Nolan will all be running for the nomination.
For the first time in 16 years, Vermont has an open spot in the House of Representatives because Welch is giving up that seat to run for Senate. On the Democratic side, two women — state Sen. Becca Balint and Lt. Gov. Molly Gray — are the frontrunners for the nomination. Republicans Ericka Redic, Anya Tynio and Liam Madden are seeking the GOP nomination.
The Democrats have a solid hold on both seats.
Any of the four women running for the House nomination would make history as the first woman in Congress from Vermont – the only state yet to send a woman to Congress.
Other races on primary day include governor, lieutenant governor, attorney general, and secretary of state. The gubernatorial race will feature Democrat Brenda Siegel and the winner of the Republican primary featuring Stephen Bellows, Phil Scott and Peter Duval.
Three candidates are seeking the Democratic nomination for the open secretary of state position. (Jim Condos is retiring after 12 years in office.) All have said they want to continue Vermont's recent work to make it easier to vote. The only GOP candidate, H. Brooke Paige, who regularly appears on the ballot, is not given much chance of winning.
Since 2019, Vermont has enacted few bills affecting elections, but one of them took many steps to make it easier to vote. In addition to establishing a vote-by-mail system in which all registered voters received a mail-in ballot, the bill requires the state to use ballot drop boxes and created a method for voters to correct, or "cure" ballots that contain errors.
Read more about this bill and other changes to Vermont election law.
Wisconsin
Wisconsin's primaries this Tuesday will be dominated by two headlining races — for Senate and for the governor's office.
The Democratic primary for Senate will likely be won by Lt. Gov. Mandela Barnes, who seeks to challenge Sen. Ron Johnson in the general election, after the most influential of his rivals withdrew from the GOP race. Three of Barnes' competitors dropped out and endorsed Barnes in the span of one week in late July.
Johnson is largely considered one of the most vulnerable Republican senators on the ballot this November. Polls from early in the primary showed that Johnson would face a tough challenge from any of his Democratic opponents.
In the Republican primary for governor, the winner of which will challenge Gov. Tony Evers, the race has been condensed to a battle between former Lt. Gov. Rebecca Kleefisch and Tim Michels, a construction executive. The two represent different sides of the party, with Trump endorsing Michels and former Vice President Mike Pence supporting Kleefisch.
The secretary of state race in Wisconsin generally gets little coverage, even compared to the same post in other states. In Wisconsin, that office has nothing to do with elections. But this year, the three GOP candidates seeking the nomination want the state to give that office more control over elections, at the expense of Wisconsin's bipartisan elections commission.
Only relatively minor voting law changes happened in Wisconsin in recent years, largely because Evers vetoed multiple restrictive laws sent to him by the Republican-controlled Legislature. Litigation did yield some restrictive changes to procedure — for instance, a federal appeals court restored a requirement in 2020 that voters must reside in their district for 28 days rather than 10 to be eligible to vote. The same court ruled that emailing or faxing absentee ballots would be unconstitutional. And home-schooled students at least 16 years of age were allowed by a 2021 law to serve as poll workers.
In 2022, the state has enacted just one bill related to voting rights and procedure. It prohibited donations or private grants for election administration and detailed who can perform related tasks, according to the Voting Rights Lab.