The Forward Party: Centrist parties coalesce around depolarization, bottom-up politics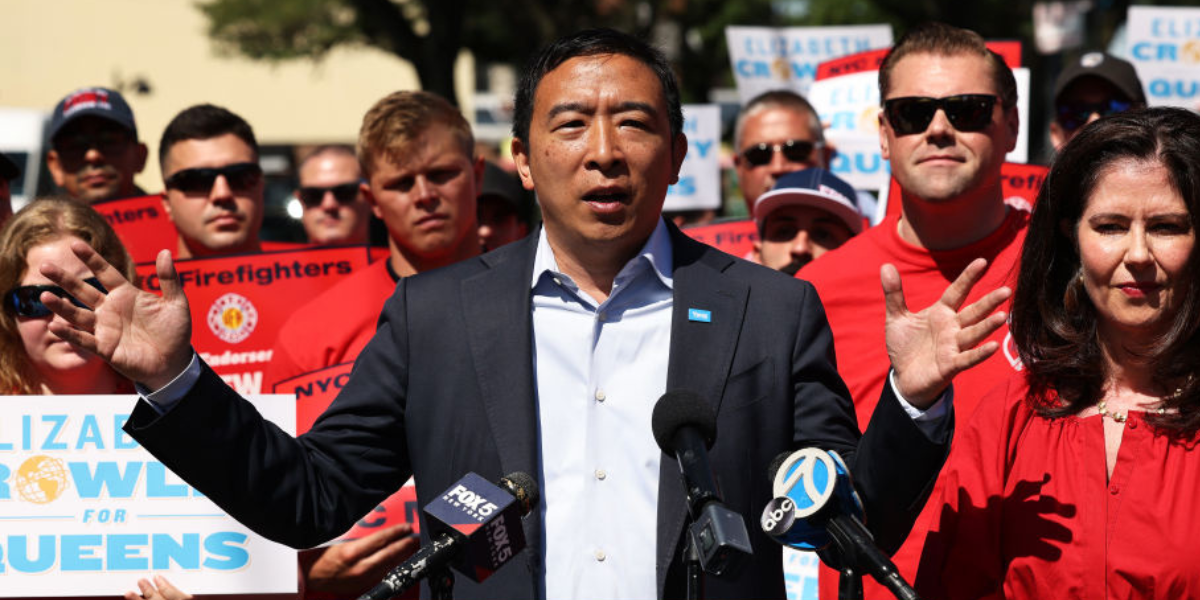 Three centrist political parties announced on Wednesday that they are joining forces to become the Forward Party, a new iteration of the party led by former Democratic presidential candidate Andrew Yang.
Joined by the Renew America Movement, formed by former Republican officials in 2021, and the Serve America Movement, a coalition of Republicans, Democrats, and Independents led by former Republican congressman David Jolly, the party intends to be on the ballot in all 50 states by 2024. It will be headed by Yang and former Republican governor of New Jersey Christine Todd Whitman.
---
The Forward Party says it isn't "just a new party, but a new kind of political party." For that reason, rather than a typical political platform, the party has three priorities: free people, thriving communities and vibrant democracy.
"A core principle of who we are and how we're operating as a party is to encourage civic engagement beyond just voting and giving money," said Joel Searby, National Political Director of the Renew America Movement. "We believe that party members should be helping to make their communities a better place."
A major part of the party's strategy is to start with local and state level races, where third parties have more often made inroads.
Sign up for The Fulcrum newsletter
However, it is still an uphill battle, if history is any indication. No third party presidential candidate has won a single state since 1968, and third party candidates only rarely win elections in the U.S. Senate or House of Representatives. Forward Party leaders claim that they can overcome this precedent.
"When other third party movements have emerged in the past, it's largely been inside a system where the American people aren't asking for an alternative," said former Department of Homeland Security Chief of Staff Miles Taylor, who leads the Renew America Movement. "The difference here is we are seeing a historic number of Americans saying they want one."
At a time when the major political parties have become entrenched in partisan battles, the Forward Party is trying to escape the establishment through bottom-up organizing and find collaborative solutions that most Americans can agree on.
"Our American democracy hangs in the balance. The Republican Party is a threat to our democracy, and the Democratic Party is not built for meeting this moment. The Forward Party will be purpose-built to take us into a new, better era," said Lucy Caldwell, a former Republican political strategist who is one of the party's advisors.
There is also concern that the Forward Party could be a "spoiler," taking away votes from one of the major parties. In the 2000 presidential election, many accused Green Party candidate Randalph Nader of causing Democrat Al Gore's loss to Republican George W. Bush by taking Democratic votes in a very close election.
Searby rejects this narrative in regards to the Forward Party.
"The system is already deeply spoiled," he said. "Those who claim that third parties are simply spoilers are not only not paying attention to the facts of the matter, but really are just entrenched in an old way of thinking."
Americans are locked into parties they don't necessarily agree with, particularly at the local level where 40 percent of elections went uncontested nationwide in 2020, according to Ballotpedia.
"We will be mindful and cautious, especially in these very tenuous times, that we do not become a vehicle to elect extreme elected officials," Searby said. However, he notes that at the local level where the Forward Party hopes to build a citizen-based coalition, that is unlikely to be an issue.
"To suggest that there's too much competition or that an additional party would somehow spoil all the elections is just not consistent with the reality on the ground in America."