Hey, N.Y. Times: Don't endorse two for president. Don't even pick one.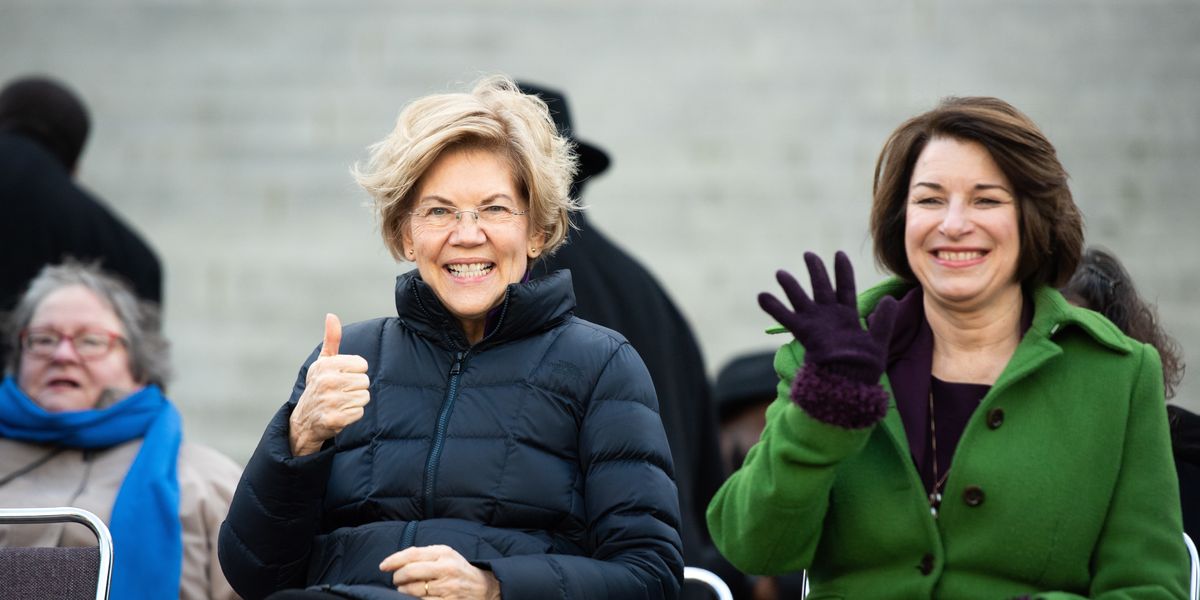 Sean Rayford/Getty Images
Copeland has been a journalist for 40 years, including as Washington bureau chief for the E.W. Scripps Co. and editor of Scripps Howard News Service. His most recent book, "Finding the News: Adventures of a Young Reporter," is about real-world journalism ethics.

There has been much discussion in political and media circles about why The New York Times this week endorsed two Democratic candidates for president. But the real question is why a news organization feels it is necessary or wise to choose a candidate at all.
So why is it a problem that The Times picked Sen. Amy Klobuchar and/or Sen. Elizabeth Warren over President Donald Trump? The main reason is that readers already distrust reporters and accuse them of bias, mostly of a liberal persuasion but also for or against individual candidates.
---
If a news organization endorses a particular candidate, should readers take that into account when considering every news story about the race?
Yes, The Times has done a good job — better than ever — of explaining how a candidate is chosen, and how it is not "the institution" that is endorsing a candidate but the "Editorial Board." I'm afraid, however, that this distinction is lost on readers and voters.
Sign up for The Fulcrum newsletter
As a longtime reporter and editor, I felt the impact of these endorsements first-hand. When I was a reporter, I often was confronted by people who accused me of taking sides because my news organization had taken sides. It's not me, I tried to argue, it's a separate branch of the company that pays my salary. The defense sounded lame, even to me.
The impact was most profound when I was a foreign correspondent in Mexico. I tried to be fair in my reporting, but my company's editorial stance was so critical of the Mexican government that it limited my access to Mexican officials and caused some of them to be openly hostile to me, which made it harder to do my job.
Then, when I became an editor for the Scripps Howard newspaper group, I was one of the people deciding every four years who our papers should endorse for president. All the editors of Scripps Howard met to discuss the candidates, and a favorite was chosen. Then each paper had to endorse the favorite without dissent, in order to increase the weight of the company endorsement.
The problem was that one corporate endorsement for president had to make sense for papers in conservative parts of Texas and liberal parts of Colorado. The choice had to work for men and women, blacks and whites, rich and poor, young and old, rural and urban, immigrants, and people who were straight or otherwise.
Here are three reasons not to endorse.
First, choosing "the best" person for president depends on where you sit, which is why the vote of every citizen matters. News organizations should show us the facts about each candidate and let us decide who to choose.
Second, when a paper endorses a candidate, it casts doubt on the impartiality of the news coverage. Reporters don't need another reason to be mistrusted.
Third, a growing number of news organizations that are nonprofits cannot endorse candidates under current IRS rules.
The New York Times explained why, for the first time in its history, it endorsed two Democrats — Klobuchar and Warren — instead of one. The reason, the paper argued, is that choosing the best candidate is a fight "that should be played out in the public arena and in the privacy of the voting booth."
Exactly.