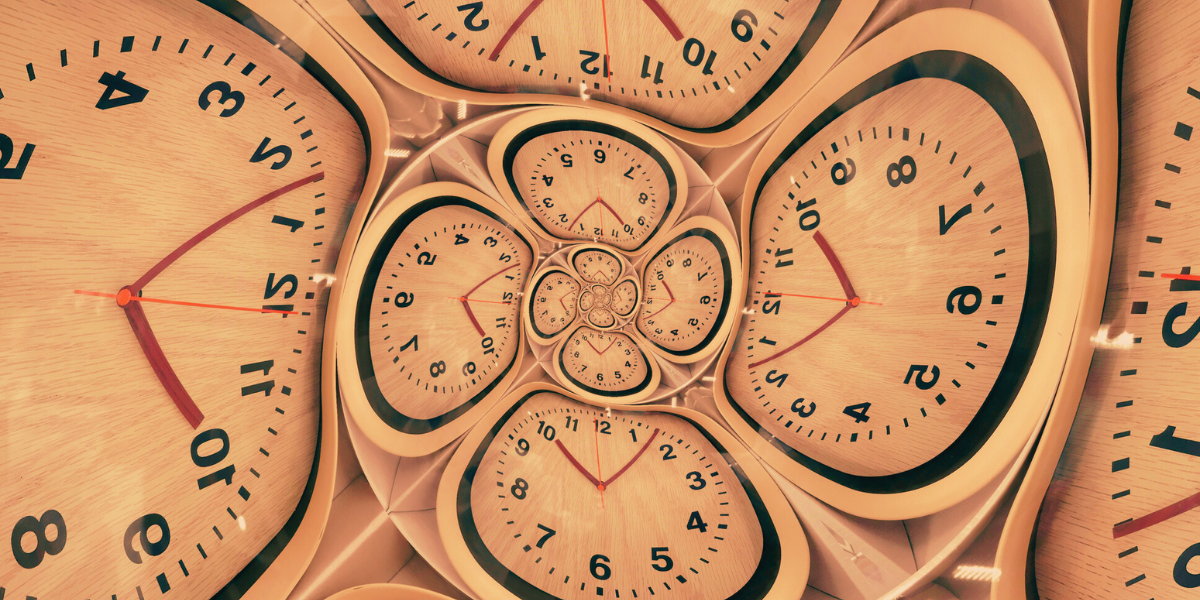 Getty Images
Lockard has a Master's Degree in English Literature from the University of Northern Iowa (1994) and has continued classes at the Writer's Workshop in Iowa City. She writes regularly for "The Courier", a regional newspaper, and has published several short stories and poetry. Amy and her husband live in Cedar Falls, Iowa with the youngest three of their eight children.
Loitering slow, the future creepeth; arrow-swift, the present sweepeth, and motionless forever stands the past. (Schiller)
Except during pandemics, as the one we're still spinning from and desperately hoping not to be plunged back into. That possibility, having the nightmarish quality of an infinitely rerunning "Twilight Zone" episode, combined with the surreal projection of candidates for the next presidential election, is more than enough to keep us up at night.
Most, when speaking of events of the last five years, divide the time up, saying, "it occurred before the shut-down," or "that happened during Covid," or "it took place right after the pandemic." Nearly swallowed by the time warp we were then living in, once the shut-downs took hold and everyone scrambled to "shelter in place" there was very little to distinguish one day from the next or even one month from another.
Sign up for The Fulcrum newsletter
The "cure" then? Akin to a mad cook loose in a topsy-turvy kitchen. A dash of science, heavy doses of masks and shields, a dousing of rules. Add legions of renegade rule-breakers and more than a smattering of confusion, economic chaos, and financial devastation; throw in canceled weddings, graduations, funerals, and lonely deaths.
Our clocks imploded, our rhythms exploded, the usual markers of time, canceled, along with everything else. It is no wonder we have trouble re-regulating time now.
But that temporal Covid warp cannot be blamed for our current complacency. Since mid-March, 2019--collective groan—when we fell into that unreal reality, we have claimed to want to pull ourselves up, to get on with it, to fully live our lives.
We now have the experience to prevent us from falling back into the mayhem of another pandemic. And the wherewithal not to repeat the pathetic 2020 presidential election.
Almost half of Democrats and over half of Republicans say the political parties are doing a poor job of upholding democracy. (Courier, AP, July 18, 2023)
Yet, here we are, presumably retreating to the former presidential election, second act, with the same two men who ran four years ago, older but no wiser. Are these really the only candidates for "leader of the free world" we can come up with? Are we to be left again with the choice between despot and doddering?
Since "original" Covid 19, a parade of variants made their appearance: Alpha, Beta, Delta, Omicron, etc., and news is now circulating of a harsher virus, with 30 mutations, riding in with the winter winds. This new strain, BA.2.86 or "Pirola," is projected to be more invasive and potentially more potent than its predecessors. We cannot allow this runaway "Greek alphabet" to trigger another worldwide tragedy. We must be proactive.
It's time-- it is always time-- for leadership.
"Those that fail to learn from history are doomed to repeat it." (Winston Churchill)
So, let's move forward. Let's use our knowledge of how--and how not--to handle a pandemic and be prepared. Let's look at new political possibilities, new candidates, possibly a third party, and break this stymied system.
Let's put our pandemic and political experience into preemptive action. How? By becoming involved, by refusing to become despondent, by believing we can.
And we might try channeling Abraham Lincoln, who said, "Determine that the thing can and shall be done, and then we shall find the way."
Let's find a way.