How the pandemic is accelerating the 'civic news' movement
https://twitter.com/ElizaRules?ref_src=twsrc%5Egoogle%7Ctwcamp%5Eserp%7Ctwgr%5Eauthor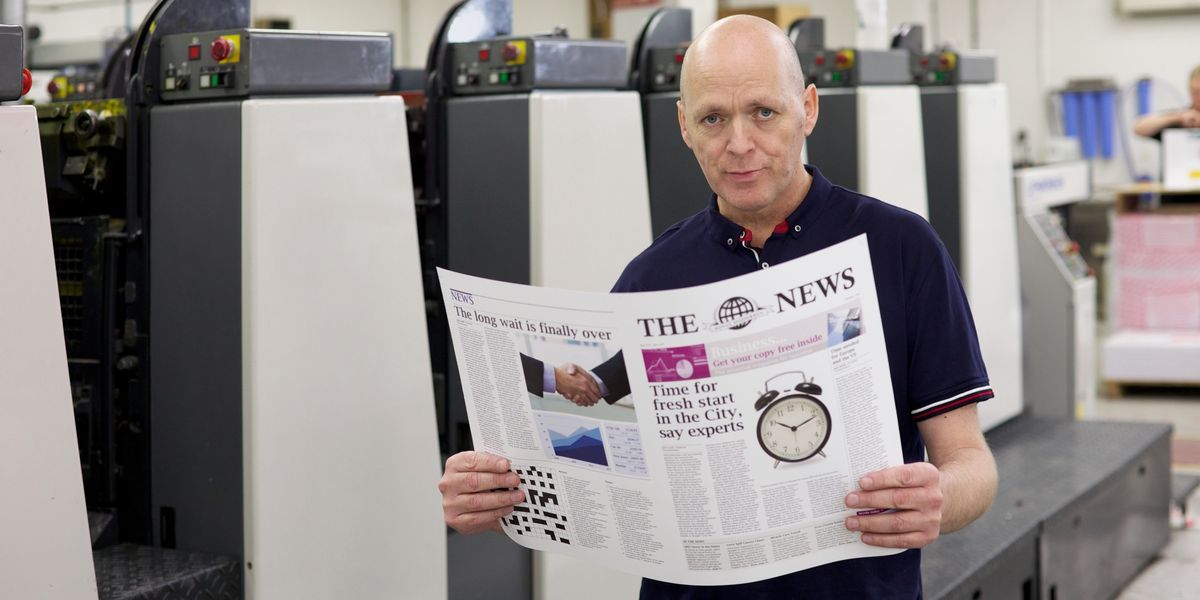 johnnyscriv/Getty Images
The scramble to save local news outlets decimated by the coronavirus pandemic has fueled calls to reimagine both the business model and the mission of the media industry, with democracy front and center.
Local news needs more than just a bailout, argue advocates of public interest journalism who have been newly mobilized. It needs a complete transformation, toward a civic mandate that serves the public and not the bottom line. In particular, newsrooms need to rebuild trust and collaboration in rural, low-income or marginalized communities whose stories too often go untold.
---
"The crisis is also an opportunity for us to reimagine what journalism could and should be," says Victor Pickard, who co-directs the Media, Inequality & Change Center at the Annenberg School of Communication.

Pickard belongs to an emerging coalition of news innovators mapping out ways to save and reinvent an industry that was in free fall even before the Covid-19 outbreak. Now, the "civic news" movement is gaining speed, and drawing fresh notice on Capitol Hill.
In the short term, industry advocates are lobbying Congress to include local news outlets in the next round of stimulus funding. More than 50 organizations signed onto a letter by PEN America, Free Press Action and Common Cause, urging Congress to help salvage local news outlets ravaged by collapsing ad revenue amid recession and stay-at-home orders. The fallout has included layoffs, furloughs or pay cuts for an estimated 33,000 news media employees.
Sign up for The Fulcrum newsletter
Even in the best of times, local news outlets play a crucial democracy-building role, and their disappearance tends to both reduce voter turnout and civic engagement, and fuel corruption, waste and abuse. Now the nation's most significant public health emergency in a century has only heightened the need for reliable and even life-saving news coverage, sending readership soaring even as profits have plunged, and 40 states have designated the news media an "essential service."
Yet local news outlets, already battered by consolidation, hedge-fund takeovers, the digital era and plummeting public trust, are slashing jobs amid what one analyst called "an extinction event."
"We need to stop the bleeding," says Craig Aaron, co-CEO of Free Press, which has helped champion community-driven news innovations in New Jersey, Colorado and elsewhere. "We do need emergency action," Aaron adds, although "if all we do with that is prop up a broken system for six more months, then we are not succeeding, and we need to think bigger."
Indeed, some have cautioned against throwing good money after bad in the rush for a federal rescue. Stimulus money should not go to obsolete, profit-driven corporate chains, media columnist Ben Smith argued in The New York Times, but to innovators underwriting a growing network of nonprofit local newsrooms. These include the American Journalism Project, which has raised more than $46 million to support civic news organizations around the country, and Report for America, which recently announced it will send 225 journalists into 162 newsrooms nationwide as part of its ongoing program to revive and redefine local news.
"Reporters are willing to talk about the financial crisis, but there is this larger issue of: How do we reimagine journalism to be serving more communities in more effective ways?" says Nora Benavidez, who directs PEN America's First Amendment and free expression advocacy efforts
Some argue for greatly expanded government funding, to bring the country more in line with democracies such as Great Britain and Germany. In countries from Norway to France, the average per capita expenditure on public broadcasting was $86 in 2014, compared to just $3 in the United States. Others call for taxing the advertising on high-dollar online enterprises, like Google and Facebook, to underwrite a public media endowment. Still others envision a federal advisory commission, along the lines of the Carnegie Commission on Educational Television, which led to the establishment in 1967 of the Corporation for Public Broadcasting.
In the meantime, foundations large and small, academic institutions, social entrepreneurs and advocacy groups are experimenting with a new generation of news outlets, from City Bureau in Chicago to Outlier Media in Detroit, that place civic journalism and community service ahead of corporate profits.
A leading example is New Jersey's Civic Information Consortium, an initiative spearheaded by Free Press Action that is underwritten by $2 million in state funding, and that involves close collaboration between community stakeholders and journalists. The effort has sparked interest in Colorado, Ohio and elsewhere.
But there is "no silver bullet solution," says Benavidez, given the depth and severity of the crisis. And obstacles abound. Expanded public funding — which would be a non-starter under the current media-hostile administration in any case — invariably raises concerns over government interference in news coverage. Funding sources will be scarce as the nation plunges further into its economic downturn. (The $2 million for New Jersey's civic news consortium, for example, has yet to be released.) And public service news sites, particularly if they focus on the minutiae of municipal governance, may struggle to draw readers.
Still, the pandemic has both drawn attention to the value of local news, and expanded the coalition of civic news advocates pushing for an industry reset. "I'm newly optimistic, even in the midst of this crisis, that there are these new political openings, new alliances forming," says Aaron. "But I do think we need to act quickly."
Carney is a contributing writer.