Sure, political activism is good for the system. It's also good for your health.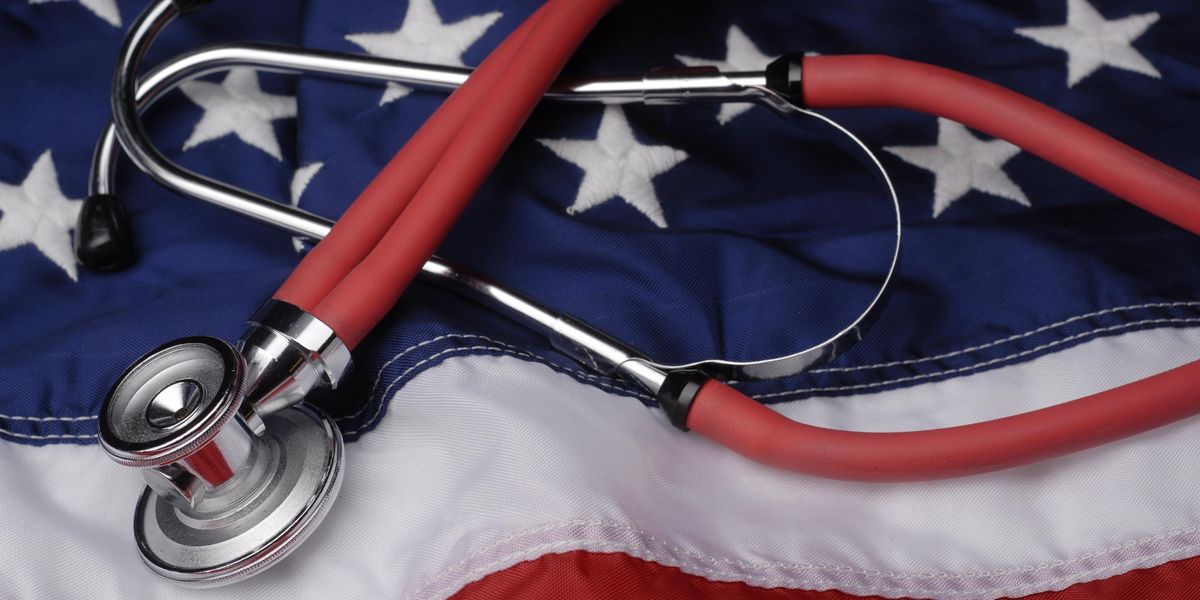 mstahlphoto/Getty Images
Hudman is managing partner at Vikasa Health, which invests in reducing social inequalities that make people sick, and the board chair of Generation Citizen. Warren founded that civics education organization and is a visiting fellow at the SNF Agora Institute at Johns Hopkins University, which seeks to strengthen global democracy by improving civic engagement and inclusive dialogue.
---
Our country is in the middle of a health crisis. The very foundation of our country's democracy is at risk. But there's an antidote that would tackle not only some of what ails us but also what's poisoned our governance. That medicine: Getting more political.
The disastrous mortality rate of the pandemic, with more than 534,000 people having died from Covid-19, has not just affected our physical health. More than half of all adults in the United States report their mental health has declined. This is especially acute in young people: Last year saw a 14 percent increase in emergency room mental health visits for children and a 31 percent increase for teenagers.
While the recent pace of vaccinations promises a healthier future, and coronavirus cases are declining across the country, this larger health crisis is not going away. The Trump administration's mismanagement of the pandemic is only the tip of the iceberg. Prior to the Covid-19 outbreak, the public health infrastructure had been gutted, with funding cuts lowering the front-line public health workforce nationwide as much as 20 percent.
Sign up for The Fulcrum newsletter
And while our health care withers, our country is in the middle of a crisis in democracy. For four years, the Trump administration destroyed long standing political norms, exploited and further deepened our political polarization, and carried out a full-throated assault on voting rights.
So we are exhausted — from the pandemic and our vitriolic political system.
But there is no return to an old normal. In a moment when the future of our country's health and democracy are both at risk, the solution is to actually get more political. Rather than turning away from politics, our cumulative health may be dependent on us working to build a better democracy in itself. Political participation is good for our health, and our health care system may be dependent on a healthier democracy.
If American democracy were a patient, a doctor might say its vital signs are a cause for concern. After the Capitol insurrection of Jan. 6, it is time for urgent intervention.
A range of studies agree the United States is hardly the world's governance ideal anymore; The Economist's most recent annual ranking pegged us as a "flawed democracy," the 25th most democratic nation out of 167 countries analyzed. Public trust in government has declined to near historic lows, with just 17 percent of Americans saying they trust Washington to do what is right. Fewer than 30 percent of young people even think democracy is the best form of governance.
The positive news is that our young people may be in the midst of a political awakening. They are so fed up with the status quo that the pandemic, and the inequities further unmasked by it, may lead to a historically engaged youngest generation.
Tufts University's Center for Information and Research on Civic Learning and Engagement, which studies the young electorate, estimates up to 55 percent of eligible voters younger participated last year, up fully 11 points from 2016. In many states, including Georgia, analysts indicate that young people swung the results.
Beyond elections, young people being activated and engaged politically on issues they care about -- like climate change, reproductive rights and gun control — can lead to policies that improve health outcomes for all of society.
But the act of civic engagement, by itself, has also been shown to improve health. Theoretical and correlational evidence points to positive associations between improved mental and physical wellbeing and such acts as volunteering, voting and having feelings of civic empowerment.
A study of 44 countries found that individuals participating in the electoral process — casting a ballot, registering people to vote and other campaign activities — reported better health than those not similarly active, regardless of socioeconomic status. Researchers in another study found people who did not participate politically fared worse, reporting poor health in later years.
Young people, especially those from structurally marginalized backgrounds, can experience civic empowerment gaps, which can manifest as avoidance of civic activities such as voting or organizing. This civics empowerment gap has been linked in extensive literature to health inequities.
To combat this civic empowerment gap, organizations like Generation Citizen promote experiential civics education programs in schools across the country. Recent research found that participants not only gained increased civic self-efficacy but also reported better physical health. Additional research has shown that voting and volunteering among adolescents and young adults is associated with better mental health.
The racial justice movement born last summer may also lead to health benefits — activism is associated with self-esteem, empowerment and self-confidence. Studies indicate that 40 percent of participants in Black Lives Matter protests last year were younger than 30. From the perspective of social capital theory, living in communities with strong social bonds appears to be good for your health.
We're sick and tired of the pandemic. And many of us are sick and tired of politics. But right now, for the sake of our cumulative health, and for the sake of our democracy, we need to continue to stay engaged. Our future, our own health, and that of our democracy, may all depend on it.