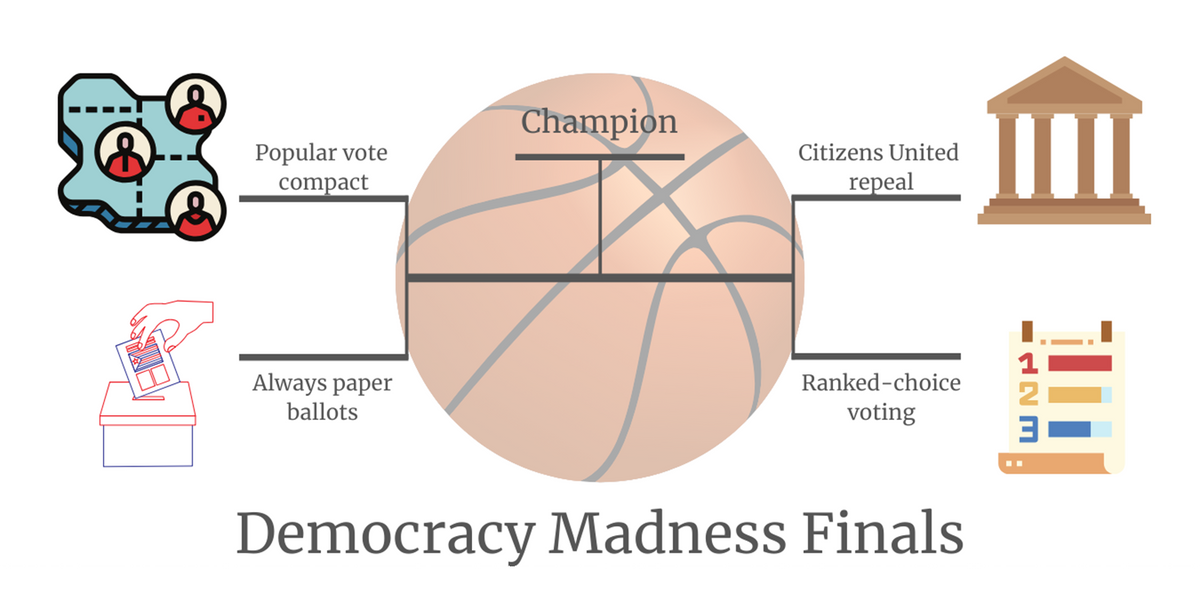 Tristiaña Hinton/The Fulcrum
The democracy reform movement is full of scores of ideas for improving the American political system, many of them compatible with one another. But we have challenged readers of The Fulcrum to pick their favorites from among a field of 64, narrowing the options as we go. And now we're down to the Final Four.

It's time now to vote in the two semi-final matchups of the Democracy Madness tournament, which features the winners of our "regional" brackets: Voting, Money in Politics, Elections and the Best of the Rest.
On one side of the brackets, we have a matchup between the National Popular Vote Interstate Compact (which won upset after upset to rise from the 11th seed in the Elections region to Final Four participant) versus always using paper ballots, which was seeded No. 1 in Best of the Rest. The compact is an agreement among states to cast their electoral votes for the winner of the national popular vote, regardless of each in-state winner. Paper ballots are widely seen as the premier method of guarding against election hacking.
The other half of the bracket features another top seed, undoing Citizens United as the best way to fix Money in Politics, facing off against ranked-choice elections (No. 2 seed), which made a dominating run through the Voting region. The Supreme Court's 2010 ruling in Citizens United vs. FEC opened the door to unlimited campaign spending by corporations, unions and wealthy individuals and has since become a premier cause among campaign finance reformers. Ranked-choice voting is the most popular form of alternative voting among change advocates. It uses an instant runoff system to guarantee majority support for the winner of an election.

Sign up for The Fulcrum newsletter
The final round begins Wednesday.