---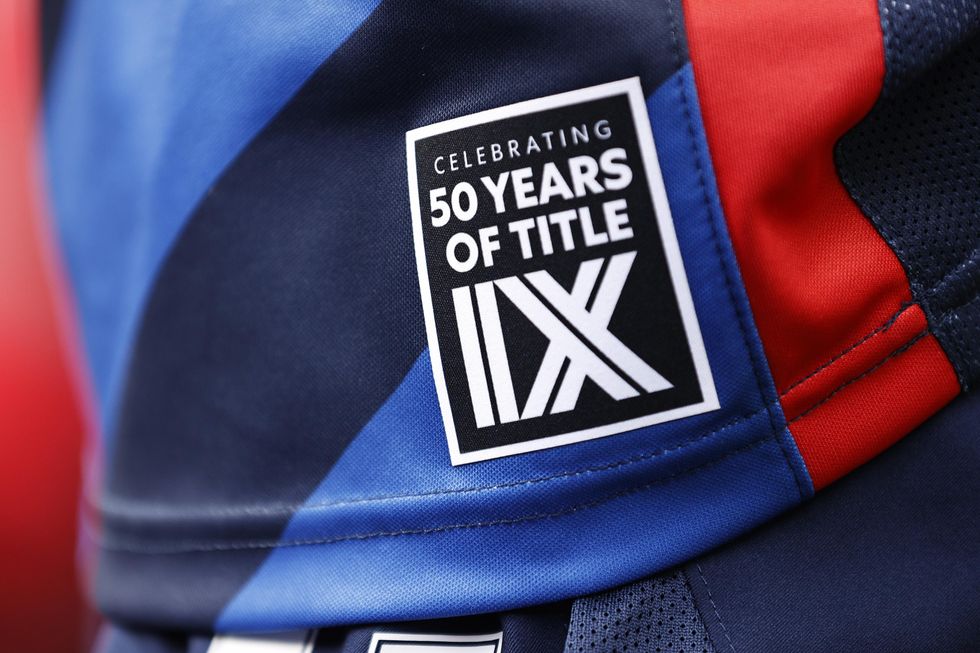 Steph Chambers/Getty Images
The Civil Rights Act was amended on June 23, 1972, when President Richard Nixon signed Title IX into law, guaranteeing equality for women in any educational program receiving federal funding. Over time, it has come to define equity in college athletics and paved the way for explosive growth in women's sports.
But it can do even more.
To mark Title IX's 50th anniversary, Stanford's Lisa Kay Solomon spoke with sports historian Victoria Jackson, who also happens to have won a national championship in the 10,000 meters for Arizona State. They discussed the history of Title IX and its potential for a broader impact on women's rights.
Here's Jackson:
There are a lot of women athletes and coaches who are uncomfortable thinking of sports as a political act, especially as our environment has become so polarized. But the right to play sports and the right to make choices about your own body are so linked, and neither are set policy. They can't be taken for granted. So, I think part of this important moment is to remind athletes that having the right to play sports in schools is a political process, too. And that's a powerful stance because it means we can use our agency and our voice to influence it. It's not something to shy away from.
Protect Democracy recently issued a report based on the impact of disinformation. But rather than focusing on how false messages impact elections, the final report covers structural disinformation, a systemic problem that dissolves trust in the political system, and its outsized impact on communities of color.
The researchers determined structural disinformation is the bigger threat after interviewing many academics, activists, journalists and others in the battleground states of Arizona, Georgia and Wisconsin.
"Structural disinformation creates information gaps that harm these groups directly and, further, are filled by false narratives. When those narratives are spread by community members who believe them to be true, structural disinformation can generate a vicious cycle of distrust and demoralization. Structural disinformation is a phenomenon of systemic neglect, where inequalities in access to resources such as civic education and local news lead directly to a disinformation-poisoned information ecosystem."
Read additional analysis and the full report.
Michael Hayden, James Clapper, Stanley McChrystal, Douglas Lute and Mark Hertling (who collectively earned 17 stars in the Army and Air Force) penned a joint op-ed for USA Today on Wednesday: "We fought to defend democracy. This new threat to America now keeps us awake at night."
For those of us devoted to protecting democracies abroad, there comes a time when our efforts seem overshadowed by the erosion of democracy here at home. And for those of us focused on domestic security, the forces of autocracy now trump traditional foreign threats, hands down.
The Network for Responsible Public Policy hosted a conversation about the challenges facing our elections, particularly at the structures the country has used for many generations that in an era of hyperpartisanship have become sources of national vulnerability.
Also in the news
What to watch for in Thursday's January 6 committee hearing (CNN)
Gov. Baker signs bill ensuring mail-in ballots, early voting in Massachusetts (WBUR)
'The Old Battles Have Become New Again': Inside the Urgent Fight to Protect the Vote (Vogue)
Ballot measure that could switch San Diego to 'ranked choice' voting delayed to 2024 (San Diego Union-Tribune)
Lawmakers warn misinformation threatens 2024 election worker staffing (The Hill)
Upcoming events
Change From Within - Participatory Budget Project - June 23
Community Conversations - Preemptive Love - June 24
Surveying the Hybrid Speech Governance Landscape - R Street Institute - June 27
The Power of Political Social Work - American Promise - June 27