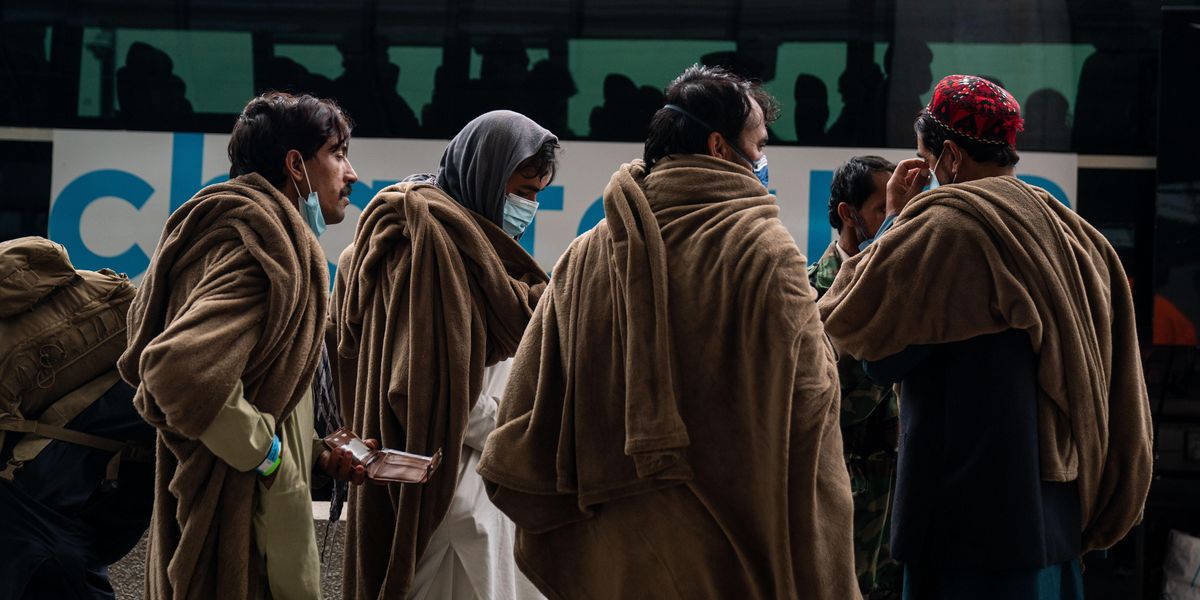 Kent Nishimura / Los Angeles Times via Getty Images
Peric is executive director of Welcoming America, a nonprofit that promotes pluralism in local communities.
With the U.S. departure from Afghanistan, nearly 500,000 people have been displaced from their homes and are fanning out across the globe to join the 281 million people living outside their country of origin. Some will find a new place to call home in the United States. And then, the journey to become an American begins.

Though the movement of people and the welcoming of strangers have always existed, it is only recently that we've learned how to build sustained infrastructure to smooth these transitions. This infrastructure is essential to ensuring that demographic change gives rise to an expansion — rather than a contraction — of our democratic norms, paving the way for greater civic, social and economic participation, rather than fueling dangerous politics through the scapegoating of newcomers.
The good news for those who want to support American communities in this endeavor is that there's a roadmap for building welcoming infrastructure laid out over decades of work. Resettlement destinations like Boise, Idaho; Salt Lake County; Lancaster, Pa.; and Louisville, Ky., have worked to systematically bring down policy barriers, establish public-private partnerships as a function within local government to address immigrant equity, and foster a culture that sends an unequivocal message of belonging, from schools to parks to community centers.
Sign up for The Fulcrum newsletter
Over the past month, this infrastructure has meant that cities like San Antonio have been able to launch a robust effort to build community support for arriving Afghan evacuees, to build a rapid response that convenes multisector partners to create a welcoming climate and, more recently, to establish an office within local government dedicated to this work.
Another example is Charlotte, N.C., a city newer to demographic change. Strong partnerships between the community and its institutions create a network of relationships that enable every sector to contribute and work toward systematically reducing barriers for newcomers. Such efforts also foster bridging capital that cuts across lines of difference in ways that reduce isolation and increase community cohesion.
"We've learned a lot about how to engage diverse communities," says Emily Yaffe, an immigrant integration specialist for the city. "We're more creative about involving local business owners, like supermarkets and hair salons. These relationships were especially important during the pandemic to connect diverse communities with information and services."
Today, Afghan arrivals are enjoying broad support, with more than 70 percent of the public supportive of resettlement. At the same time, questions remain about how this support will translate to the long-term commitment to welcoming values, as well as to other populations, such as Haitians seeking asylum to American-born residents struggling to recover from the pandemic.
Truly welcoming communities underscore that these choices do not need to be in competition with one another — in fact, far from the chaos and zero-sum choices that nativist groups want to paint, communities with a welcoming infrastructure are successful in not only meeting the basic needs of new arrivals, but also the mutual cooperation, respect, social and economic capital that strengthens the entire community. And while there is an initial cost to resettlement, research has shown that, over time, local economies reap a significant return on investment, as much as $2.1 billion in just one Ohio community alone.
But this economic return isn't what drives us: It's a thriving democracy in which everyone belongs. As Yaffe notes. "We've changed our focus from not just how our international community contributes to our economy, but on how we become more of an integrated, inclusive city."
For Nimish Bhatt, a former refugee from Uganda, that came in the form of representing Asian American business owners on Charlotte's business advisory council: "People who are from other countries have this fear and complex that does not allow them to do things 100 percent. But Emily and her team have come out and been part of the community at every level, [taking] a holistic approach and making people feel they are part of this community."
Across the country, Americans are stepping forward to ask how they can be part of welcoming Afghan refugees. From offering homes and donations, to volunteering and donating to resettlement agencies, these efforts are urgent and needed, but they are also just the starting point. Communities can and should use this moment to double down on building a long-term welcoming infrastructure that can create the conditions for everyone to thrive in the place they call home. The federal government can do more to incentivize this work, including by standing up the Task Force on New Americans. Let's respond not only to an urgent humanitarian call, but the desire of Americans everywhere to build a lasting, thriving democracy in which everyone here belongs.