Big Picture
https://twitter.com/saramswann?lang=en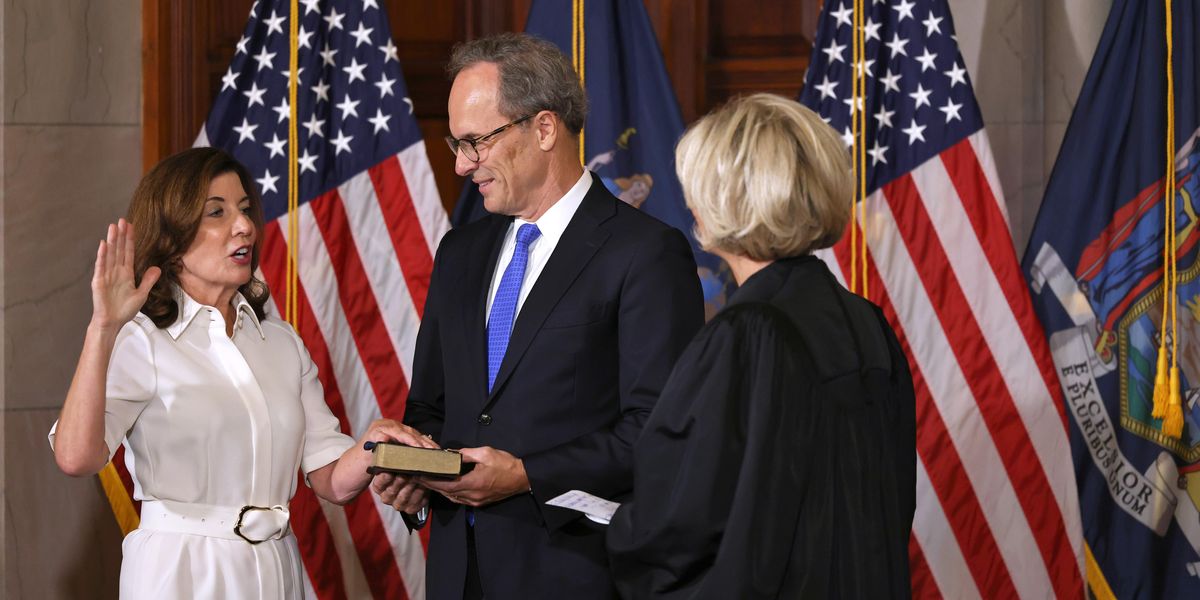 Michael M. Santiago/Getty Images
While Kathy Hochul's induction this week as the first female governor of New York marked a significant milestone for women's representation, there has been little progress elsewhere in the United States to improve gender equity in politics.

Succeeding former Gov. Andrew Cuomo, who resigned following several accusations of sexual harassment, Hochul joins eight other women currently serving as governor. Only 44 other women in the nation's history have held that office, and 19 states have never had a woman governor.
Thursday marks Women's Equality Day, but over the last year, the U.S. has seen meager improvements in the number of women serving at the local, state and national levels. According to a report released Monday by RepresentWomen, just under one-quarter of all major elected officials in the country are women — an increase of less than 1 percentage point from 2020.
Each year the nonpartisan organization RepresentWomen uses its Gender Parity Index to analyze underrepresentation in politics. States are ranked based on how many women currently hold, or within the last two terms have held, elected office.

Women's electoral success is scored on a weighted scale of 0 to 100. States can earn up to 30 points for women in Congress, 30 points for state executives, 30 points for state legislators and 10 points for local officials. The goal is for states to achieve 50 points for equal representation of women and men.
Sign up for The Fulcrum newsletter
Once states are scored, they receive a grade: an A for 50 points or more, B for 49.9 to 33 points, C for 32.9 to 25 points, D for 24.9 to 10 points and F for 9.9 points or less.
This year no state received an A while a dozen earned a B and eight got a C. Most of the country (29 states) fell below average with a D grade. And one state, Louisiana, received an F.
The state that ranked highest and came closest to gender parity was New Mexico, with 48.9 points, a 5-point boost from the previous year.
New Hampshire was the only state to achieve gender parity in 2020, but this year its score dropped 8 points because there have been three elections since a woman was elected governor there.
On the other hand, other states made strides toward parity thanks to more women holding elected office. Montana elected a female secretary of state and lieutenant governor in 2020, jumping up in the rankings from nearly dead last to No. 40.
Globally, the U.S. ranks 67th in legislative gender parity. While women make up 51 percent of the country's population, just 27 percent of House members are women. Other countries, the RepresentWomen report notes, have reformed their electoral systems to advance women's political leadership at a faster rate.
"To reach and sustain gender parity in our lifetimes, we must pivot toward systems reforms," said Cynthia Richie Terrell, founder and director of RepresentWomen. "Changing rules and systems in the fight for equality is part of the American tradition. From the 19th Amendment to the Americans with Disabilities Act, we have a precedent of systemic and structural solutions to ingrained inequality."