The future favors the brave
https://twitter.com/layla_says?lang=en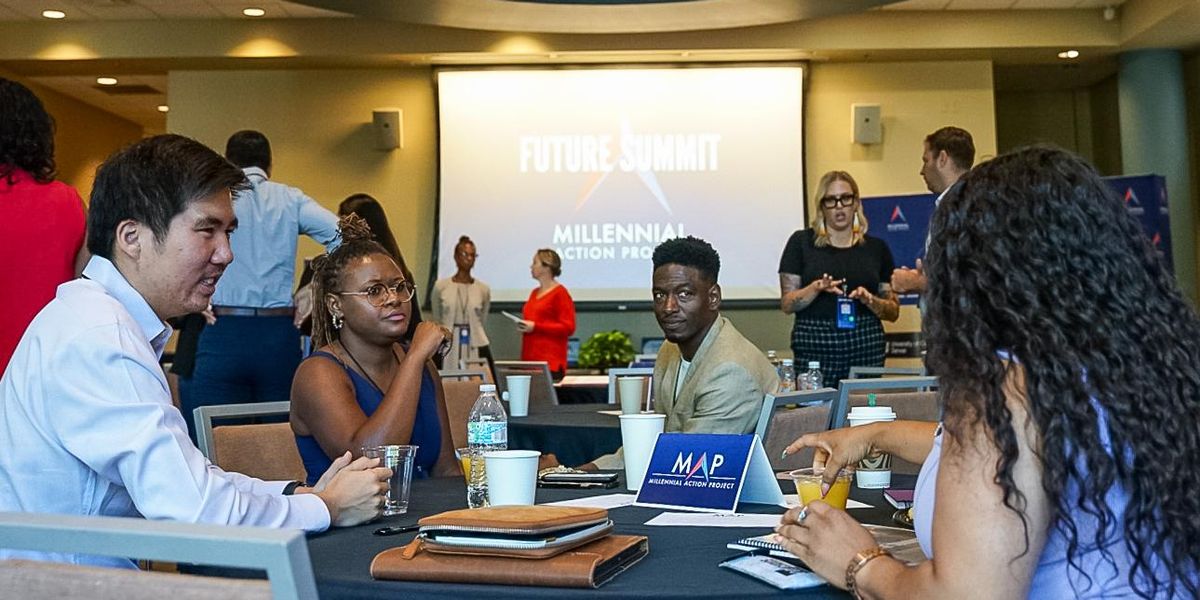 Anthony Alvarado
Zaidane is the president and CEO of the Millennial Action Project.

History favors the brave – or so the saying goes. From a young age, we are taught of historical heroes, people who stepped out against the status quo and followed their convictions. These acts of bravery transformed the world: advances in civil rights, technological breakthroughs like electricity and the internet, and so much more.
Today, we must summon that bravery once more as Americans pursue one of our biggest, most important challenges yet: building the largest, multiracial, multiethnic, multireligious democracy in the history of the world.
That undertaking is a moonshot. And while history teaches us how to look back and link certain moments or courage else we risk missing out on favorable outcomes, it's a whole different story when that bravery is for a yet unwritten future.
---
Luckily for all of us, there are courageous leaders all across the country already writing that future — and a few weeks ago I got to spend a full weekend with many of them, recommitting to the notion of a more inclusive democracy.
At the Millennial Action Project's sixth annual Future Summit, young state legislators from across the country set aside differences to listen, learn and laugh with one another. The summit focuses on collaborative policy solutions, but also on the collaborative policymakers who lead these solutions, and the ways in which they must navigate a toxic culture in order to build new governing coalitions. In conversations with many of them, I heard firsthand the burdens they carry in doing this work:
Sign up for The Fulcrum newsletter
"I receive death threats daily." "I get harassed online." "I'm the first in my family to get a diploma, let alone be elected into public office." These are just a sliver of the comments I've heard about what it's like being a young person in elected office. The conditions are tough to say the least: These lawmakers often have little to no support, and they are frequently on the receiving end of hate and criticism.
Burnout is a common risk among these leaders — and who could be surprised? According to the National Conference of State Legislators, the average pay of a state legislator is $33,000, and most have no full-time staff. Many legislators must take on a second job or side gigs in order to make ends meet. One legislator shared at the Future Summit: "When I first ran for office, I knew we were going to have to pinch pennies. We'd essentially have to live off my wife's salary." For many young legislators, a reality of their public service is they are underpaid, understaffed and overworked.
Access to forums like the Future Summit, where young legislators can relate to one another around the shared challenges and joys of their roles as elected officials, can be deeply reenergizing. These moments help show these courageous leaders that they are not alone in doing the work of building a more functional democracy; events like the Future Summit also provide unique and meaningful opportunities for learning across lines of political, ideological and geographical difference. Take it from Arkansas state Rep. Aaron Pilkington, who remarked: "MAP has been a resource to me. ... The most important thing has been facilitating the conversation across party lines and having a space where people can be genuine and vulnerable."
Kansas Rep. Jo Ella Hoya had a similar takeaway: "My sense of the room and the people at the Future Summit ... we all felt a calling and we wanted to serve. And seeing that genuine desire to make our states a better place, to make our country a better place, to make the world a better place is inspiring."
The summit was a deeply needed recharging moment for these brave leaders. To be brave is not to be without fear or discomfort — it is to press forward in spite of it. By building a strong and diverse network of their peers, young elected leaders are developing the resiliency to buck the status quo, and lead our country into an era of democratic renewal.
The future is still uncertain. Luckily, the young legislators in MAP's network are not discouraged by uncertainty. The yet unwritten future is their opportunity, their call-to-action and their collective mission. While the saying goes, "history favors the brave," that doesn't quite capture the full truth. From where I sit, the future favors the brave.