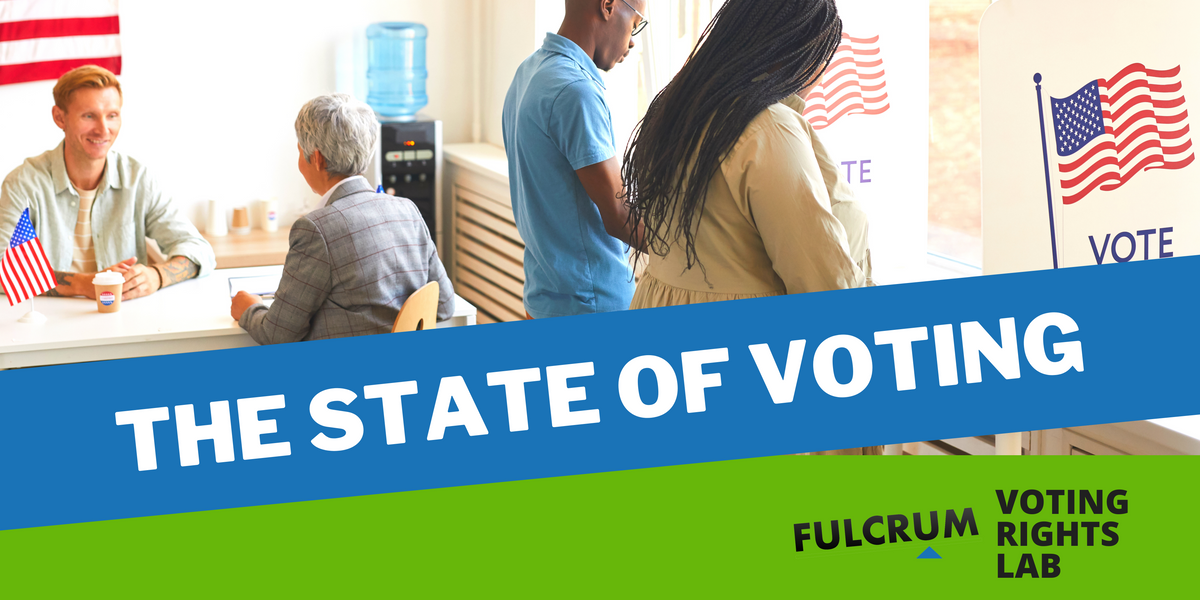 This weekly update summarizing legislative activity affecting voting and elections is powered by the Voting Rights Lab. Sign up for VRL's weekly newsletter here.

The Voting Rights Lab is tracking 2,197 bills so far this session, with 581 bills that tighten voter access or election administration and 1,050 bills that expand the rules. The rest are neutral, mixed or unclear in their impact.
South Dakota will implement automatic voter registration and other improvements to its voter registration system under a new settlement agreement with several Indigenous nations. And a new decision from the Michigan Supreme Court ensures that a ballot measure to strengthen mail voting and early voting access will be on the ballot this November. In Arizona, a voter purge bill will not be enforced prior to this year's November election due to a legal challenge. A new executive order in Pennsylvania expands voter registration opportunities.
Meanwhile, a ruling in Wisconsin increases the risk that mail ballots cast by registered voters will not be counted.
Here are the details:
South Dakota will implement automatic voter registration and other voter registration improvements under a settlement agreement with indigenous nations. A federal judge accepted a settlement agreement between Secretary of State Steve Barnett, the Rosebud Sioux and other nations last week. Among a number of other remedies to current election practices, the settlement requires that South Dakota implement automatic voter registration at the Department of Public Safety. The agreement ensures citizens will be registered to vote and their registration information will be updated during driver's license transactions, unless they tell the state not to take those actions by checking a box on the form. Under the agreement, South Dakota will also fully implement the federal National Voter Registration Act by training staff, revising forms and procedures, and tracking compliance with federal rules and standards.
Sign up for The Fulcrum newsletter
In Michigan, increased access to mail voting and in-person early voting will be on the ballot this November. In a 5-2 vote, Michigan's highest court directed the state board of canvassers to certify the Promote the Vote ballot measure for the November election, asserting that the board had a "clear legal duty" to certify the petition. If approved by voters, the measure would increase access to in-person early voting, require a minimum number of ballot drop boxes in every city or township, and establish guardrails for boards of canvassers throughout the election certification process.
New ruling in Wisconsin increases risk of voter disenfranchisement this November. Last Wednesday, a Wisconsin judge ruled that clerks can no longer use verifiable information to complete missing address information on mail ballots. Unlike most states, mail ballots in Wisconsin are only counted if they include a witness signature. The witness must also include their address, and witnesses sometimes fill out the address field incompletely. Prior to this ruling, clerks could complete missing parts of a witness address when the clerk could verify the missing information. The new ruling prohibits clerks from completing the missing information going forward. Wisconsin's Legislative Audit Bureau found that 7 percent of the ballots they sampled had witness address information missing.
A challenged Arizona voter purge bill will not be enforced prior to the November election. Parties in federal litigation challenging the newly enacted H.B. 2243 agreed to an order that prevents state officials from removing any voter from the voter rolls prior to this November's election. The bill, passed by the Legislature in the waning days of the 2022 session, requires county recorders to cancel the registrations of voters for whom they have a "reason to believe" are ineligible. The bill also establishes a process for recorders to rely on information from non-election related databases to determine voter eligibility.
Pennsylvania governor expands voter registration opportunities. Gov. Tom Wolf issued an executive order last week that expanded the list of state agencies at which people can register to vote to include: the departments of State, Agriculture, Conservation and Natural Resources, Education, and Military and Veterans Affairs; the Bureau of Community Corrections at the Department of Corrections; and Department of Labor and Industry programs at PA CareerLink offices.