Democrats revive election reform with compromise bill, but filibuster still looms
https://twitter.com/saramswann?lang=en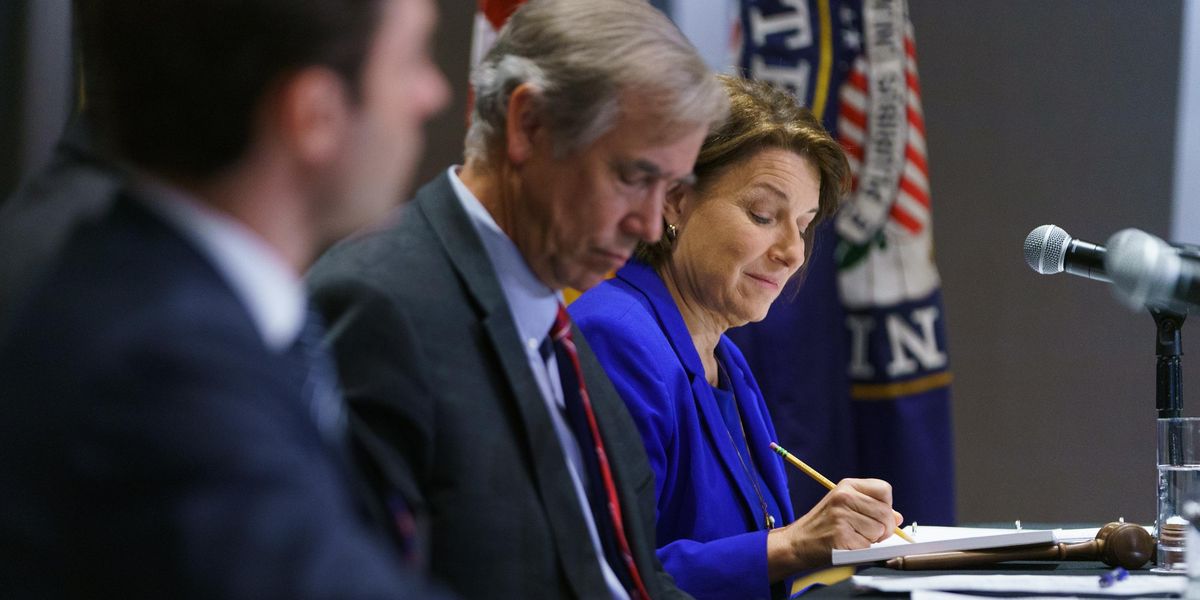 Elijah Nouvelage/Getty Images
After the For the People Act was blocked by a Republican filibuster in June, Senate Democrats began forging a new path forward for their voting and election reform priorities.

Amy Klobuchar of Minnesota and Joe Manchin of West Virginia, along with six other co-sponsors, unveiled Tuesday their compromise legislation, dubbed the Freedom to Vote Act. This pared-down bill includes many provisions from the For the People Act, while also incorporating earlier proposals from Manchin, who was the sole Democrat opposed to S. 1, as the original bill is also known.
With Manchin on board, this new election reform package will likely garner support from all 50 Democrats. However, without at least 10 Republican votes or a change in Senate rules, the legislation will face the same fate as the For the People Act.
---
Majority Leader Chuck Schumer tasked Klobuchar and Manchin, as well as Sens. Tim Kaine of Virginia, Angus King of Maine, Jeff Merkley of Oregon, Alex Padilla of California, Jon Tester of Montana and Raphael Warnock of Georgia, with workshopping election reform proposals and developing a compromise bill. (King is formally an independent but works alongside Democrats.)
At 592 pages, the Freedom to Vote Act is nearly 300-pages shorter than the For the People Act, but still includes many provisions that expand access to voter registration, bolster transparency around spending in elections and curb partisan gerrymandering.
Sign up for The Fulcrum newsletter
One key addition is a set of guidelines for states that require voters to show identification when casting a ballot in person, which Manchin had proposed in June. A broad range of IDs would be accepted, including a driver's license, state or government-issued ID, tribal ID, passport, student ID, military ID, gun license, Medicare or Social Security card, birth certificate, voter registration card, hunting or fishing license, debit card, recent utility bill or another identifying document.
"The freedom to vote is fundamental to all of our freedoms," Klobuchar said. "Following the 2020 elections in which more Americans voted than ever before, we have seen unprecedented attacks on our democracy in states across the country. These attacks demand an immediate federal response."
The group of Senate Democrats behind the bill say it will establish national standards for election administration and voting rights, ensuring all Americans can cast a ballot in a safe and secure manner.
"As elected officials, we also have an obligation to restore peoples' faith in our democracy," Manchin said, "and I believe that the commonsense provisions in this bill — like flexible voter ID requirements — will do just that."
One of the biggest items excised from the original bill was the requirement that states establish independent commissions to handle redistricting. Those would be optional under this legislation.
What's in the Freedom to Vote Act
The new package has three sections: voter access and election administration, election integrity, and civic participation and empowerment.
The voter access and election administration provisions include:
Setting minimum standards for states that require people to present identification to vote in person, including accepting a broad variety of ID cards and documents in hard copy and digital form.
Enacting automatic voter registration in each state through motor vehicle agencies.
Enacting online voter registration in each state.
Ensuring all states offer same-day voter registration at a limited number of voting sites for the 2022 elections, and then all polling locations by the 2024 elections.
Making Election Day a public holiday.
Mandating states provide at least 15 days of early voting, including two weekends, for federal elections.
Establishing minimum standards for mail voting and drop box access.
Strengthening standards for voter roll maintenance.
Requiring provisional ballots to count for all eligible races within a county, regardless of the precinct in which they were cast.
Restoring, to people who have completed their sentences for felony convictions, the right to vote in federal elections.
Expanding voter access for disabled individuals, Native Americans, military and civilian overseas voters, and other underserved communities.
The election integrity provisions include:
Protecting nonpartisan state and local election officials from inappropriate partisan interference or control.
Bolstering security around federal election records and election infrastructure.
Requiring states to use voting systems with paper ballots that can be verified in post-election audits. (States would be given grants to purchase new equipment and make other cybersecurity improvements.)
Tasking the Election Assistance Commission with recruiting and training election workers.
Establishing cybersecurity standards for voting equipment vendors.
Mandating federal campaigns disclose certain foreign contacts to prevent election interference.
The civic participation and empowerment provisions include:
Requiring states to abide by specific rules for congressional redistricting to curb partisan gerrymandering. States would be able to choose how to develop their election maps, with an independent redistricting commission among the options.
Mandating super PACs, political advocacy nonprofits and other organizations that spend money in elections disclose their donors. The transfer of money between groups to hide the source of funding would be banned. Also, online political advertising would be subject to the same "paid for by" disclosure requirements that apply to TV, radio and print ads.
Establishing a fund for states to invest in election and democracy reforms. (The fund would be financed through "an additional assessment paid on federal fines, penalties and settlements for certain tax crimes and corporate malfeasance.")
Improving the ability of the Federal Election Commission to oversee and enforce federal election law.
Creating a "coordinated spender" category to prevent single-candidate super PACs from illegally operating as an extension of a political campaign.
How democracy reform advocates are reacting
Democracy reform advocates, who have been pushing for congressional action on electoral reform for years, are hopeful this revised legislation can finally cross the finish line.
Michael Waldman, president of the Brennan Center for Justice, said the bill is "very strong" and "gives powerful new momentum to the fight to protect democracy."
Jana Morgan, director of the Declaration for American Democracy, called it "a transformative bill that will bring us closer to a democracy that is truly of, by and for the people." DFAD is a coalition of more than 230 advocacy organizations.
Given the wave of state laws tightening the rules for voter access and the redrawing of state and congressional election maps, reform advocates also emphasized the urgency of passing this federal legislation. They recognized, however, that the filibuster remains an impediment if Republicans do not get on board with these proposed reforms.
"If Republicans continue to stonewall desperately needed measures to protect our democracy, then Democrats must move immediately to adopt a workaround to the filibuster," said Robert Weissman, president of Public Citizen. "America can wait no longer. The stakes are too high. Whatever institutional interest there may be in preserving the filibuster must give way to the imperative of protecting, preserving and advancing our democracy."