How Joe Manchin would rewrite the For the People Act
https://twitter.com/saramswann?lang=en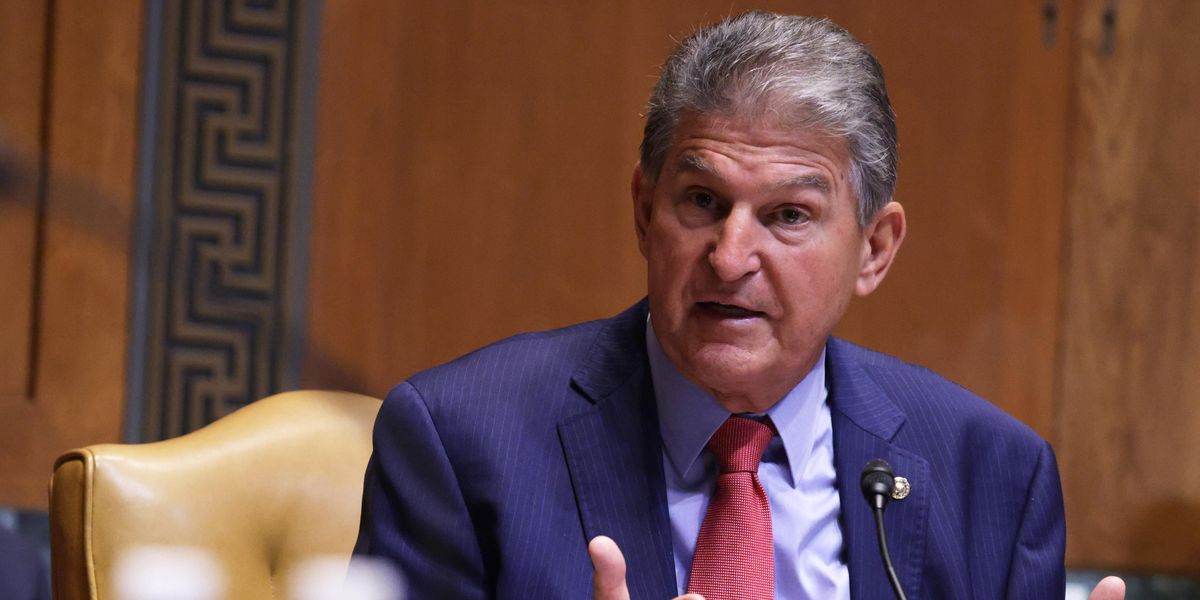 Alex Wong/Getty Images
Senators finally got a glimpse into the mind of their colleague Joe Manchin when he laid out his priorities for democracy reform Wednesday.

The moderate Democrat from West Virginia had not previously revealed what parts of the wide-ranging For the People Act he was willing to support, saying only that he believed any election reform bill should be bipartisan. But now he has outlined his policy demands.
It's not yet clear if Senate Majority Leader Chuck Schumer will consider changes to the bill when it is brought to the chamber floor next week. And even if Democrats reach a compromise with Manchin, convincing 10 Republicans to get on board to avoid a filibuster will be a steep task.
---
The three-page memo mostly listed what parts of the legislation Manchin supports, but it also included some provisions he wanted to add or adjust. Notable omissions on Manchin's wish list include public financing of elections and a blanket prohibition on voter ID requirements — both of which are included in the current draft.
What Manchin wants to add or change
Make Election Day a public holiday. (This provision is included in the House version of the bill, but not the Senate's.)
Require identification in order to vote. (Utility bills would be an allowable alternative to an ID.)
Require states to send absentee ballots to eligible voters before an election if a voter is not able to cast a ballot in person during early voting or on Election Day due to eligible circumstances, and allow civil penalty for failure.
Allow for maintenance of voter rolls by utilizing information derived from state and federal documents. (Many Democrats have historically opposed this type of provision over concerns it would lead to voter roll "purges.")
Ban partisan gerrymandering and use computer models to draw district lines.
Require the attorney general to develop a state-based response system and hotline to provide information on voting. (This provision is included in the House version of the bill, but not the Senate's.)
What Manchin wants to keep
Mandate at least 15 consecutive days of early voting for federal elections, including weekends.
Establish automatic voter registration through motor vehicle departments, while also giving individuals the ability to opt out.
Require states to promote voter registration and voting access for disabled and elderly people.
Prohibit providing false information about elections to hinder or discourage voting, and increase penalties for voter intimidation.
Require the Election Assistance Commission to develop model training programs for poll workers, and award grants to states for such training.
Require states to notify an individual, no later than seven days before election, if the location of their polling place has changed.
Send absentee ballots expeditiously and with postage paid.
Establish standards for election vendors based on cybersecurity concerns.
Allow provisional ballots to count for all eligible races regardless of precinct.
Amend the Federal Election Campaign Act to create a requirement for disclosing reportable foreign contacts.
Bolster campaign finance transparency and close loopholes that allow foreign spending in elections with the DISCLOSE Act.
Strengthen disclosure requirements for online political advertisements with the Honest Ads Act.
Create a "coordinated spender" category to ensure single-candidate super PACs do not operate as arms of campaigns.
Increase resources for the Foreign Agents Registration Act office.; create a FARA investigation and enforcement unit in the Department of Justice; provide FARA the authority to impose civil penalties.
Require all presidential appointees to recuse themselves from any matter in which a party is the president, the president's spouse or an entity in which the president or president's spouse has a substantial interest.
Prevent lobbyists from working on the behalf of foreign entities.
Require the president and the vice president, within 30 days of taking office, to divest of any financial interests that pose a conflict of interest or to disclose information about their business interests.
Require the disclosure of individual tax returns and certain business tax returns by presidents and vice presidents, as well as candidates for president and vice president.
Manchin's stance on the John Lewis Voting Rights Advancement Act
In addition to the For the People Act, Manchin also outlined several updates he would like to see made to the John Lewis Voting Rights Advancement Act. The moderate senator has appeared more open to supporting this voting rights legislation than the sweeping democracy reform package.
Sign up for The Fulcrum newsletter
The Voting Rights Advancement Act would restore the Justice Department's power to preemptively review voting laws in places with a history of racial discrimination, also known as "preclearance." One of Manchin's adjustments to this bill would be to require "objective measures" for determining whether a jurisdiction has a history or pattern of discrimination.