Busy day ahead with primaries or runoffs in seven states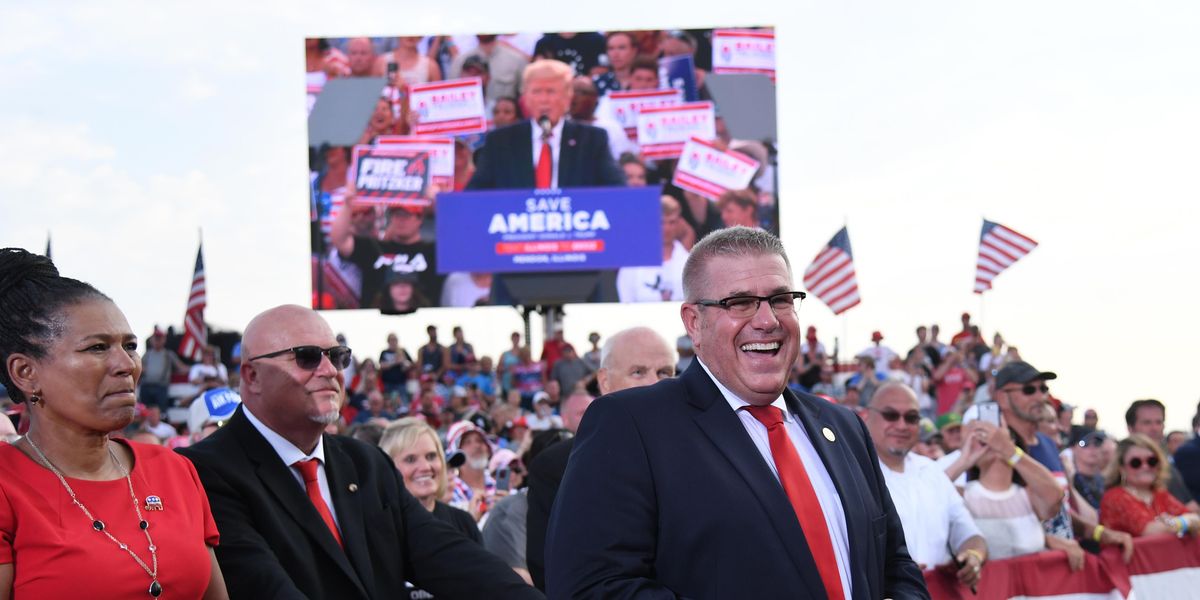 Michael B. Thomas/Getty Images
Voters will head to the polls in seven states Tuesday, with those in South Carolina and Mississippi returning for runoff elections.

Colorado, Illinois, New York, Oklahoma and Utah will offer the first opportunity for their primary voters to choose nominees for the general election in November, when congressional, state and local races will be on the ballot.
Since the outbreak of the Covid pandemic, and following former President Donald Trump's unfounded allegations of election fraud in 2020, most states have made changes to their election laws – in some cases easing the path to the ballot box and in others making it more difficult to vote.
What follows is a breakdown of the biggest primary races and the changes in election procedure in each of the seven states.
---
Colorado
On Tuesday, Colorado will conclude its all-mail, semi-open primaries. Registered voters received their respective party's ballots while unaffiliated voters got both Democratic and Republican ballots, with the right to choose either one to cast their vote.
With the Democratic Party holding two Senate seats — only one of which is up for reelection — and four Representative seats, the Republican party will be playing catch up in Colorado.
Democrats control most of the top-of-the ticket seats and many of their incumbents are running without primary opposition, so much of the focus will be on the Republican primaries.
Sign up for The Fulcrum newsletter
For the Senate seat, Democratic incumbent Michael Bennet will face the winner of the Republican primary between businessman Joe O'Dea and Rep. Ron Hanks, who was an attendee of the Jan. 6 protests in Washington, D.C., and who has voiced suspicions about Colorado's voting machines. The Republican gubernatorial nomination will go to either Air Force veteran Greg Lopez or Heidi Ganahl, a member of the University of Colorado board of regents, with the winner facing the Democratic incumbent, Jaren Polis.
Additionally, three Republicans – Mike O'Donnell, Pam Anderson and Tina Peters are battling to take on Secretary of State Jena Griswold. Peters has been indicted for tampering with voting machines during the 2020 election and has also recently spoken out on her belief that the 2020 presidential election had been fraudulent.
Last year, Colorado made some adjustments to its long-standing vote-by-mail system by allowing voters with disabilities to cast ballots electronically and expanding the list of possible places to install drop boxes.
The state also enacted a law allowing people with felony convictions to regain the right to vote upon their release from prison, rather than after completing probation or parole.
Five additional laws have been enacted in 2020. Among them:
New defined crimes were established to help protect election workers.
State officials gained new oversight and training authority related to local election leaders.
A voter may maintain their voter registration status even if their home is destroyed.
Read more about changes in Oklahoma.
Illinois
The Illinois' open primary is being held later than usual due to the lengthy time needed to complete the state's redistricting plan.
One of the most significant races will be the battle for the gubernatorial nomination. The Democratic incumbent, J.B. Pritzker, faces nurse Beverly Miles while six Republicans will duel for their party's nomination. State Sen. Darren Bailey — previously removed from a legislative session for refusing to comply with Covid-19 protocols — has Trump's endorsement and has outshone party favorite, Aurora Mayor Richard Irvin, in the pre-election polls.
In the race for the Senate seat, Democratic incumbent Tammy Duckworth is expected to easily defeat whichever candidate emerges from the six-person GOP primary.
The winner will face the winner of the Republican primary with a promising showing from Mark Curran.
Illinois has enacted a number of election-focused laws that have had varying effects on an individual's access to voting.
The state made a series of changes to absentee voting in 2021 that include extending the use of drop boxes and creating a permanent absentee voting list. This year the state passed another related law, this one improving access for voters with disabilities.
In 2019, Illinois also passed laws to:
Make it easier for eligible voters in jail to cast ballots.
Make Election Day a state holiday.
Require local election officials to set up vote centers where people may cast ballots regardless of their assigned precinct.
Permitted curbside voting.
Mississippi

The June 7 primary resulted in runoffs for two of Mississippi's three incumbent Republican House members.
Rep. Michael Guest (3rd district) will face Michael Cassidy on Tuesday. The challenger is running to Guest's right and has attacked his decision to join 34 other House Republicans in voting for a bipartisan commission to investigate the Jan. 6, 2021, insurrection. This is a race to watch as there was only a slight difference in vote shares for the two in the primary—Cassidy received 48 percent, just edging out Guest's 47 percent.
In the 4th district, incumbent Steve Palazzo faces an ethics investigation into his personal use of campaign funds. He also failed to appear at primary debates in advance of the election. Tomorrow, he will face Jackson County Sheriff Mike Ezell after failing to win 50 percent of the primary vote.
One additional race to watch is the Republican runoff for the 2nd district. That seat is currently held by lone Democrat in the delegation, Bennie Thompson, who is heading the Jan. 6 committee. The GOP runoff will determine whether Brian Flowers, who lost to Thompson in 2020, will have the opportunity to challenge Thompson again. He needs to beat Army veteran Ronald Eller.
The Fulcrum covered changes to Mississippi election laws in advance of the initial primary voting.
New York
The Empire State will hold two closed primaries prior to November's general election, but unlike Mississippi and South Carolian, neither is a runoff.
The U.S. House and state Senate primaries have been postponed until Aug. 23 to allow for redrawing of districts after the map prepared by Democrats was rejected by a judge. This leaves primaries for the General Assembly and statewide offices (including governor and the U.S. Senate) on the original primary date.
The Democratic gubernatorial primary is expected to end in an easy victory for incumbent Kathy Hochul, though her scaled-back campaign has raised concerns among state Democrats. Meanwhile, on the Republican side, the frontrunners are Lee Zeldin, who has been endorsed by former Vice President Mike Pence, and Andrew Giuliani, son of former New York Mayor Rudolph Giuliani. Notably, Donald Trump has endorsed neither candidate.
New York has made numerous changes to election laws in recent years — most serving to expand voter access and improve election administration.
The state had made a number of important changes to election procedures prior to 2022, but this year alone the state enacted eight election laws, including the John R. Lewis Voting Rights Act. New York's version of the failed national bill makes major changes preventing discriminatory election practices in a state that previously had some of the most restrictive voting laws in the country. Another bill extends the window, through 2022, for voters to cite fear of Covid-19 as a valid excuse for using an absentee ballot. Voters in New York rejected a constitutional amendment to permanently allow no-excuse absentee voting.
Other recent changes to New York election law which include:
Enacting online voter registration and early in-person voting.
Allowing 16- and 17-year-olds to preregister to vote.
Passing automatic voter registration, which is expected to be implemented statewide in 2023.
Removing the requirement that people with past felony convictions complete their probation or parole before regaining the right to vote.
Both chambers have passed a bill that would require the board of elections to count ballots which would have previously been thrown out due to stray marks or mistakes as long as the voter's intent is clear. Hochul has yet to sign the bill into law.
Read more about changes in New York.
Oklahoma
All eyes will be on Sooner State's GOP Senate primaries —the regularly scheduled race for the seat currently held by Sen. James Lankford as well as the special election to replace Sen. James Inhofe, who will be stepping down next year. In the former, evangelical pastor Jackson Lahmeyer has the support of Trump loyalists such as Michael Flynn and Roger Stone but Lankford is expected to beat him handily.
In the special election, Rep. Mark Wayne Mullin is the clear primary front runner but is unlikely to get the 50 percent of votes he needs to avoid a runoff. His most prominent challenger is former Oklahoma Speaker of the House Tahrohon Wayne Shannon. Also running is former EPA Administrator Scott Pruitt, though he is polling far below Mullin and Shannon.
The Republican nominees are expected to cruise to election in November.
Oklahoma, a closed primary state, has passed a myriad of election related laws that have both widened and restricted voter access. In 2019, the Legislature passed a bill allowing people at least 17.5 years old to pre-register to vote and ensuring that employees receive two hours off to vote during early voting periods. In 2020, lawmakers tightened restrictions on absentee ballots, creating more stringent rules on third parties returning absentee ballots and placing limits on assisting voters with filling them out. Meanwhile, in 2021, the deadline to apply for absentee voting was shortened but the hours for early voting were expanded.
This year alone, Oklahoma has enacted nine election laws according to the Voting Rights Lab. One of these allows blind voters to request an accessible electronic ballot, however such ballots must be delivered in person and applying for the ballot without meeting the qualifications is a felony offense. Another requires an ID number when applying for an absentee ballot, which was not previously stipulated.
Read more about changes in Oklahoma.
South Carolina
South Carolina's primaries will conclude Tuesday with a runoff for the Democratic primary for Senate.
State Rep. Krystle Matthews will be on the ticket opposite Catherine Fleming Bruce, an entrepreneur and author. In the June 16 primary, Bruce received 2,600 votes more than Matthews, but her inability to reach a majority triggered the runoff. Tuesday's victor will go on to face incumbent Republican Tim Scott in November. Scott ran uncontested in the Republican primary.
A second statewide race — for superintendent of education — will also be on the runoff ballot.
The Fulcrum covered changes to South Carolina election laws in advance of the initial primary voting.
Utah
The biggest race in Utah is the Republican primary for Senate, pitting incumbent Mike Lee, endorsed by Trump, against Becky Edwards and Ally Isom, both of whom have spoken out against the former president. Lee is expecting to win the nomination for a third term, but the race in November will be interesting.
The Democrats endorsed Evan McMullin, a Republican turned independent who ran for president in 2016, rather than a candidate of their own. McMullin has made protecting democracy a key part of his platform.
Utah, which runs closed primaries, is one of the few states that hold all elections primarily by mail. The state has made a number of changes to election laws in recent years, some of which relate to its vote-by-mail system.
In 2020, the state passed a measure that provided a ballot tracking system that would text or email voters when their ballot was mailed to them — a system that has been up and running in 2022. Utah also eliminated straight-ticket voting, which allowed voters to make just one ballot mark to select all members of a particular party. This was considered a way of shortening lines but is no longer a factor in all-mail elections and advocates for the change argue it compels voters to learn more about candidates.
In the same year, the state consolidated the deadlines for online, in-person and by-mail voter registration to be 11 days before an election.
Utah has enacted six election-related bills in 2022, according to the Voting Rights Lab. Those new laws:
Clarify the rules for poll watchers and improve transparency of the ballot-counting process.
Shorten the window to fix, or "cure," ballots that have errors.
Enhance voter privacy.
Ban the use of private funds for election administration.
Update the rules for voter list maintenance.